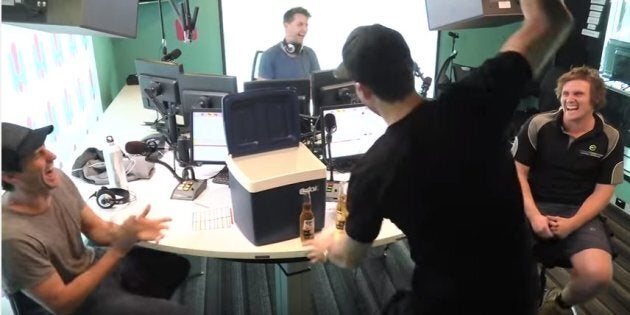 Remember how Hamish and Andy accidentally found Australia's best bloke during a prank call? As we wrote yesterday, the radio duo called a random number and tried to get Melbourne man James Lord to provide a glowing job reference to a total stranger -- and he did it, and he crushed it.
The video of the legendary radio moment has since clocked up over eight million views (and counting) and been covered by countless publications around the world (including us). Of course, Hamish and Andy just HAD to get the man himself in the studio for a chinwag, but they wanted to test whether Lord was truly Australia's best bloke, in the ultimate Australian bloke challenge -- whether you would sacrifice a delicious cold beer so your mate could have one instead.
The pair called it "slughorning", named after the character in Willy Wonka and the Chocolate Factory, who pretended to be Wonka's rival Slughorn but was actually a Wonka employee who was just testing the film's hero Charlie. In the same vein, Hamish and Andy pretended to only have two beers between the three of them, as a test.
James passed again, with flying colours.