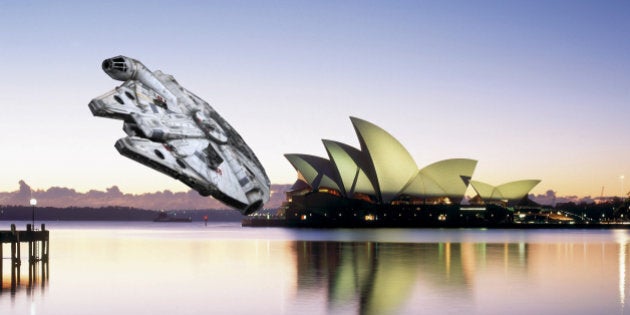 Clear the runway -- the Millennium Falcon is about to touch down.
With the release of 'Star Wars: The Force Awakens' imminent, Han Solo has announced he will be making his first ever Star Wars-related visit to Australia, punching in the hyperspace co-ordinates for Sydney.
Solo, also known on Earth as Harrison Ford, has been infamously reticent in promoting his appearances in Star Wars films, notoriously avoiding questions about his turn as the space smuggler Solo, but was Thursday announced as the headline act for a December 10 fan event in Sydney.
"In celebration of Star Wars: The Force Awakens, Australia's most iconic location, The Sydney Opera House will play host to the legendary Harrison Ford," an Opera House announcement read.
The fan event is set for December 10 with free tickets, but unfortunately you're unlikely to be able to head along. The reveal of 73-year-old Solo/Ford as the event's main attraction -- alongside the droid BB-8 -- saw the event sell out almost instantly. However, you can sign up to the event's waitlist here.
Just in time for the visit, Han Solo and best mate Chewbacca sorted out their past differences on the Jimmy Kimmel Show.