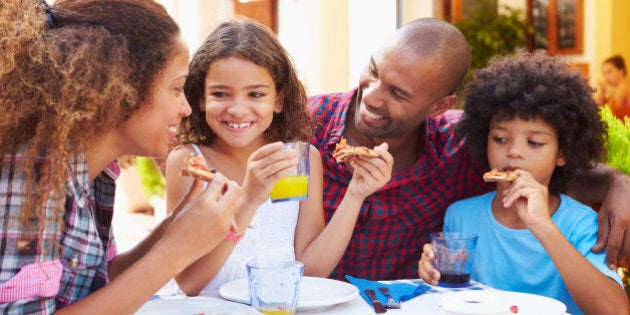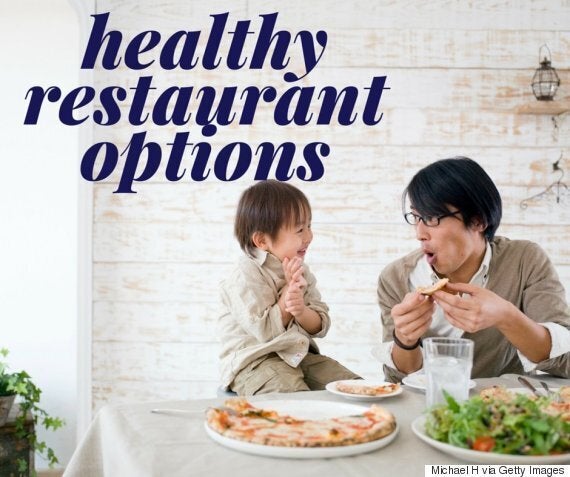 "Mum, can we go out for dinner?" "Alright, what do you want?" "MACCAS!"
No doubt you've been in this situation numerous times and have given into the terrorising screams of excited kids already imagining Happy Meals and sliding down the slippery dip. While family dinner at a fast food chain is a nice treat, it's probably not something we should do too often.
However, if the kids are demanding burgers and pizza, what can you do?
The good news is there are healthier options at your favourite restaurants that are still delicious.
"Over 63 percent of Australians are obese, with one in four children being obese. The average family spends 15 percent of their food budget on fast food, and this is going to have an impact on your kids' health," Lisa Renn, accredited practising dietitian and spokesperson for the Dietitians Association of Australia, told The Huffington Post Australia.
The reason why a lot of fast food and restaurant food is unhealthy is because it is often high in saturated fat, energy (calories) and salt, which can lead to heart disease, obesity and high blood pressure if consumed too frequently.
"Another unhealthy element could be added sugar, which can be found in foods like sweet and sour pork or honey chicken," Renn said.
Popular restaurant and fast foods can also be low in fibre, vitamins and minerals.
While eating these types of food frequently and in large quantities can be damaging to good health, if we're only having it once every so often, we shouldn't feel too guilty about going out and having a nice meal with the family. In fact, the act of having dinner together actually has far-reaching positive impacts.
"Eating out is special and it's a growing trend in our society," Renn said.
"The beauty of eating out with the family is that everyone is eating together."
As a result of quality bonding time, eating out as a family can have great developmental and physical benefits for children.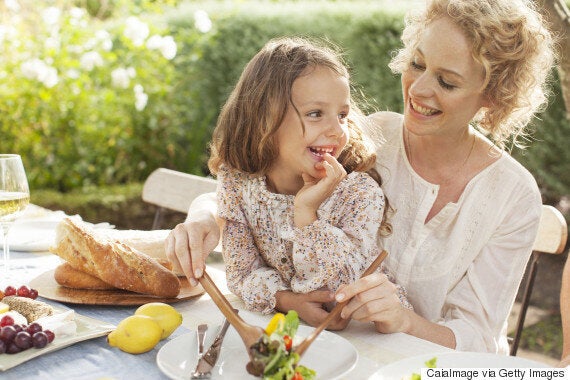 "Fewer families are eating dinner together at home, but research shows that kids who have dinner with their families are at a lower risk of developing poor eating habits, weight problems and alcohol problems compared to kids who don't, which is pretty amazing."
Children who eat at least five times a week with their family also tend to perform better academically than those who frequently eat alone or away from home.
Do your kids always seem to pick the restaurant, or refuse to go when you suggest something different or more healthy? Renn recommends encouraging kids to try new things.
"Parents do have a say," Renn said. "Just encourage your kids to try new things and make healthier choices. Encourage them to form a good relationship with food.
"If your child is hesitant about a certain cuisine, maybe you could try making that food at home first and tell them, 'This is what Thai tastes like, what do you think?' So they can get a bit more curious about new foods."
If going out for dinner is something you're doing a few times a week, it's important to make sure at least some of those meals are healthy, or as healthy as they can be.
"If going out for dinner is a special occasion -- so, it's not something you do very often or on a weekly basis -- then it really doesn't matter where you go.
"However, if you and your family are going out a few times a week, then it is more important to make sure you're making healthier choices. It's the frequency that matters."
Try these tips next time you and the kids are heading out to dinner.
"If you're going to an Italian restaurant and you want a pasta dish, choosing pasta sauces which are tomato-based is going to have a lower energy and saturated fat content."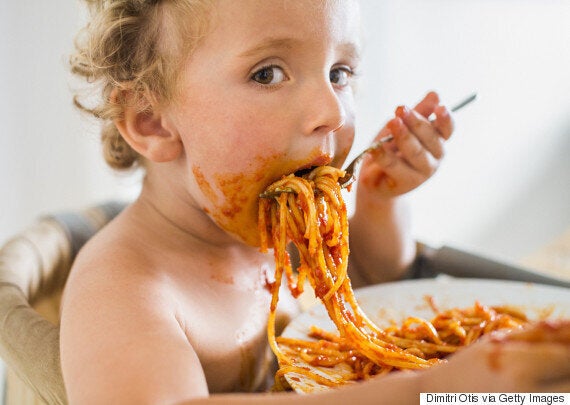 This kids knows how to eat spaghetti.
"Instead of ordering a massive pizza with lots of processed meat on it, go for one that has more vegetables on it," Renn said. "What I like to do is order a vegetarian pizza and order chicken as an extra."
Renn also recommends going for a thin base pizza crust instead of a thick crust filled with cheese.
"These are the things that, again, are higher in saturated fat and energy," Renn said.
"Instead of ordering a few massive pizzas for family, you also might think about going for a smaller size and ordering a salad."
"If you're eating Indian food stick to your chicken tikka masala, tandoori, vegetable-based curries and roti bread instead of naan, butter chicken or ghee-based curries," Renn said.
"Most burger places have healthier options on their menu," Renn said. "Choose a burger with leaner meat, or even go for a smaller size."
Yep, that means skipping the bacon every now and again.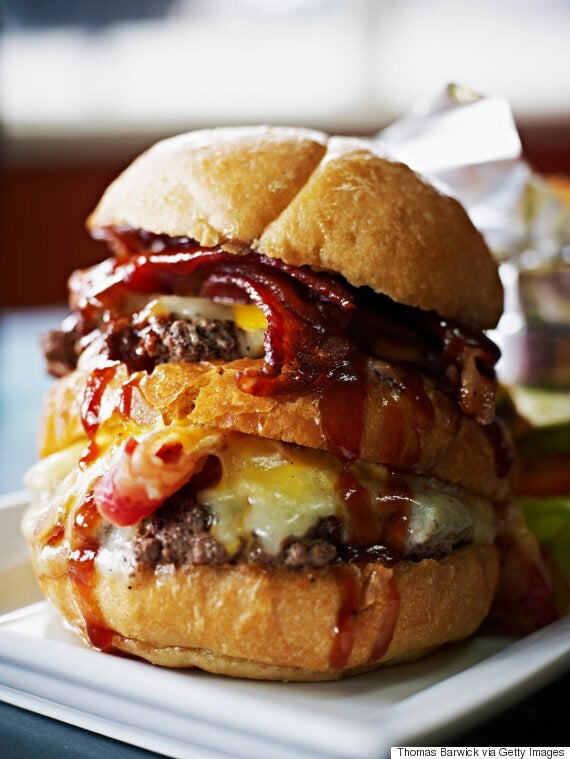 Although this might be the most delicious burger you've ever seen, having it every other day is not a good idea.
"Many Thai curries are coconut milk-based and so are higher in saturated fat and energy," Renn said. "My advice would be to stick to Thai salads, noodle dishes and stir fry dishes with plenty of vegetables.
"Any meal that has more vegetables in it will be a better option."
"Choosing the non-fried option and smaller serving sizes is a good idea," Renn said.
Healthier Japanese meals would include sashimi and sushi, miso soup or noodle soups, edamame and steamed (not tempura) vegetables.
"Absolutely stay clear of tempura veggies."
"Your healthier options here would be the cashew and chicken stir fry with steamed rice, beef and blackbean stir fry and Chinese vegetables," Renn said.
"The higher fat stuff would be curry puffs, prawn toast, fried rice, sweet and sour pork or honey chicken."