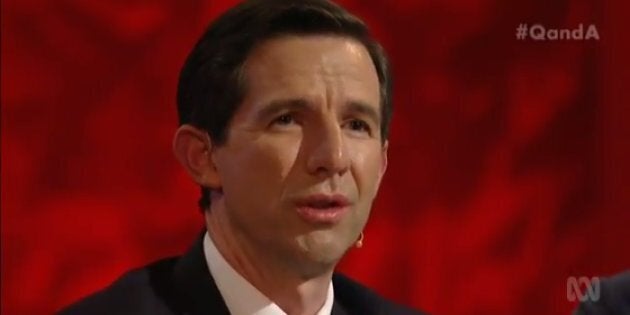 When asked to justify how the proposed changes can be considered "fair" for Australian university students, Birmingham began to answer before being interrupted by protesters who were later removed from the venue.
"A lot's changed in the last 20, 30 years. A lot's changed in the last decade. We've seen enormous growth in the number of Australian students going to university. We've seen enormous growth in the last decade," he began.
"You're making students pay for corporate tax cuts," one vocal heckler said.
While most of the comments being yelled from the audience were inaudible on Q&A's live broadcast, both Birmingham and panel host Tony Jones were quick to play down the commotion.
"It's a university town, there's a good deal of passion here in the audience," Jones said.
"Students have been protesting for generations," Birmingham quickly replied.
"It's a shame they're not being listened to," Queensland Greens Senator Larissa Waters then interjected to a loud applause from the audience.
The proposed changes will see university students pay more for their degrees and start paying back their HECS debts earlier, while universities have to find 2.5 percent in savings.
Once the protesters had been removed from the room, Birmingham went on to clarify the proposed changes to higher education come as a result of increased numbers of university students being enrolled and the costs that are associated with them.
"We have around 30 percent more students in Australian universities now than we did just a few years ago. Phenomenal growth in the numbers of Australian students going to universities. That's a good thing," he said.
"All of that comes at a very, very significant cost in terms of the cost of providing higher education and funding it into the future.
"If we want to make sure future generations of Australians can enjoy unlimited access to universities, that future generations cannot have to pay $1 upfront, we need to make sure the funding is sustainable into the future."
Waters offered her response to the government's proposed Budget plans following a second question about the popularity of university degrees amid rising course costs and lowering wage levels.
"There are $65 billion worth of corporate tax cuts, $24 billion worth of free handouts to the big mining companies and yet they are ripping $4 billion out of universities and trying to convince us that's a good idea," she said.
"Higher education is an investment in our future, it will help all of us.
"It will make it more of a disincentive if it's going to be incredibly costly to not only afford, if you have to pay it back once you start earning even less than you already do."
According to Shadow Treasurer Chris Bowen, the proposed changes show how the government has "abandoned young people", particularly when it comes to the pressures of housing affordability and education costs.
"This government has abandoned young people frankly. Young people trying to get into the housing market and trying to get a university degree, utterly abandoned them," he said.
"Nobody is looking out for them. This is an issue which young people have every right to be very angry about."
Australian Industry Group CEO Innes Willcox also joined in on the debate, saying the lack of jobs for potential university graduates is worrying.
"It does worry me but what worries me more is [that] there won't be the jobs throughout for your kids at the end of university," he said.
"That's what worries me more than anything else. Beyond all that they learn, all that they strive for, if we're not creating a situation where companies are able to create jobs, where kids are learning the basics."
ALSO ON HUFFPOST AUSTRALIA