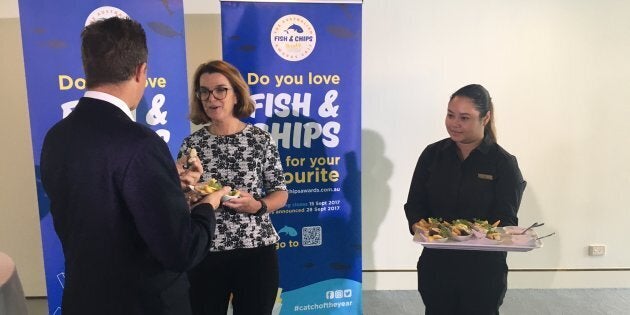 CANBERRA -- There's a lot going on in Parliament House this week: the response to Cyclone Debbie, ongoing fights over company tax cuts and welfare changes, debate over penalty rates and the minimum wage, a new Bronwyn Bishop expense scandal -- but the federal government found some time on Thursday to launch a quest to find Australia's best fish and chips.
Yes, among some nation-shaping debates and reforms happening in Canberra, a brief window opened up for Anne Ruston, the assistant minister for agriculture and water resources, to officially kick off the 2017 Australian Fish and Chips Awards. Ruston said there were 3500 fish joints in the country, and the hunt is on for the very best.
At an official launch in Parliament House at lunchtime on Thursday, attendees munched on battered dusky flathead from Victoria, crumbed snapper from Western Australia, and grilled barramundi from the Northern Territory (there was also some crumbed pink ling from New Zealand, but Ruston jokingly reached for a homegrown product when she was offered the fish from across the ditch).
"Tomorrow is sustainable seafood day, so there is not a better time for us to be announcing these awards, so we can find the best fish and chip shop in Australia on the back of the recognition Australia has the most sustainable fisheries," Ruston said.
Parliament House staffers and the odd politician wandered in, lured by the wafting aroma of deep-fried seafood. Before you ask, yes, Pauline Hanson popped her head in for a moment; the former fish and chip shop owner knows a thing or two about the industry, but it is unclear whether she will be nominating her former business in the awards.
"I love my fish and chips," she was overheard to say.
The publicly-voted awards open Thursday, with the most popular shop from each state and territory being judged and one crowned the best fish and chip shop in the country. Two winners will be chosen, the people's choice award and a national award, judged on taste, service, choice, information and labelling.
While the event and the awards themselves were described as "a bit of fun", Ruston said the awards had a deeper message than just finding the best fried fish.
"We're recognised around the world as being the best, many other countries look to Australia to give them some management skills and help them better manage their own fisheries," she said.
"Australian seafood is sustainable and tastes great... the broader message is about how good Australian seafood is."
You can vote for your favourite here, with the winners to be announced in September.
Click below to follow HuffPost Australia Politics on Facebook!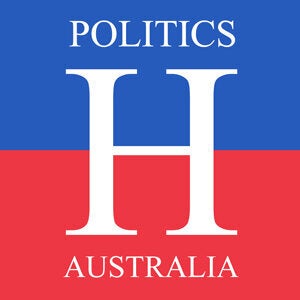 ALSO ON HUFFPOST AUSTRALIA