Shopping for healthy breakfast cereals can be a daunting task. Not only is there a whole aisle dedicated to cereal, but food labels -- like 'high in energy' or 'natural' -- on the front of the boxes are deliberately misleading.
While we know sugary breakfast cereals like coco puffs and fruit rings are off the table (sorry), what about the rest?
"There is such a variety of breakfast cereals available -- you really need to do your homework," nutritionist Fiona Tuck told HuffPost Australia. "Many cereals are highly processed, high in sugar, some even salt and artificial colours, so they are not always the healthiest start to the day."
One of the key issues with cereal, Tuck explained, is how processed they are, which means that the original, healthy whole food (like oats, wheat or rice) is far from its natural state.
"The more processed the cereal, often the less natural nutrients it contains and the more additives," Tuck said.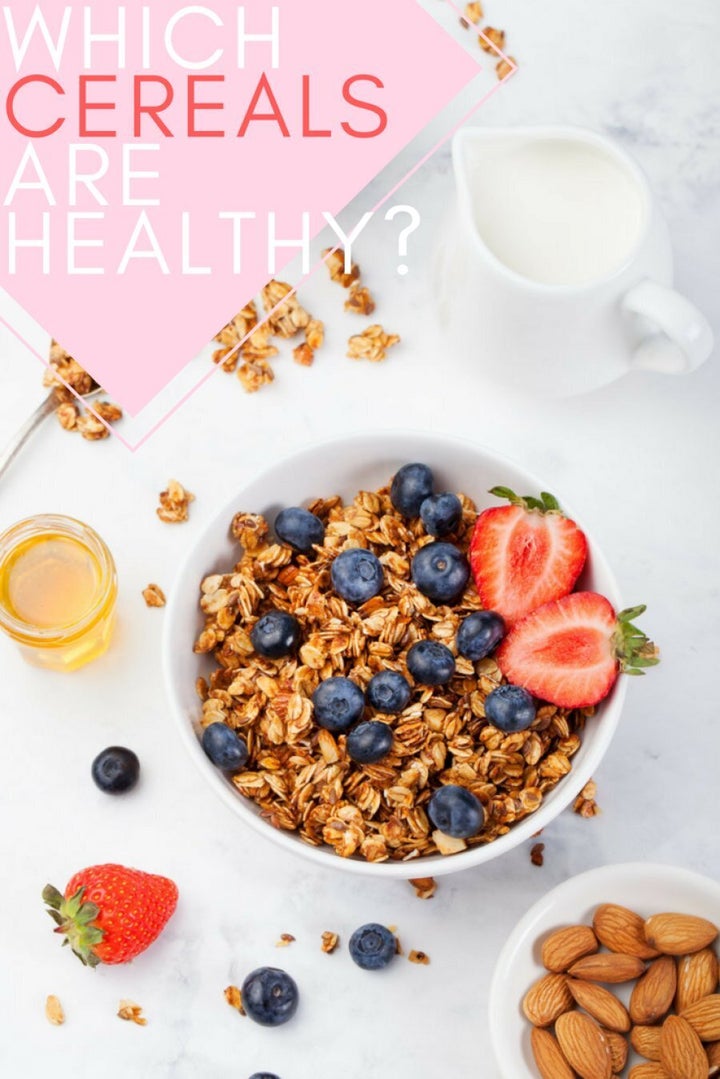 "Puffed white rice, for instance, contains little nutrient and is highly refined. Add sugar and salt and you have a high GI cereal that provides little fibre and nutrient, and a blood sugar spike which is likely to send your energy levels crashing mid-morning.
"Many cereals are so highly processed that the natural nutrients are stripped out of the product and synthetic vitamins and minerals are added back in."
This addition of nutrients is not always a bad thing, however, especially when it comes to iron and B12 fortification -- two nutrients that for some people, particularly vegetarian and vegans, may need a boost. In any case, this doesn't mean every fortified cereal is healthy.
So, how do we find a healthy breakfast cereal? It's all in the ingredients list and nutrition information panel.
"Look for the minimally processed or refined cereals, such as rolled oats or whole grain cereals, that are high in fibre and have minimal sugars added," Tuck said.
"Anything puffed or popped tends to be a highly refined cereal and not such a good way to start the day."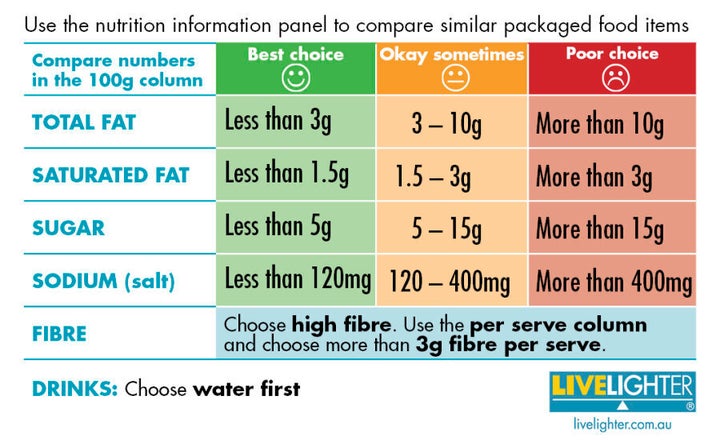 To find a cereal that contains mostly whole grains, take a close look at the ingredients list. You can see how much of an ingredient is in a product by checking their percentage in brackets -- like this: 'Whole grain oats (50 percent)'. If sugar is in the first few ingredients, check the sugar content per 100 grams. If it's more than 10 grams, put the cereal down.
"Look for a breakfast cereal that contains a minimum of 50 percent whole grains. Rolled oats, for example, would be 100 percent whole grains and zero percent added sugar," Tuck told HuffPost Australia.
"As a guide, look for three grams of fibre or more per serve (which is approximately 30 grams). Look for products with less than 10 grams of sugar per 100 grams."
As for which supermarket breakfast cereals are the healthiest?
"Oats are my top pick, or a good quality muesli with nuts and dried fruit for extra fibre and a touch of natural sweetness," Tuck said. "Many packet muesli have high amounts of added sugar, so check the label for added sugar."
Low sugar muesli varieties include Carman's Fruit-Free Muesli and Lowan Original Harvest Muesli.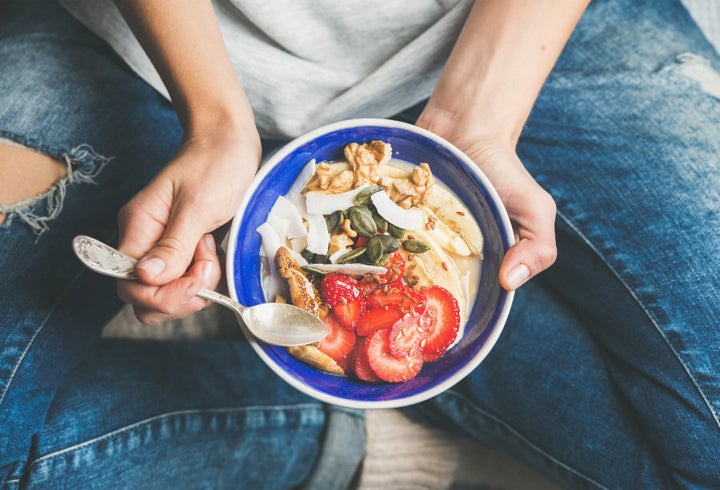 "Weet-Bix can be a good option for those that are not gluten intolerant due to its high fibre and whole grain content and minimum added sugar. All-Bran and Sultana Bran are reasonably healthy options."
To add to the list, Uncle Tobys Shredded Wheat (made from 100 percent whole grains with no added sugar or salt) and Uncle Tobys Oat Brits also meet the nutritional guidelines.
"Avoid Rice Krispies, Froot Loops, Frosties and Coco Pops. If it's coloured, stay well away," Tuck said.
To avoid all the added sugar, salt and processing, and all the confusing food labels, your best bet is to make your own breakfast cereal -- and it's easy to do.
"You can easily make your own muesli, which is what I do, by mixing rolled oats, chopped raw nuts, pumpkin seeds and sulphite-free dried fruit. Store in a screw top jar," Tuck said.
Or, try Tuck's two easy breakfast recipes for Bircher muesli and chia pudding.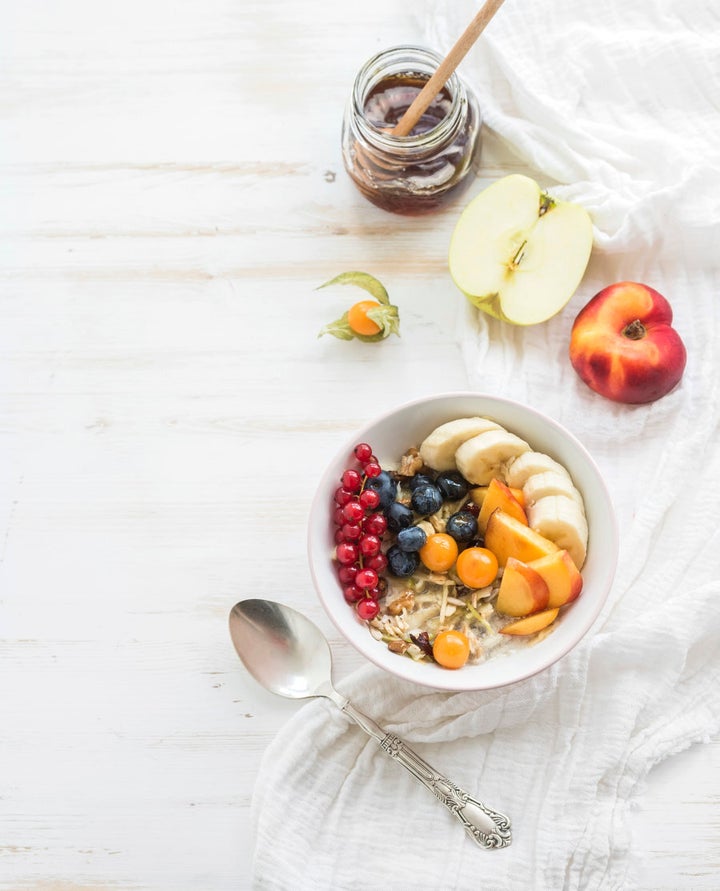 Apple spice Bircher muesli
Prepare the Bircher the night before. Store in a jar for an easy, on-the-go breakfast.
INGREDIENTS
1 apple
1 small carrot
¾ cup whole oats
2 tablespoons chia seeds
½ teaspoon cinnamon
1 cup milk of your choice
½ cup full fat Greek yoghurt
2 tablespoons almonds, chopped roughly
METHOD
Finely grate the apple and carrot. Place in a bowl then add oats, chia seeds, cinnamon and milk of your choice. Mix well to combine. Divide between two jars or serving bowls, cover and store in the fridge overnight.
To serve, top with yoghurt and chopped almonds.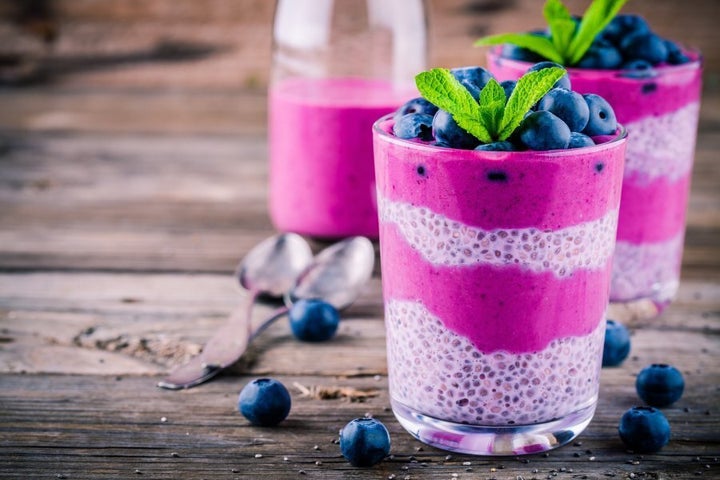 Chia pudding
Chia pudding or porridge is super easy and healthy, containing good fats and protein to start the day.
INGREDIENTS
2 cups coconut milk (or plant milk of your choice)
⅓ cup chia seeds (you can play around with the texture, if you like it thicker, add more chia seeds)
¼ teaspoon of powdered green stevia or honey (add to your taste preference)
1 teaspoon of natural vanilla extract
½ teaspoon of matcha powder
Blueberries
Raspberries
Sliced strawberries
Diced mango
Chopped nuts
Coconut flakes
Cinnamon
METHOD
Place milk into a bowl, add vanilla, matcha, stevia and stir to combine. Add chia seeds and mix thoroughly. Leave to set in a refrigerator for at least two hours, or leave to set overnight and serve for breakfast.
Serve chilled or gently warmed. The pudding will become more fluid if heated. Choose from a variety of different toppings.
Note: get creative with your flavours. Try replacing the matcha powder with a teaspoon of raw cacao powder for a delicious hit of chocolatey goodness, or add cinnamon, a pinch of cardamom and vanilla for a chai chia pudding.
Click below to subscribe to the Refresh podcast by HuffPost Australia on iTunes.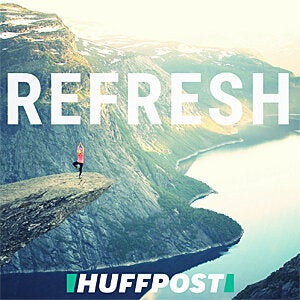 ALSO ON HUFFPOST AUSTRALIA