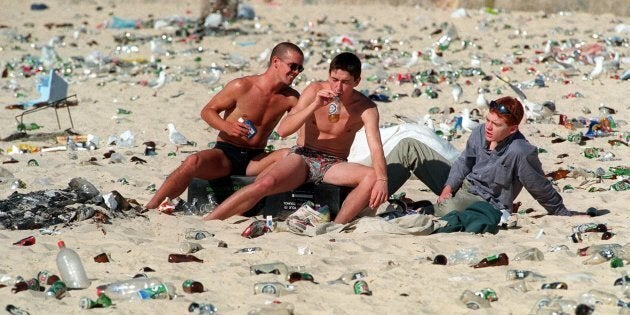 I'm having trooble righting this coz I've had too much to drunk. I can't talk ploply, I'm photocopying my privates and bumping into lampposts like a pin-ball. But I'm Australian, so that's funny, right?
Regardless of how you define it -- 'a few noisy ones' if you're a participant; 'binge drinking' if you're in public policy -- alcohol is a social lubricant in Oz. It's the liquid equivalent of loosening your tie. In most social situations we need a drink to kick things off. No XXXX, no party.
But according to the latest poll by the Foundation for Alcohol Research and Education (FARE), the party has got out of hand and Australia has a drinking problem. Here are the sobering stats:
78 percent of Australians believe Australia has a problem with alcohol abuse
78 percent believe that more needs to be done to reduce harm caused by alcohol
73 percent believe that alcohol-related problems will worsen or stay the same in the next five to 10 years
60 percent believe alcohol sponsorship should be banned from sport
29 percent of Australians have been affected by alcohol-related violence.
I met a trauma nurse on New Year's Eve who said if you took away the patients in intensive care at Christmas who were there due to alcohol and drugs, then most of the beds would be empty.
"... Especially like New Year's Eve when there's lot of alcohol, the vast majority is just solely alcohol where some people have lost control, they've lost the ability to inhibit animal behaviour by just viciously and really with a lot of force hitting another human being ... New Year's Eve was the night where more people drink than any other night, but on a Friday, Saturday night we see quite a few."
But it's not all bad news.
That is to be celebrated. (Not with alcohol obviously.) Yet despite the drop, the AIHW maintains that our love of drinking to excess is the nation's biggest drug problem.
If Australia is serious about doing more to drink less then we need to change cultural norms as well as tweak laws.
Relax. Have a drink. I'm no Eliot Ness and this is no hypocritical rant. Drink was far from untouchable when I was growing up and I too overindulged with my mates. We'd go out on St Patrick's Day and come home greener than our highrise hats.
I never really questioned why we drank -- it was the done-thing, part of the culture, almost a rite of passage. And yet, drinking had been demonised. I remember the 'Alcohol: it's no good for growing bodies' anti youth-drinking campaigns on telly, featuring a group of kids trying to cross a river by tight-roping across a fallen tree trunk. The kid who drank fell in.
But when my sporting heroes triumphed and had microphones shoved in their winning grins, their first comments were always about having the famous 'few' to celebrate later that night. The change room was awash with champagne, and David Boon was a legend for drinking 50-odd cans on a flight to London.
In stark contrast to what the government was telling me, drinking was the stuff of champions. From the Fosters Australian Grand Prix to the VB Tri-Series Cricket, drinking almost seemed the patriotic thing to do. Indeed Boonie was 'drinking for Australia!'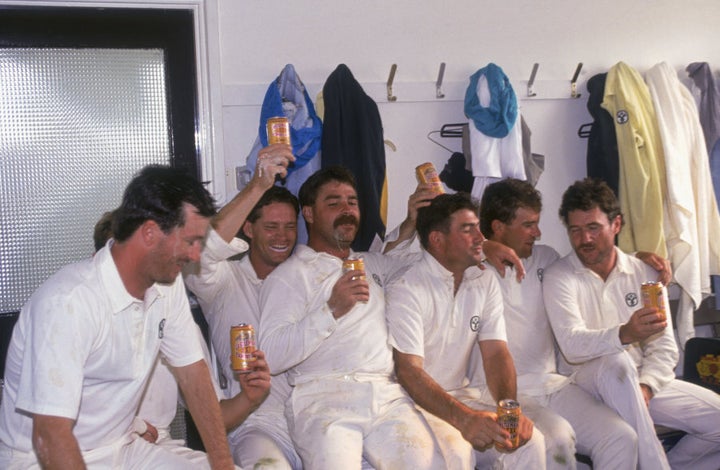 Alcohol was as natural to a young Aussie as water to a fish. But then I moved to Europe and became a fish out of water.
The café culture was a sobering experience. I participated in sober singalongs with my Italian friends that would have taken my Aussie mates several cases of beer to attempt. And their city pavements on a Sunday morning are much less technicolored than ours.
I once told an Italian friend that at housewarming parties in Australia we fill the bath with booze. When I then went to his housewarming he led me excitedly to the bathroom and – "da-dah!" – standing proud by the plug hole were six bottles of Nastro Azzuro on an ice cube container.
Europe has a cocktail of problems at the moment and you'd think I was drunk if I suggested their way of life better than ours. But when it comes to attitudes to drinking, if the FARE statistics are correct and Australia truly believes it has a drinking problem, the cafe culture is perhaps the one European lead we could follow.
But who's responsible for our new-found moderation? The drinkers? The suppliers? The Government...?
Perhaps the most sobering FARE statistics are that a majority of Australians (57 percent) believe that the alcohol industry targets people under 18, that is has too much influence with governments (56 percent), and that it should pay for reducing harm from alcohol (71 percent).
In their 2015-16 annual report, FARE chairman Andrew Fairley AM and CEO Michael Thorn argued that alcohol's annual burden to Australian society was $36 billion, with direct costs to government nearing $10 billion:
"Yet, the alcohol industry's tax contribution amounts to little more than $6 billion a year. The research showed a rational system of taxing alcohol could easily raise an additional $3 billion, contribute to 'budget repair', and cut alcohol harm by up to ten per cent."
These figures are in dispute, with Nick Cater writing in The Australian that the report on which the figure is based was never published by FARE, and that the figure is at best a "guesstimate" containing "intangible costs such as the cost of family disruption", and that they "impose a monetary value on pain, suffering, dimin­ished quality of life and loss of life".
Whatever the real figure, it is too high.
I'd raise a glass to the government and Big Alcohol getting serious about reducing harm from excessive drinking. But I wouldn't hold my breath. It's up to us to drink responsibly, to heed that half-hearted warning on the wine bottle. Because if we wait for the alcohol industry to help us, we'll be driven to drink.
This blog first appeared in January, 2017.
ALSO ON HUFFPOST AUSTRALIA