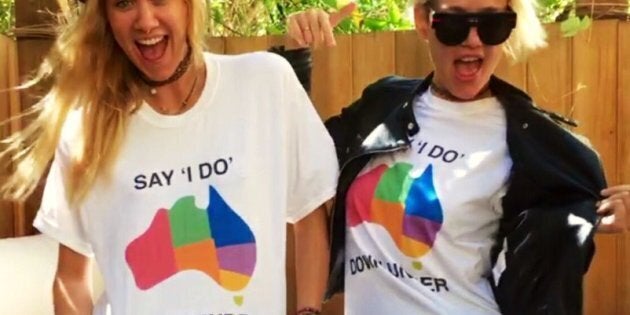 Australian star Margot Robbie hosted Saturday Night Live this week, donning an eye-catching shirt design late in the show as she introduced musical guest The Weeknd; an image of Australia in rainbow colours, with the slogan 'Say I Do Down Under'. Robbie was among the first to show off the shirt, part of a new campaign pushing for marriage equality Down Under, but she certainly isn't the last as a galaxy of international stars of screen and stage join the movement.
The campaign is the invention of Joshua Sasse, the partner of Aussie singer Kylie Minogue. She announced this week that the pair would not marry until same-sex couples were permitted to also marry in Australia. Sasse's campaign is picking up steam, with many other celebrities taking to social media to support the call.
It comes as Australia still debates marriage equality, with a proposed plebiscite looking less likely and no prospect of a free parliamentary vote on the issue in sight.
Perhaps the biggest stars to sign on are Aussie singer Sia and TV host Ellen DeGeneres. The host of 'Ellen' even turned the logo into an emoji in her new app, Emoji Exploji, as she announced on Friday.
Early on, there were the likes of Scissor Sisters' singer Jake Shears, while Dolly Parton also put her face alongside the campaign.
Australian group Human Nature, 'Prison Break' actor Wentworth Miller and actress Jenna Dewan Tatum have also jumped onboard.
While prominent DJ duo Nervo, American TV host Kelly Ripa and actress Rachael Harris are supporting the push as well.
It's early days still for the Say I Do Down Under campaign, but they seem to be off to a decent start.