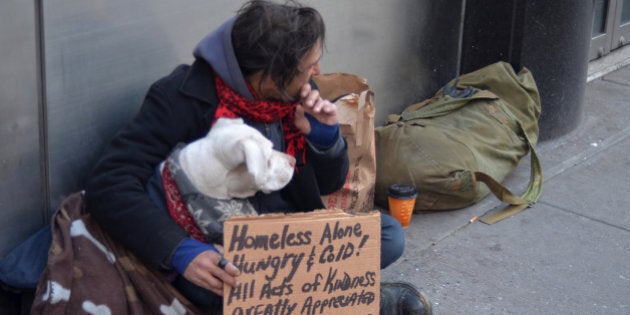 As the summer heats up, there are a few staple considerations any red-blooded Australian starts pondering; whether we need a new fan or air conditioning; if the freezer is well-stocked with ice of the cream, block and cube varieties; which of our mates has the best backyard pool party set-up this year; what is the quickest route to the beach or public pool; the best strategy to keep the house cool on those scorching 40 degree days.
But what happens when you don't have four walls and a roof to call your own? What happens when you don't have a house to stay cool in, when you don't have shelter to hide away from the baking sun and heat?
"It is a challenge for homeless people to find a place in the city to keep cool, because many places they are not necessarily welcomed," said Jenny O'Mahony, Manager of Inner City Health Services at Sydney's St Vincent's Hospital.
We all complain about dodgy air-con or running out of Zooper Doopers as the thermometers melt off the wall in summer, or about our lack of electric blankets and the winds howling at our doors in the dead of winter; but few stop to consider how our homeless fare in extreme weather. Rough sleepers, the people in our society most exposed to heat and cold, the people most at the mercy of the elements, are often forgotten as cities and towns sweat through the heat or shiver through the cold.
In Sydney, extreme weather days see homeless outreach services hit the pavement looking for rough sleepers and offering them assistance -- shelter and a safe place to keep cool or warm, in the first instance, then sunscreen and cool drinks on hot days, or warm clothing and hot beverages on cold days.
Tamara Sequeira, service manager with Way2Home -- a collaborative project of mental health service Neami National, the NSW Government, City of Sydney and St Vincent's Hospital -- said extreme weather is a critical time for homeless services to step up.
"In early April, we had these strong storms across Sydney with gale force winds. We set up an emergency response for rough sleepers, working with agencies to hire out a hall, provide temporary accommodation to get dry, and get dry clothes and food," she told The Huffington Post Australia.
"Often, rough sleepers are living in tents so everything is wet and they are likely to quickly get very sick with pneumonia, or exacerbate their existing medical conditions. It took a real co-ordinated response, so we realised we had to come together to put together a protocol, a plan for emergency situations."
The plan, O'Mahony said, involved looking out for extreme weather conditions and planning ahead of time for how to assist homeless populations before the weather conditions hit.
"We've got a complex homeless population in the city with complex health issues, who are very vulnerable in extreme weather events. Heat in the inner city was the high priority," she told HuffPost Australia.
"In hot weather, most critical is night time temperatures. If it's hot overnight, there's no chance for the city to cool down. This leads to poor hydration, risk of delirium, exposure to elements and significant sunburn. Some of these people are on medication that make them more light sensitive."
While most people might duck into an air conditioned cafe or shop to escape the city heat, most homeless people don't have that luxury. O'Mahony and Sequeira said businesspeople and apartment residents often shoo the homeless on from lobbies or seats or building entrances, further marginalising an already marginalised population.
"Businesses often want to move people on. There's a protocol for moving homeless people on, but it's not a practice encouraged at all. There are public liaison officers educating those owners, but generally homeless people find somewhere; tunnels, McDonald's," Sequeira said.
"There's a sense of discrimination there, against people who look different. They're trying to find shelter."
O'Mahony, too, said the homeless are often moved on by unhappy business owners.
"There are often complaints around rough sleepers, if they're sleeping near entrances of department stores near the air con. There has been a lot of work been done by us and others to educate the city that the homeless are part of our community, they belong here and it is our responsibility to support them," she said.
Some of us might drop a few coins into a beggar's outstretched coffee cup or even buy a sandwich for a rough sleeper, but as the hot weather approaches, there are some other things you can do to help a homeless person. O'Mahony and Sequeira both recommended buying a bottle of cold water or offering some sunscreen, while we've also heard of people buying movie tickets for a homeless person so they can sit in dark, air-conditioned comfort for a few hours.
"The first thing is about feeling confident to walk up and check on someone, and say hello. If you're concerned, make contact with the city or a hospital. A bottle of water or a kind word goes a long way," O'Mahony said.
This story was originally published on December 8, 2015.