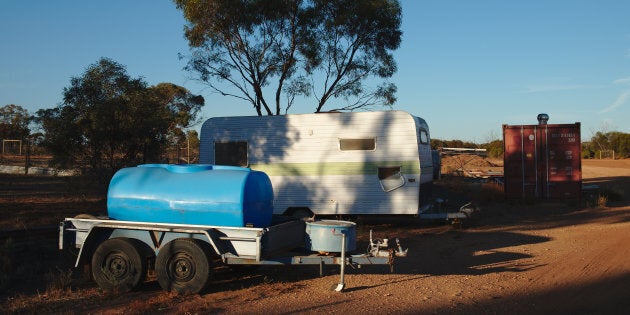 Imagine you're a woman living in rural New South Wales. You've lived and worked on the land your entire life but your partner has died suddenly, or left, or you were forced to leave him. For whatever reason that life is no longer sustainable or safe for you.
You try to settle your debts and move into town but the cost of living is beyond your means. Your particular skillset isn't exactly what employers are looking for. You're staring down the barrel of retirement without a job, savings or super, and it's terrifying because you realise you're on the cusp of homelessness.
This story, or some version of it, is not uncommon. But when we think about homelessness, the images that most readily come to mind are the high-profile Tent City in Sydney's Martin Place, or the confrontations between police and the homeless at Melbourne's Flinders Street Station. You could be forgiven for assuming homelessness is an issue confined to the main streets of big cities. It's not.
Census data shows that despite two thirds of the population living in capital cities, 60 percent of Australians sleeping rough are outside the major centres. The risk of homelessness is high in rural and remote areas, particularly for women, due to a greater likelihood of low incomes, challenges to employment and a chronic shortage of affordable housing.
However, the face and experience of homelessness in suburban Lismore is very different to what you find in Martin Place so our response needs to be different too.
For in regional, rural and remote areas, there are fewer services available to help resolve the issues leading to homelessness and a unique set of vulnerabilities faced living on the street.
We need to ensure rural communities have the resources and approach required to address homelessness which is occurring at a much higher rate.
Homelessness in areas such as Lismore or Goulbourn mainly occurs as Baby Boomer residents come into retirement and move closer to the centre of town in order to access services and support that were not available to them on their properties further out. They are suddenly faced with cost of living prices they cannot afford.
We have seen this impact older women the hardest as, for a range of reasons, they come to the end of their working lives without the same financial resources as men. This may be because they have taken on the traditional carer role in the family or because of wage inequalities.
Without sufficient superannuation and skills transferable to a modern workforce, these older women are unable to secure affordable housing and are left to turn to less than desirable short-term accommodation options, such as caravan parks, where they are especially vulnerable.
Despite service providers operating in rural and regional areas, people don't often know what help is available to them. There are no 'tent cities', and those at risk are isolated, meaning the job of supporting them is all the more challenging.
A strong community presence is critical in reaching those experiencing housing insecurity, especially when they might not have the skills to research and access services on their own.
There is also often a huge amount of shame carried from not having anywhere to live, and people are often reluctant to reach out to service providers until they're in a pretty bad way. Housing solutions that go beyond just a roof over someone's head are therefore vital. Integrated housing models where we actively work with residents to improve their mental, physical and social wellbeing are the way forward.
We need to create a sense of community and responsibility that helps restore something lost to residents, whether that be a feeling of safety, or a sense of self-worth.
As Australia faces up to its national housing affordability crisis which is a key driver of homelessness, we need to do our part to assist older Australians, in particular older women who face increasing disadvantage.
We need to ensure regional, rural and remote communities have the resources and approach required to address homelessness which is occurring at a much higher rate and with challenges quite different to those faced in our big cities.
There must be ongoing dialogue between, policy-makers, front-line service providers, and police to ensure efforts to address homelessness meet the holistic needs of those experiencing housing insecurity, wherever they may be.