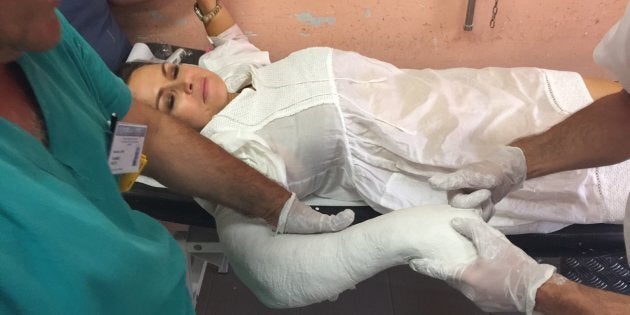 Somehow I just knew it was all too perfect...
I'd been looking forward to this mid-year break since... last mid-year's break. Yes, my usual 3 am Today Show alarm, switched off for two glorious weeks!
It was a full holiday dance-card. Joining my husband -- who'd been hosting a tour group of Aussies on the French battle-fields of the Somme -- connecting with dear friends, heading off to a part of Italy so many have raved about, but we'd never seen, the amazing Amalfi Coast, south of Naples. We'd even managed to secure a spot at the most prized and picture-perfect restaurant on the coast.
And, today, we were just about to head out from our hotel in the village of Amalfi to the hills behind us, when I thought I'd take a quick shower to freshen up.
I knew the floor was slippery, but the moment of falling seemed to take forever. My mind went in slo-mo -- even though my body was in fast-forward -- as I calculated just how bad the fall was going to be. I was right. Very bad.
The pain was like a red hot dagger stabbing into my right wrist. Urgent phone calls. Bucket-loads of ice. Gobbled pain-killers. More agony than I've ever felt, outside of child-birth. Within 20 minutes my husband and I were on our way on the most windy road in the world to the local hospital, as the achingly beautiful coast rushed by: all fishing boats, beaches of brightly coloured umbrellas, thousand-year-old churches, towering mountains and more than 300 bends -- 301, counting my wrist.
The second most stunning thing?
Within five minutes of arriving at the local hospital, not only was there a needle in my bottom, but I was being looked at by professionals. Within 15 minutes, we could see the x-rays. Having played a season of rugby near Venice 30 years ago, Pete can speak the language. But even I could understand the first words of the doctor as he saw the outlines of my shattered bones and shook his head: "Molto brutto". Very ugly.
Thirty minutes later, again, and we are on our way to the large hospital at Salerno, where, again, our reception was stunning. No matter that the hospital in question looked like a tattered 1950s warehouse from Beirut, and I was quickly ushered into a waiting room that I swear, not along ago, must have stored fertiliser bags. No matter that everything, everywhere looked tatty and run down.
The point is that, again, within minutes I was in the hands of wonderful professionals, an orthopedic specialist whose care was touching, whose humanity shone through, and who -- blessedly at last -- managed to find a way to ease the pain. (That is, apart from when he gripped my right hand and pulled and manoeuvred to reset the broken bones. Despite the four local anaesthetics in my arm beforehand, it nevertheless saw the agony of child-birth left behind for two minutes.)
More x-rays to ensure that all was "tutto a posto" (as it should be), a plaster cast to hold everything in place until I can get a plate put in at home, and we were on our way.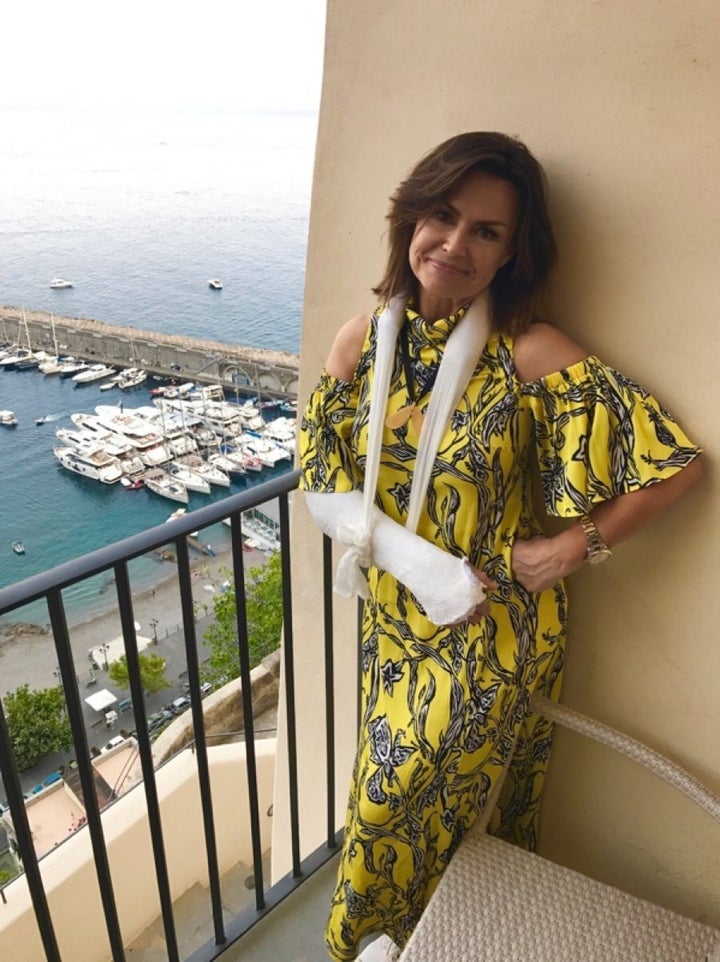 But to the most stunning thing of all.
When Pete handed over his credit card, they were bemused.
"Che cosè'?" What is this for?
"Voglio pagare." I want to pay.
Much laughter all around. Thanks to a reciprocal health care agreement between Australia and Italy, I didn't have to pay a cent.
"Va bene!" Go well. Kisses on both cheeks from both the specialist and the nurse, and we were on our way.
I couldn't help but compare it to our experience in the USA in January, when our daughter swallowed a piece of pineapple the wrong way and it got stuck in her throat. There, we were treated with equal speed, warmth and professionalism -- but only after we had handed over credit-card details. And for what was only a very brief and successful procedure, the bills are still coming in -- for many thousands of dollars.
Two countries, two systems. For me, it was the difference between running health care as a business, and providing it as a human right.
Ultimately, not the mid-year break I was looking for -- snapped in two places -- but, still, thank you Italy for your beautiful vistas and great big heart.
CORRECTION: An earlier version of this post stated that public hospitals in Italy are free for everyone, but emergency expenses were free in this case because of a reciprocal health care agreement between Australia and certain countries, including Italy. The piece has been updated to reflect that change.
ALSO ON HUFFPOST AUSTRALIA