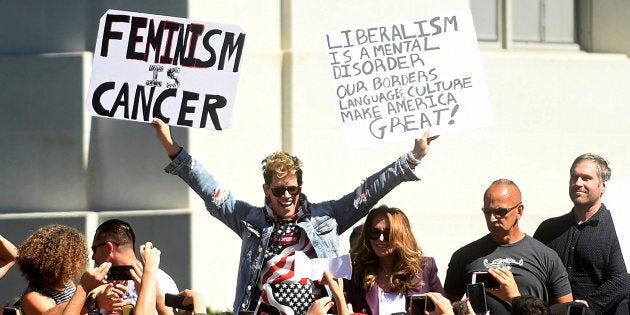 Milo Yiannopoulos, former tech editor at alt-right mouthpiece Breitbart News and professional pest, announced an Australian speaking tour last week, in an event titled 'Troll Academy'.
Just days later, he and Breitbart were linked to neo-Nazis in an explosive investigation featuring video footage of Yiannopoulos singing karaoke with white nationalists. Among that group was Richard Spencer, a noted white supremacist who helped organise the tiki torch-lit Unite The Right rally in Charlottesville in August. In the video, the group can be clearly seen performing Nazi salutes right in front of Yiannopoulos.
Despite this revelation, Yiannopoulos has this week received tame treatment and interrogation in multiple mainstream Australian media outlets, is being represented by one of Australia's top celebrity publicists who says the controversial speaker "talks a lot of common sense", and is being slowly co-opted by Australia's own conservative media outlets who claim he is "ahead of the curve".
Yiannopoulos was a hugely controversial figure well before the Nazi video emerged. He was one of the leading figures in the 'Gamergate' saga, a prolonged and targeted campaign of harassment and abuse of women in the video game industry; he was permanently banned from Twitter for harassment of Ghostbusters actress Leslie Jones, who he described as 'barely literate' and a 'black dude'; and lost both his position at Breitbart and a planned book deal in February this year after previous comments resurfaced where he appeared to endorse paedophilia. Since leaving Breitbart, he has toured American colleage campuses and inspired riots ahead of his speaking engagements. He calls feminism a "cancer" and compared Islam to AIDS.
An exhaustive Buzzfeed report, published on October 6 (AEDT), sets out in great detail through leaked emails and correspondence the claim that Breitbart and Yiannopoulos "smuggled Nazi and white nationalist ideas into the mainstream". Breitbart's executive chairman is Steve Bannon, who left the company to work as chief strategist to U.S. President Donald Trump, and recently returned to that position.
"For more than a year, Yiannopoulos led the site in a coy dance around the [alt-right's] nastier edges, writing stories that minimized the role of neo-Nazis and white nationalists while giving its politer voices 'a fair hearing'," Buzzfeed reported, but most disturbing would be the video (above) showing white nationalists including Spencer performing Nazi salutes as Yiannopoulos sings karaoke.
In a statement to Buzzfeed, he claimed his "severe myopia" meant he did not see the Nazi salutes being performed by several people right in front of him. But Australian media outlets including Sunrise, Fairfax, KIIS FM and Alan Jones on Macquarie Radio saw clear to interview Yiannopoulos, while high-profile agent Max Markson became his publicist for the upcoming speaking tour.
​​​​"Milo is amazing. He is incredibly articulate, witty, funny and politically incorrect."
Markson later tweeted a link to his comments on October 6, the same day the Buzzfeed expose was published.
Sunrise hosts David Koch and Monique Wright were described in press as having a "fiery" clash with Yiannopoulos, but essentially just read out a list of his controversial quotes and asked him to explain them further. Fairfax described him as a "virtuous troll" whose aim is to "reveal hypocrisy through ridicule".
On KIIS FM, he joked about killing feminists.
Many online were outraged at the coverage Yiannopoulos received just days after his Nazi links were reported.
It's not just Australia's mainstream press which is giving Milo a platform, however. He has featured on Andrew Bolt's show on Sky News several times, including as recently as last month.
Bolt launched a full-throated defence of Yiannopoulos in the wake of the Sunrise interview. In a blog post on October 9, Bolt said "There are plenty of reasons to criticise Milo -- along with good reasons to applaud him" and claimed "it may actually be worth it just to hear what he has to say without being in such a frantic rush to smash him".
Bolt did not mention the Buzzfeed report or the Nazi links.
The already published and aired interviews with Yiannopoulos will not be the last ones he does in Australia this week. As announced on Tuesday, he will appear alongside a media personality who is perhaps Australia's closest equivalent to America's alt-right commentators -- former Labor leader, former Sky News host, Mark Latham, who has his own string of controversies and resulting sackings.
The connection between Yiannopoulos and Latham isn't hard to work out. Markson represents them both, having helped plug Latham's book launch last week. Jones, who interviewed Milo this week, was the headline speaker at the launch of Latham's book.
"Trigger warning! Watch out snowflakes and goodbye political correctness and the PC police as Australia's Mark Latham and the worlds most controversial man Milo Yiannopoulos go head to head in an interview that gets to Milo's philosophy and ideas rather than outrage and sensationalism!" reads the press release announcing that Milo will appear on Latham's talk show on website Rebel Media, a far-right platform based in Canada
"Milo Yiannopoulos is ahead of the curve when it comes to how the world thinks. He isn't left wing or right wing. He is a genuine Outsider and says what he believes is correct in today's ever changing world," Latham said in a statement.
Latham has also published a piece on Rebel, titled 'Don't Let Them Ban Milo From Australia', where he defends Yiannopoulos from the paedophilia comments but mysteriously fails to mention the Nazi links. He has started his own petition, which has been given a push by Bolt.
Yiannopoulos' appearance in Australia will be a rallying moment for Australia's small, disjointed and disparate answer to the far-right. While lacking in numbers and stature, a small number of blogs have sprung up in recent months trying to act as an Australian version of Breitbart.
A small network of websites, podcasts and online groups currently exist which publish material on "fake journalism", criticism of feminism, anti-Semitic and misogynist articles, and praise the work of American alt-right figures and publications. They are currently largely under-the-radar, with tiny followings in terms of viewers and social media fans, but are growing in number thanks to figureheads like Latham, who has appeared on and praised the podcasts.
While Milo's brand of incendiary, provocative and -- to borrow the name of his own speaking tour -- troll behaviour has so far failed to really take off in Australia, the media attention around his Australian visit may prove a true spark point for a local radical-right community to step out of the shadows.