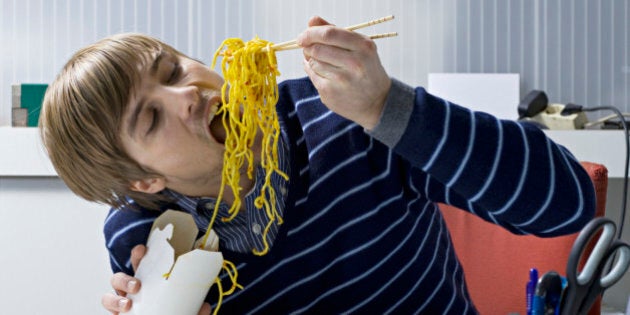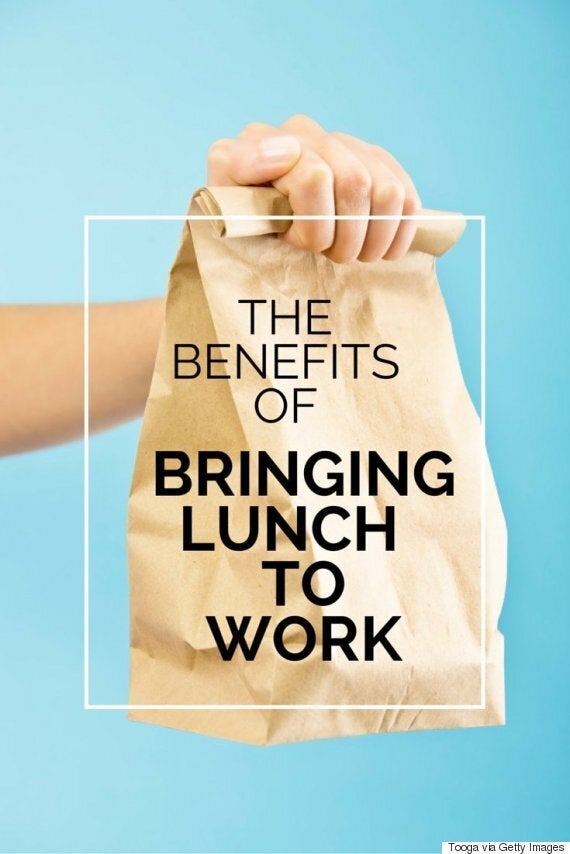 Getting up and out of the house by 7:30 a.m. is hard enough as it is. Add the thought of making a healthy, filling lunch to bring to work, and you're probably already waiting in line at the food court for lunch.
While buying a food court lunch every now and then is not a cause for concern, over time, eating these meals every day of the week can have an effect on your energy levels and overall health -- and your bank balance, too.
"We need to make sure we eat a healthy lunch," Themis Chryssidis, accredited practising dietitian and spokesperson for the Dietitians Association of Australia, told The Huffington Post Australia. "A healthy lunch provides our brains with the low GI energy source they need to function properly.
"The right lunch actually helps curb our hunger levels and helps fuel us through the latter part of the day."
Making and bringing lunch to work every day might seem as impossible as licking your elbow, but Chryssidis ensures it can be easy, and the benefits far outweigh the initial hassle.
The Benefits Of Bringing Your Own Lunch To Work
"Ninety-one percent of Australians don't meet their daily vegetable intake requirements. A lot of Australians will consume vegetables at dinner time, but they certainly won't consume them at lunch time," Chryssidis said.
"One of the dangers of purchasing your lunch is they are generally low in vegetables, so by bringing your own salad or leftovers it helps you really get your vegetable intake."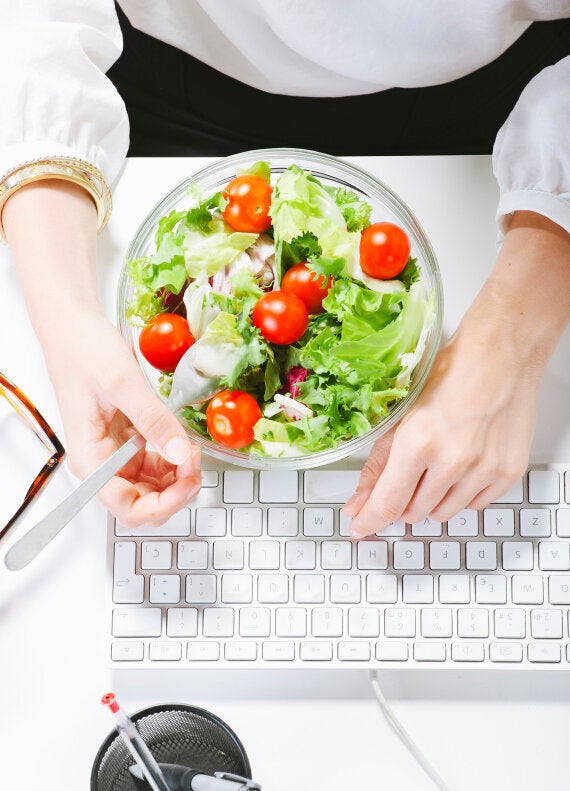 2. You Consume Less Fat, Salt, Sugar And Energy
"It's not just the low vegetable content that can be a concern. When we purchase food out from takeaway places, restaurants, cafes and hotels we consume a lot more saturated fat, salt and sugar, and a high energy intake, as well," Chryssidis said.
"With all the aromas, visuals and value of food court meals, you look around and think, 'I'm just going to eat a larger one,'" Chryssidis said.
"Lunch seems to be the meal that everyone tries to be very budget savvy with. Consequently, they try to get better value for money and often will purchase the meal in the food court that is larger -- even though they don't need it. Naturally we end up eating it all.
"We don't want to be sitting there later in the afternoon feeling like we've just had Christmas lunch. By bringing your own food you ensure you're getting the right portions and have the right amount of energy to see out the day."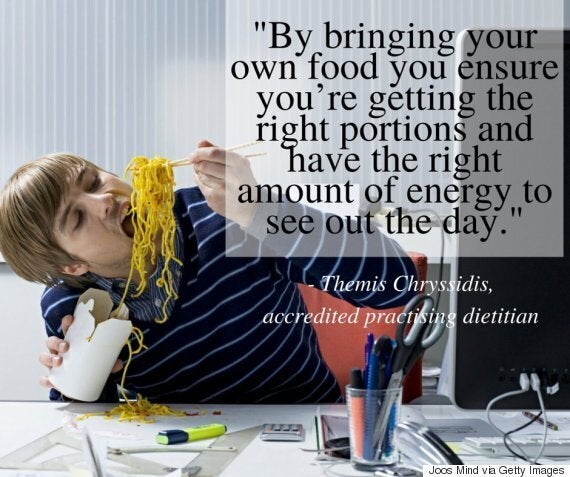 4. No Temptation Of Lunch 'Extras' And Drinks
We've all been there: "The Coke is only one dollar extra, I may as well get it."
"Those food court meals all come back to getting more value and adding a few extra sides to the meal, whether that's a drink or a food," Chryssidis told HuffPost Australia. "It adds potentially more sugar, more salt and more fat. And, again, do you necessarily need it? Probably not.
"If it is a soft drink, it's probably just going to give you an energy high and then a crash later in the afternoon."
5. It Helps Curb The 3 p.m. Slump
Another benefit of fuelling our bodies with a filling, nutritious lunch is it can help decrease the urge to grab those afternoon or pre-dinner snacks which are often high in sugar, salt and energy.
"The reason why lunch is so important is because, after an unhealthy lunch, so many people hit that afternoon low. Once they get home they raid the pantry, or on the way home they grab something from the service station," Chryssidis said.
It may seem like an obvious one, but making your own lunch could save you enough money for a holiday -- while a lunch under $10 may seem cheap on the day, over the course of a year, buying lunch every day could cost you nearly $2,000.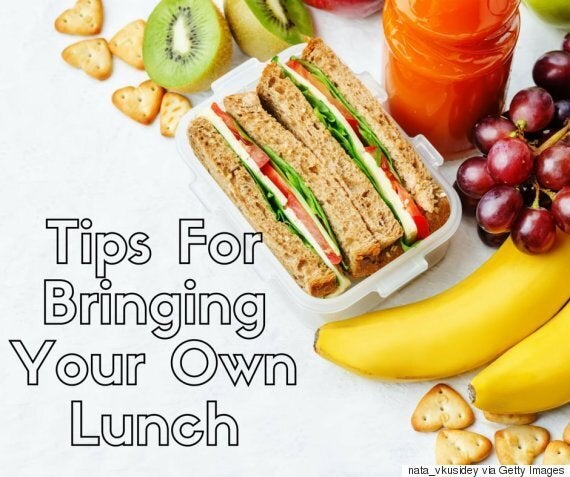 Stay Away From The Food Court
Out of sight, out of mind. If you have brought lunch to work, there will be no need to head to the food court and be tempted to eat all the food.
"This way you're not emotionally invested or looking at the finance side of it. You're going to make a better choice," Chryssidis said.
"It's about prioritising your lunch meal," Chryssidis told HuffPost Australia. "If you wake up in the morning and you're trying to run out the door by 7:30 a.m. and you're thinking you will be able to quickly whip up a balanced, healthy lunch when you just have enough time to brush your teeth, it's not going to happen.
"I think the key is actually planning and knowing what you're going to eat that day."
"One of my tricks that I tell all my patients is to roast a whole bunch of vegetables -- pumpkin, potatoes, cauliflower and throw a few spices on them -- and then keep a big tray of it so it's all ready to go," Chryssidis said.
"Then you only need to throw in some spinach leaves, walnuts, feta cheese and that's your lunch ready to go. It doesn't take long to do in the morning because the majority of it is already done.
"You could also grate a whole pile of vegetables -- some carrots, cabbage, cucumber and so forth -- and keep it in your fridge so all you need to do is take it out and make a quick and easy salad or a big, filling sandwich with whole grain bread that will get you through the day. The key is that initial planning.
"If you're packing your own lunch at home when you're not hungry and bringing it to work, you're more likely to get the portion size right and make a healthier choice -- compared to if the meal is purchased when you're starving and walking around the food court smelling and seeing all this food."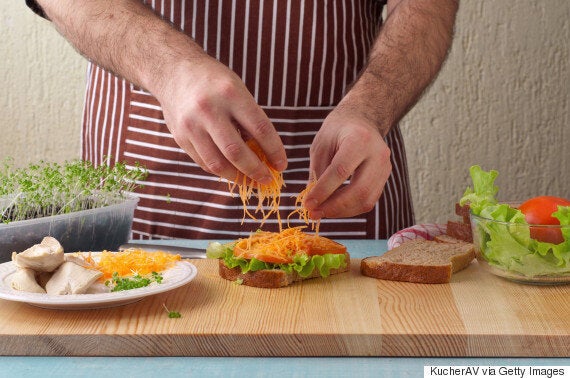 If you still don't like the idea of making something separate for lunch, try doubling or quadrupling the recipe for dinner so you have leftovers to bring for the next few days.
"Leftovers are always a good one," Chryssidis said.
Focus On The Benefits You're Getting
"Look at the positives," Chryssidis said. "Consider the fact that you are going to save money, and you are going to feel a lot better.
"It's about establishing a healthy habit, and that takes a bit of time. Sometimes we need to feel a little bit unconformable before we start to feel comfortable with healthier eating.
"By building that habit and really honestly establishing your priority and planning, you will get there."