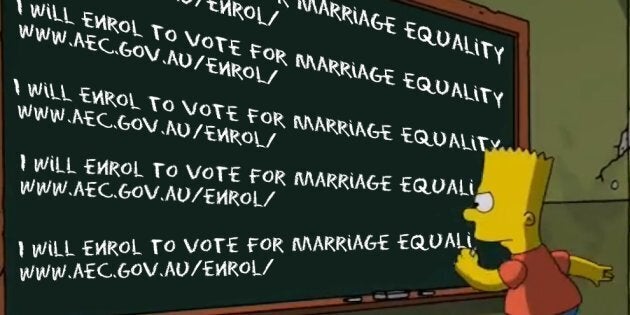 When the Government gave people just two weeks to enrol or update their details on the electoral roll for the postal plebiscite, it started a mad scramble for Australia's young people -- the most likely to support marriage equality, and the least likely to be enrolled or have all their details correct -- to ensure they would get a vote in the controversial survey.
Getting the word out to young people that they need to, and should, participate in federal politics is no small task. Never has been. Ahead of the 2016 election, of the 980,000 unenrolled Australians, 380,000 of them were in the 18-25 age bracket; almost 18 percent of all people in that age group, compared to around 6 percent of the general population.
A concerted enrolment campaign by the Australian Electoral Commission saw an extra 90,000 young people enrol to vote, but with such a short turnaround between August 9 when the postal plebiscite was confirmed, and August 24 when the rolls close, such an advertising blitz was not possible ahead of the postal survey -- at least, not a blitz in the traditional sense.
That's where memes come in.
As we saw during the 2016 election, memes are being rolled out to activate Australia's youth. Calls to action, polite (and not so polite) requests to enrol and entreaties to check details have flooded social media feeds since August 9, with the links to the AEC's "check your enrolment" tool an ever-present feature on computer screens and smartphones for many young people.
This is in no small part due to a small but dedicated band of social media masters and popular joke pages, which have helped spread the word about the need for all Australians -- especially their mainly young audiences -- to check their details and participate in the plebiscite.
"They are often politically engaged but so many of them aren't enrolled," said the admin of the popular Facebook page Simpsons Vs The Liberals, which mashes up classic scenes from The Simpsons with references to Australian politics.
The Simpsons page has posted around 30 memes relating to marriage equality and the plebiscite, and a similar number of links to the AEC's website, since the postal survey was announced on August 8. The admin, who wished to remain anonymous, told HuffPost Australia that fans of Simpsons Vs The Liberals had responded well to the calls to enrol, claiming some of those posts were among the most popular he had ever posted.
"If we can help convince even a few to enrol to vote for marriage equality that's a success for our page. The great thing with social media it's very easy to spread a message with it -- one of our memes had nearly 10,000 shares so that's a lot of people seeing a meme telling them to enrol to vote," the admin said.
"I would say the marriage equality memes are doing much better than most of the other memes except with Barnaby Joyce -- everyone really loves those memes."
Memes are also coming from more overtly political pages as well, including pages affiliated directly with the Labor and Greens parties. Rose Jackson is the assistant general secretary of the NSW Labor party and leader of the NSW Left faction. The NSW Left's Facebook page has also been posting a bunch of plebiscite memes, complete with links to enrol, which they claim has led to several thousand click-throughs to the AEC's website.
"Political campaigning has changed. How do you reach out to a group of people that have no landline, can't be door-knocked, don't watch free-to-air television and think politics is out of touch?" Jackson told HuffPost Australia.
"You do it by campaigning in the spaces that people are already in. Digital campaigning, including tools like memes, are part of the new language of political campaigning."
Jackson explained some of the reasons why her organisation got behind memes in the plebiscite push.
"Because they're fun! And they work. They are more effective then anything else we can do in the limited time that we have to enrol voters," she said.
"Our posts on the postal survey have transcended our usual audience and engaged people who wouldn't normally engage with political parties. Not only has our response been much bigger than normal, but we are reaching a new audience of young people who have decided to engage because they're angry at the Government on this issue.
"In the last week, our page has had more engagement than at any other time in the last four years."
The enrolment awareness campaign, helped along by the meme pages, has been working. The AEC reported on August 11, two days after the postal survey was announced, that their systems had been running hot with people checking and updating their details. Nearly 17,000 people enrolled to vote between August 8 and 14, almost 2500 per day. Most of these would necessarily be young people who have never been on the electoral before.
The Simpsons Vs Liberals page admin said it was likely Australia would continue seeing memes used as a potent political tool well into the future.
"Our job has always been to make Australian politics more accessible for people. It affects everyone so I think everyone should be able to understand the basics of what is going on - and sometimes politics isn't easy to understand," the admin said.
"I think there is so much news out there people can sometimes "turn off" from the news but memes can break through because they're a different way to spread the news and they're funny."