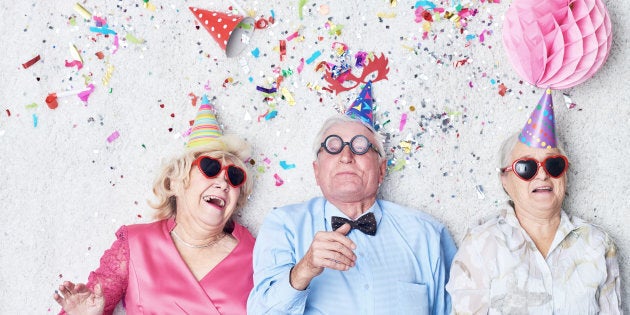 When we think back to childhood, the sheer excitement of an upcoming birthday would have most of us talking of little else for weeks, sometimes months, ahead of the date. It was a big deal.
We might have woken up our parents way too early, in expectation of opening a tonne of presents before a fun-filled day ahead. Perhaps we had all our friends coming over for a party that afternoon, or had booked out the local Timezone or the upstairs level of McDonald's or Sizzler.
The point is that these birthdays were exciting, and our parents had the enormous task of planning our celebrations down to the smallest detail, ensuring we got the exact gender normative toy we had asked (begged) for and that no peanuts were anywhere near the food, so our second-best friend didn't have an allergic reaction.
Forgo the notion of an adult birthday and enlist like-minded friends to be ridiculous with you.
As an adult, the pressure of birthdays falls into our own laps, for the most part. It happens quickly. Suddenly birthdays aren't days spent luxuriating in the fruits of our parents' labour. They are upcoming events we have to plan to ensure we don't feel lonely/unpopular/unloved, as we mark the transition to another age. Some birthdays are, of course, worse than others. 18, 21, 30, 40, 50 and beyond all bring with them a similar expectations of fun that New Year's Eve does.
Some of us may be happy to equate growing up with the end of over-the-top birthday celebrations. Others may still be trying to wrap their heads around how to acknowledge their aging with an appropriate level of ceremoniousness, while maintaining their dignity (i.e. not booking out McDonald's/Sizzler/asking the 'rents to plan their 28th as a reenactment of their 8th).
Here, I present the definitive list of GOOD ideas for your adult birthday. Some are silly, some sensible, all very helpful. Happy Birthday to you.
...to take to your birthday dinner/to have in the evening of your b'day with your partner/to eat by the ocean. But make it a really good cake. Cake is such a thing now. There are heaps of classy, delightful and artisan bakery options around, or if you're really embracing your adulthood and are watching your sugar intake, options such as a whole cake from Pana Chocolate are great.
Having a cake is a celebratory statement without too much effort (most even deliver to your door). It marks the occasion, makes you/everyone happy, and is a sweet throwback to those childhood years praying the knife doesn't come out dirty.
Do that one thing you've wanted to do for ages
This is obvious, but do the thing you've been meaning to bloody do. Everyone has a thing. Maybe you've wanted a massage for the last six months but haven't got round to booking one, or haven't given yourself permission to spend money. Your birthday is the day to do it. Go and see that movie or play everyone's been telling you about. Go for that walk in nature and switch off your phone. Order that frankly ridiculous cafe breakfast you've been eyeing off on Instagram with the fairy floss tower. Enrol in a wine appreciation course or French lessons (both together also a very good combination). Whatever IT is, go for it.
Forgo expectations of planning an ultimate day
Most of us have to go to work these days. Instead, make use of your adult detachment to your actual birthday and pace it out. Have a few catch-up dinners with friends and family over the month if the idea of planning one big party is anxiety inducing. Do lots of little things. Have a picnic in nice weather. Visit your nephews and nieces one weekend. Grab a drink with your friend who makes you laugh. The day itself doesn't have to represent your transition into a new and improved age. This has the benefit of stretching your birthday out for way longer than you have the right to. And never underestimate the simple loveliness of a nice dinner somewhere classy with your friends, family, partner or children.
Get practical about it, if that's more your thing
Think about how you'd like to spend the rest of your year as your new, slightly older self. A birthday is a remarkably symbolic time for self-improvement. Spend some time on the day practicing meditation, reading a book, doing exercise, seeing a therapist, going to yoga, starting a gratitude list or planning the year ahead in terms of what you really want to achieve.
The above too earnest? Then get real silly
Forgo the notion of an adult birthday and enlist like-minded friends to be ridiculous with you. Skinny dip in the ocean. Go to a day club and dance. Take the day off work and road trip somewhere you've never been and know nothing about. Pick the destination out randomly on a map like you're a manic pixie dream girl/boy in a wordy romantic comedy (try again if the destination is too far away/invokes images of tumbleweeds blowing in the wind).
Plan a party, you go-getter
And what if it's a big, meaningful year and you do plan to have a big old party thank you very much? Then good on you!
Make sure you plan well ahead to avoid the thing creeping up on you. What do you imagine when you think of this party? Where is it? Who's there? Be led by the images that you conjure instinctively when thinking about it. Don't worry about asking loved ones to take on a bit of a role to ease the burden -– ask your savvy, planner friend to send out the invitations etc. Make sure the food is all the stuff you love to eat, and that the champagne is quality.
If it's at home, get a playlist of your favourite songs (a clash of genres, sensibilities and good/bad taste is fine). Invite who you love and who loves you. Buy a new frock/suit/hawaiian shirt to mark the occasion. Ask your partner/dad/best friend to make a speech and say wonderful things about you, and to include one humorous anecdote that veers closer to endearing, rather than mortifying. Kick up your heels, enjoy the spotlight and have a great time. Get a bit carried away with the sentimentality of this day; so many people didn't get to reach the age you are marking but wanted to. Feel fuzzy and grateful, and then swiftly get back to more bubbly and adorable, inventive dancing.
ALSO ON HUFFPOST AUSTRALIA