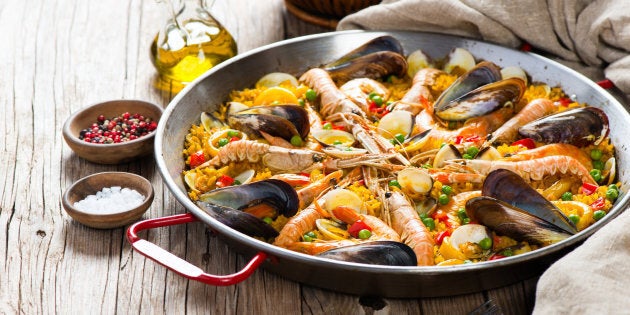 Paella is one of those dishes you love to enjoy at street food festivals and markets (seriously, how can rice taste so good?), but you don't even try recreating at home for fear of massively failing.
Well, although making paella might seem as impossible as correctly pronouncing it (pie-yay-a), it is doable and extremely delicious. Promise.
"A very important part of paella is the rice," Rodriguez told HuffPost Australia. "Bomba is the best rice to use -- it's a short grain with super flavour soaking abilities and is able to hold its shape."
"To give extra flavour to your paella, toast the rice in the pan with the tomato and olive oil for a few minutes first before adding the stock," Rodriguez said.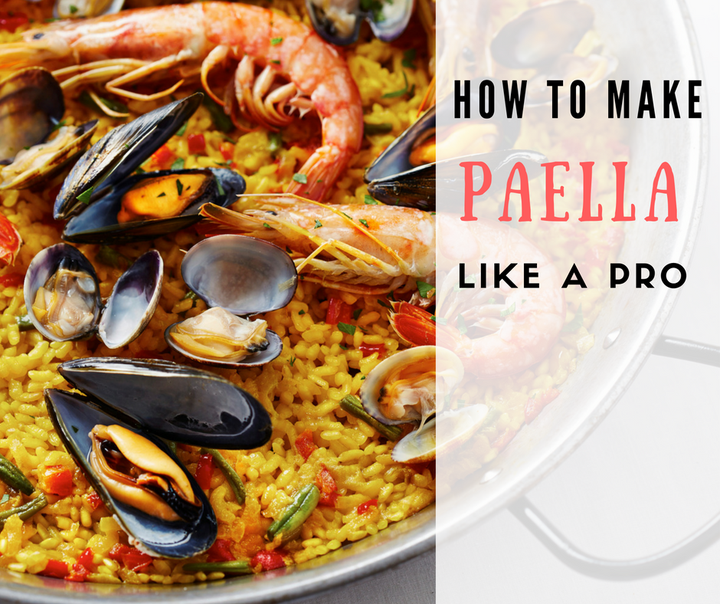 Paella is famous for its beautiful, vibrant colour and much of this is due to the inclusion of saffron. To get the most out of your saffron, Rodriguez recommends this tip.
"To give a lovely golden colour to the rice, soak the saffron threads in the stock for at least 10 minutes before cooking," he explained. "This releases the colour and flavour."
4. Add hot (not cold) stock to the paella
"When adding the stock to your paella, make sure it's hot," Rodriguez said. "It's important to keep the temperature consistent when cooking, so keep the stock in a saucepan on a low heat.
"Remember, when first adding the stock, to stir and mix the rice, sofrito base and stock for a few minutes before leaving to settle and form a nice crust on the bottom called 'socorat'."
Sofrito is the base of paella and is made up of cooked onion, tomato, olive oil and small amounts of sweet paprika and garlic.
While it's definitely possible to use a normal large pan, to make authentic paella you need a proper paella pan.
"A good paella is in a pan with a large base area and only 3 or 4 centimetres of rice in depth," Rodriguez said.
"You will need a paella pan of about 45cm in diameter, but if you don't have one then the biggest skillet you have will suffice."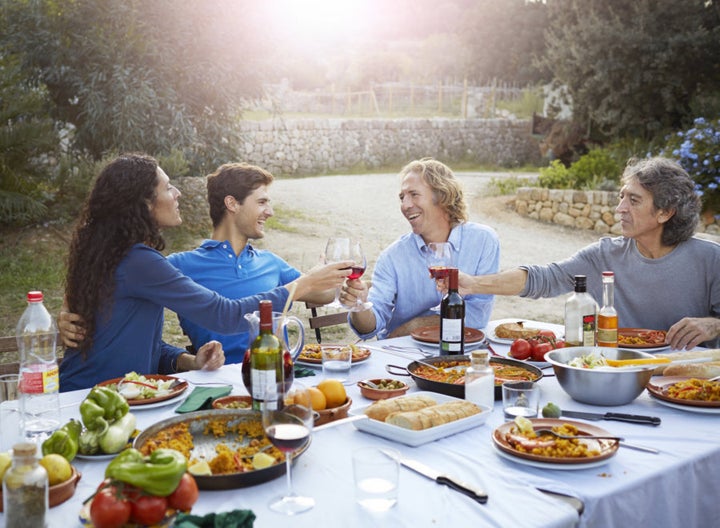 Chorizo and seafood paella recipe
Recipe by Gerard Rodriguez, Bohemian Spanish Restaurant and Bar head chef.
"This is a great dish to make for friends and family in the warmer months and enjoy with a glass of Spanish rosé or a nice crisp Albariño," Rodriguez told HuffPost Australia.
Step one: making a sofrito
"A sofrito is one of the building blocks for all good paella and many other sauces in Spanish cuisine such as romesco," Rodriguez said.
"It's basically a jam of onions, garlic and capsicum along with herbs and bay leaf. You can make this and freeze it as it could be seen as the Spanish version of a stock when cooking rice."
125ml olive oil
2 white onions, finely diced
2 garlic cloves, thinly sliced
4 bay leaves
Bunch of thyme
4 large red capsicums, seeded and finely diced
4 ripe tomatoes, peeled, seeded, cored and diced
1. Make sure all your ingredients are finely diced, then put in your paella pan and softly fry (or 'sofrito') over a very low heat. The whole process should take around an hour or more. The mixture will gradually turn into a jammy, darker coloured paste. Once it has darkened, take off the heat, let it cool and store in a container.
Step two: making the paella
750ml (3 cups) water
¼ tsp Spanish sweet or smoked paprika
Pinch saffron threads (Iranian or Spanish)
1 tbsp olive oil
100g semi-cured chorizo, sliced into ½ cm rounds
2 squid or calamari tubes, sliced into 1 cm rounds
¼ cup sofrito (recipe above)
1 cup bomba rice or marisma rice
100ml white wine
8 large green prawns
Salt, to taste
16 black mussels
1 roasted capsicum, diced
Chopped parsley, to serve
Lemon wedges, to serve
1. Place a paella pan over a medium heat. Add the olive oil and chorizo and cook for five minutes until it releases some oil and looks crisp. Remove and set aside.
2. Add the sofrito to the pan and cook for five minutes, stirring regularly before adding the squid. Cook for three minutes. Add back the chorizo along with the saffron and then the rice.
3. Stir to make sure the rice is coated in the paprika coloured oils, then pour in the wine and cook until evaporated.
4. Pour in the water, stir, then spread the rice evenly over the base of the pan and bring to the boil. Cook for a few minutes until the rice begins to swell and absorbs some stock.
5. Add the prawns and two pinches of salt. Stir gently for the last time and reduce the heat to a steady simmer. Cook for 3–4 minutes until the rice begins to show as the stock reduces.
6. Add the mussels and continue to cook for 8–10 minutes until the water has been absorbed and the rice is tender.
7. Reduce heat to low and cook for a further five minutes until a crust (known as a 'socarrat') forms on the bottom of the pan.
8. Sprinkle over the roasted capsicum, remove from the heat and rest for five minutes. Sprinkle with chopped parsley and serve with lemon wedges.