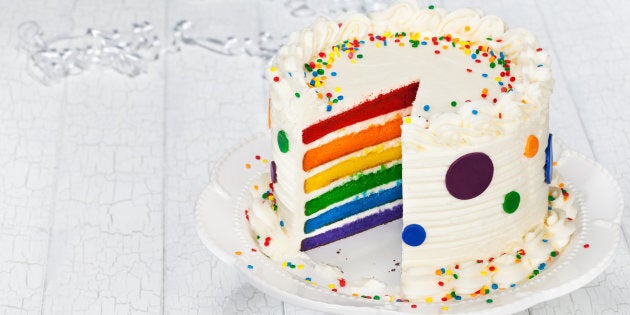 After a very big, exhausting few weeks (to put it mildly) for the LGBTQ community, it seems like the best time for everyone to eat some goddamn delicious cake.
But not just any cake -- we're talking easy to make six-layer rainbow cake with fluffy meringue frosting.
To make this rainbow cake, start by making one big cake mixture, separate into six bowls, add food colouring to each mixture and bake the cake layers. While they're baking in the oven, make the three-ingredient meringue frosting. Once the rainbow cake layers are ready, build the cake and add the meringue frosting between each colour.
That's it. Time to inhale.
Preparation time: 30 minutes. Cooking time: 50 minutes.
INGREDIENTS
250g butter, softened
2 teaspoons vanilla extract
1½ cups caster sugar
4 eggs, lightly beaten
3 cups plain flour, sifted
6 teaspoons baking powder
1 cup milk
Blue, green, yellow, orange and red food colouring
8 egg whites
4 cups caster sugar
1 teaspoon vanilla extract
METHOD
Preheat oven to 180°C (160°C fan-forced). Grease three 7cm-deep, 20cm (base) round cake pans or three 4cm-deep, 20cm base round cake pans. Line bases and sides with baking paper.
In a large bowl using an electric mixer, beat butter, vanilla and sugar until light and fluffy. Add eggs, one at a time, beating after each addition. Stir in flour, baking powder and milk until combined.
Divide batter between six bowls. Tint one portion blue, one portion green, one portion yellow, one portion orange, one portion purple and the last red. Spread one portion into one prepared cake pan. Repeat with remaining two portions and prepared pans. Smooth surfaces. Bake for 25 minutes, rotating halfway during cooking, or until cooked through. Stand cakes in pans for five minutes. Turn out onto wire racks to cool completely. Wash and dry cake pans. Grease and line with baking paper. Repeat with remaining cake mixtures.
To make frosting, place egg whites, vanilla, sugar and ¼ cup cold water in a large heatproof bowl. Whisk to combine. Place bowl over a saucepan of simmering water. Using an electric hand mixer, beat egg white mixture for 15 minutes or until stiff peaks form. Remove bowl from heat. Beat until cooled.
Place purple cake on a 30cm round cake board. Spread with ½ cup frosting. Top with blue cake. Repeat with remaining frosting and green, yellow, orange and red cakes, using ½ cup frosting for each layer. Spread remaining frosting over top and side of cake, or decorate as desired with chocolate ganache or royal icing.