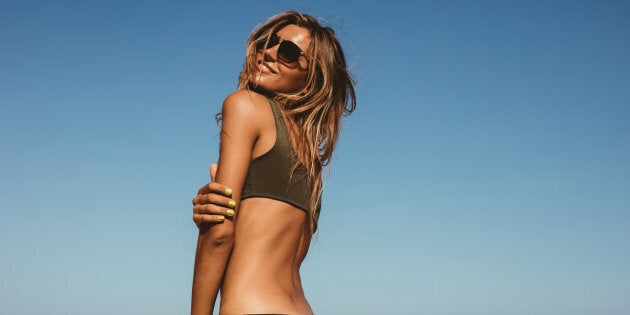 Summer is almost upon us, and with summer comes sun, sea and... swimsuit season. This may be exciting for the Victoria's Secret models of the world, but for the rest of us, the prospect of stripping down to next to nothing in a public place can be somewhat daunting.
Not to mention the fact there's more to the perfect swimsuit than just looking good. Those bad boys need to support you (quite literally) in the surf, on the sand and -- importantly -- when you're doing your best slow-motion 'Baywatch' run.
But finding the perfect pair of swimmers can be quite an arduous task, especially when dealing with post-winter padding.
So how do you find the right swimsuit for you? HuffPost Australia spoke to Tash Oakley and Devin Brugman of Monday swimwear to find out.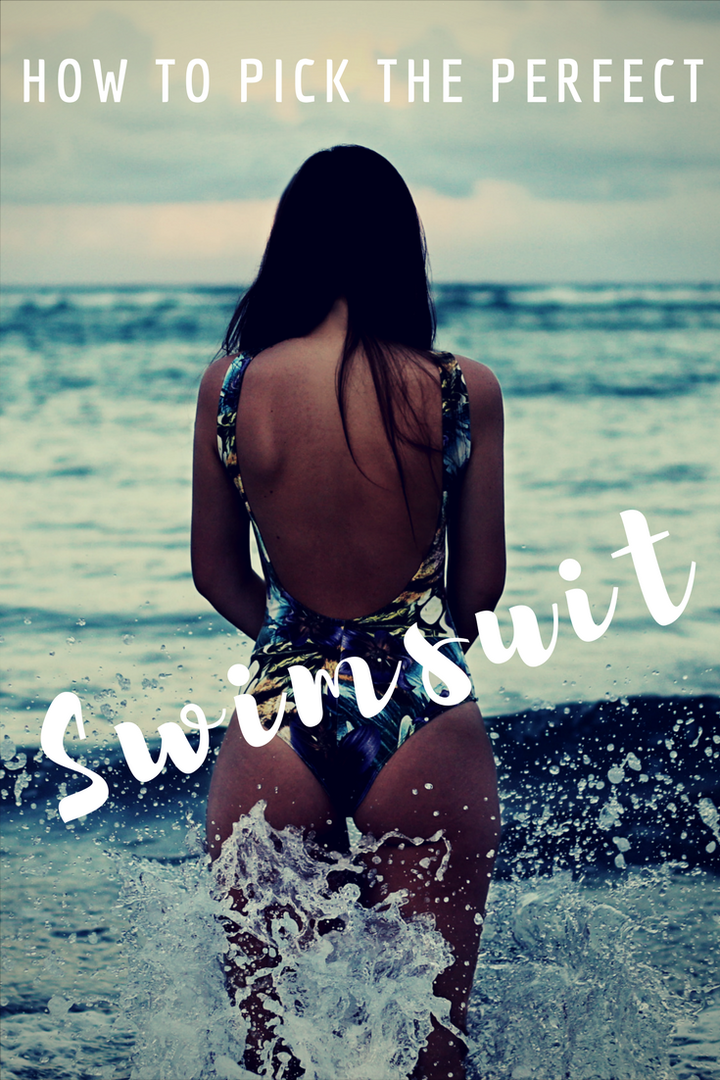 HP: Swimwear shopping can be daunting at the best of times. What are the most flattering styles out this season?
Devin and Tash: "We've worn every style of swimwear, but it's still hard to say which is universally flattering because every body type is so unique. If we had to name one it would be a classic tie side triangle bikini, mainly because it is fully adjustable so you can alter it to fit your own body type. Flattery in swimwear really comes down to adjustability."
A common frustration for women with bigger busts is finding swimwear or a bikini top that supports them without looking like a 'nanna bra'. What styles/cuts are best for them? What styles/cuts should they avoid?
"This is something we struggled to answer ourselves for the longest time and one of the main reasons we created our own swimwear line. We recommend a wider strapped halter neck top that won't dig, an underwire top for a comfortable and flattering fit, or a fully adjustable classic triangle top."
For those concerned about their mid-section, what are your best tips for a flattering swimsuit?
"A structured one piece featuring a deep V neckline, double lining to help you feel secure, a supportive waist panel and adjustable straps are key. A V-neck and slightly higher cut leg help to add length to the torso and the legs, sweetening all of your mid-section woes. High-waisted bottoms with medium coverage and shaping side panels to sculpt your silhouette and cinch in the waist work really well.
"For new mums, we recommend a fully adjustable triangle style like our Tulum top and bottoms, designed to accommodate fluctuation in cup sizes."
Are there any patterns you would recommend or avoid? (Also, do stripes really make you look bigger?)
"There are all sorts of fashion no-no's when it comes to prints and patterns, but I think swimwear is an exception. If you're into prints, just focus on finding one that really resonates with you -- choosing a new suit is meant to evoke feelings of confidence and fun, and most prints inspire this kind of attitude. In regards to a stripe print, it really depends on the style of stripe, but this definitely applies more to clothing than swimwear."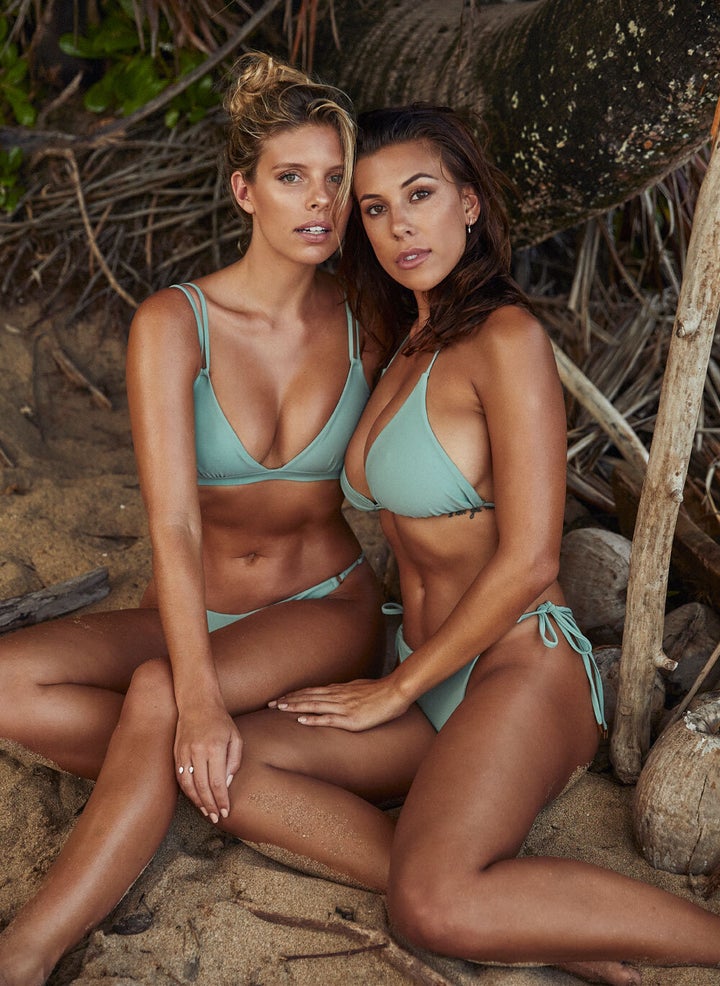 If you want to accentuate your booty but you don't want to rock a brazilian-style suit, what shapes or cuts would you recommend?
"A higher cut in the leg is a great, subtle way to accentuate your booty. You don't have to be showing more to flaunt what you've got. Go for styles that offer a medium coverage, and are perfect for wearing a little higher on the hips to create length and add a little lift to the booty."
Do you have any advice around sizing? As in is it worthwhile 'mixing and matching' your bikini tops and bottoms?
"Absolutely! We strongly recommend considering your options when it comes to shopping for swimwear. More and more brands are finally catching on to the fact that not everyone is a perfect size 6 or 12 or 14... Devin was very passionate about creating a line of swimwear that didn't discriminate against separate sizing, so every single suit in the Monday Swimwear range is sold separately. This also let's you get creative with styles, not just sizing, so you can create a set that suits you perfectly!"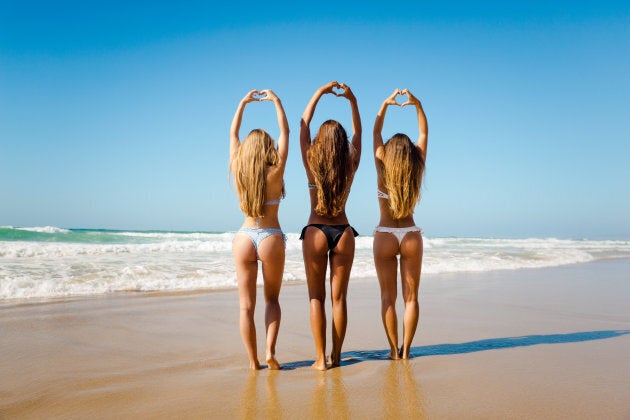 What swimwear styles would you recommend for the following body types?
Hourglass
"You want to highlight your curves, while still providing enough support and coverage. A bra style top with underwire and supportive straps is always great option, paired with high waisted bottoms is the perfect combo for an hourglass figure."
Apple
"Whether you're looking to completely cover, or slim your mid-section, one pieces or high waisted styles are your best friend."
Straight up and down
"If your goal is to accentuate your curves, go for styles that give that cinch in the waist, accencuate your derriér, and add a little more shape to the bust. One pieces with a waist band are great for this, as are wrap tops that can be tied around the mid section."
Pear
"To balance out your curves, try to accentuate your top half by choosing styles that broaden your shoulders and highlight your décolletage. Bra style tops with underwire and sculpted cups that provide a little lift are the perfect option to get this effect, and pairing with bikini bottoms that feature delicate side straps will give the illusion of narrower hips. If tie sides aren't your thing, go for straps that can be hitched a little higher to elongate the leg."
Is there any other advice or tips you want to share?
"In terms of sizing, you should NEVER try to "stick to your size" in swimwear. I personally wear every size from an XS to an XL in swimwear due to the fact that sizing is by no means standardized. Ignore the tag, whatever feels good is good.
"In regard to season trends -- stylish and flattering underwire tops. There is nothing sexier when done right!"