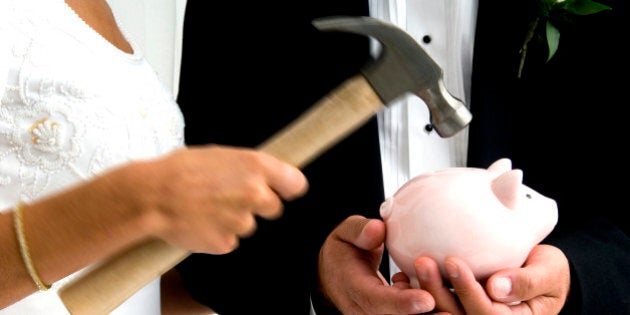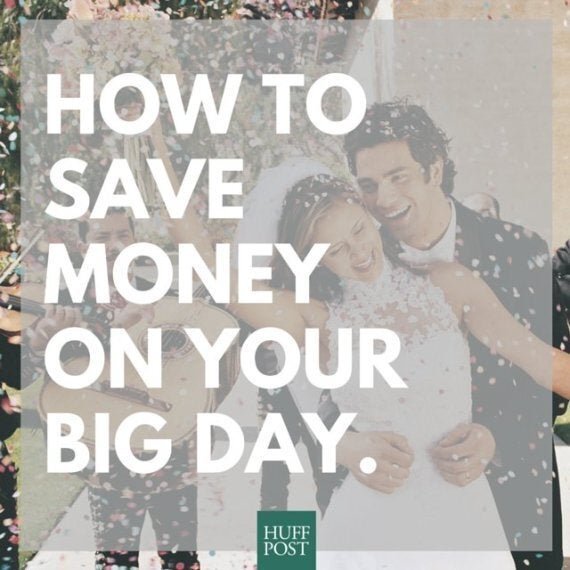 It's no secret weddings can be a costly affair. Whether you elope, keep numbers small or throw a massive party for every cousin and their dog, it's surprisingly easy to let budgets spiral out of control (and much less easy to deal with once the bills start rolling in).
To help you, The Huffington Post Australia spoke to three of Australia's top wedding experts to find out their tips and tricks for keeping finances under control while still planning the wedding of your dreams.
1. Take a long, hard look at your guest list
"It's simple -- the more people you have, the quicker the budget is going to blow out," Alexis Teasdale, Managing Editor of Cosmopolitan Bride told HuffPost Australia.
"Think about how often you see or talk to your guests and how important they are in your lives, and will be in the future too."
"Look at your guest numbers and see if you can prioritise who could come," adds Marissa Mills, Director of One Fine Day Wedding Fair.
"If you haven't seen certain people in a year -- do you really need to invite them? Alternatively, you could always have them at your engagement party rather than at the wedding."
2. Set a budget from the beginning
While it may seem like a bit of a buzzkill to get out a spreadsheet when all you want to do is go nuts on Pinterest, setting an achievable budget early on is key to helping finances stay on track later down the line.
"Definitely have a solid budget from the beginning," advised Teasdale. "Without it, you'll keep spending here and there and it will add up scarily fast! If you have your budget firmly set you'll work within it, and if extra costs come up here and there you'll either be able to squeeze them in or not -- but it will be far less tempting to blow out on last minute craziness."
"Have a good spreadsheet and keep track of your expenses," Mills said. "Prioritise what's most important to you and allocate money to those things."
3. Be careful when choosing your bridal party
Even though it would be great to have all seven of your high school buds by your side while you say your vows, bridal parties can turn into a significant expense if you're not careful.
"If you have more than three bridesmaids or groomsmen, and are paying for their suits, dresses, hair, make up, shoes and accessories -- it all adds up," Wendy El-Khoury, Director of Wedded Wonderland told The Huffington Post Australia.
"I would also advise waiting for sales when it comes to bridesmaid dresses, particularly end of season sales. You can really pick up a bargain."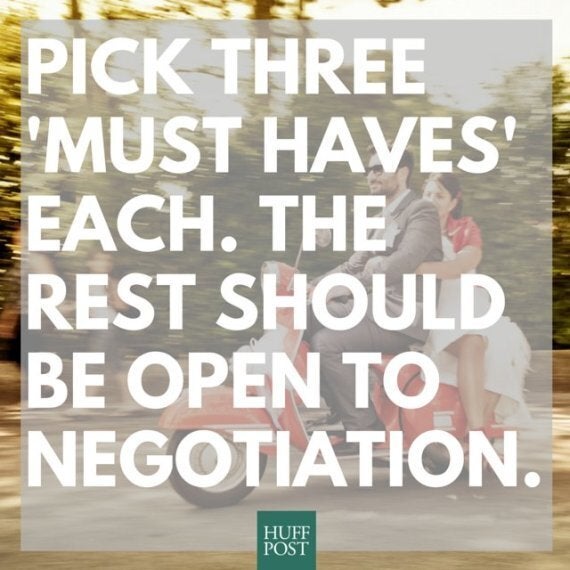 4. Pick three things not up for negotiation
There's nothing wrong with wanting to add a special touch to your big day, whether it's the kind of wine served or the car the bride arrives in. To stop things from getting out of hand, however, it's wise to pick three things the bride and groom each desperately want and lock those in. The rest, however, should remain open to compromise.
"Say the bride is wine lover and wants a particular expensive wine served at the reception. That's absolutely fine, though you might have to look at forgoing the vintage champagne and premium beer to go with it," El-Khoury said.
"Everyone loves the little touches that personalise a wedding and make it all about the couple, but you have to choose what those are going to be.
"For us, we weren't so fussed on wedding cars and were happy to go standard cars. For us, that decision saved money and made perfect sense. However I can understand that wouldn't be the case if the bride and groom were massive Mustang fans."
As Teasdale points out, it's also a good way to make sure you allocate your budget to the things you really care about.
"Talk to your partner and discuss your absolute must haves and only-if-we-can elements," Teasdale said. "That way you won't blow the budget on the least important things first."
5. Don't be afraid to ask for help
"If you want a dessert bar and have aunties that can bake their socks off, ask them to contribute!" Teasdale said.
"People love to help brides -- trust me. Your friends and family will be so eager to help so enlist them with everything from handwriting envelopes to crafting paper tassel bunting."
Adds El-Khoury, "Get a friend to emcee your wedding. Hired emcees are quite costly -- they start from something like $500 - $600.
"Use your contacts and networks. If you have a friend's mum that does flowers, ask her to help out. Same goes for if you have a friend with really great taste in music -- you might ask them to put together a playlist and save money that way."
6. See if your venue will allow BYO alcohol
"Alcohol is such a big expenditure," El-Khoury noted. "If you can find a venue that is BYO, that will mean you can save a lot of money on alcohol.
"Organise to buy your alcohol from companies who will accept the return of unopened bottles and provide you with a refund."
7. Look at getting married in the off season
You may be keen on the idea of a summer wedding, but venue prices tend to skyrocket during the warmer months and suppliers can often be booked well ahead of time.
"I got married on the first day of winter, and got 40 percent off," Mills said. "It ended up being a really nice day. In my opinion summer weddings can almost be too hot.
"Look at getting married in the off seasons for venues and you can save quite a bit of money."