If you're into skincare or follow any Aussie models of Instagram you'll have heard of Melanie Grant. She's the facialist to pretty much every Australian celebrity, with salons in Sydney and Melbourne -- and is also the official skin expert for Chanel Australia. Need we say more?
And, if you've ever wondered how celebs get off a long haul flight looking fresh and glowy (while us regular folk look like we've been dragged backwards though a bush), Grant knows their secrets, too.
She posted her in-flight skincare routine to Instagram and frankly, it's only for the fully committed. It contains no less than 12 steps, enough to rival the most in-depth Korean regime -- and even involves a fancy humidity breathing mask.
For some it'll be way too OTT, but for those headed OS for a special occasion (like your wedding or perhaps you're the type to go to a red carpet gala ticket), it's worth a try. Take one look at Grant's skin and it's clear that it works -- she has the complexion of a cherub baby. Besides, there's never than many good in-flight movies to occupy your time, anyway.
1. Start by removing makeup.
"Remove all of your makeup as soon as you board the plane, ideally with an oil cleanser so as to nourish at the same time as deep cleansing. If you prefer to do this in your seat you can use a micellar water on a cotton pad instead. I don't care for makeup remover wipes, they're just not that great for your skin and the perfectionist in me doesn't really believe they remove all traces of makeup, dirt and debris. Try Cosmedix Purity Solution or Bioderma Sensibio H2O Micelle Solution."
2. Mist for moisture.
"Spritz your face with a refreshing mist spray to prepare your skin for your serums and masks, and to maintain hydration and awaken your skin. I do this constantly throughout the flight to keep my skin super moist and dewy. They also smell heavenly. Try Cosmedix Mystic Hydrating Mist or Sisley Paris Floral Hydrating Mist," Grant said.
3. Apply serum.
4. Nourish with oil.
5. Apply a mask.
"My favourite thing to do on a long haul flight is to apply a face mask and watch re-runs of Sex and the City on my iPad -- heaven!! If you prefer to be discreet try a sleeping mask that rubs in like a moisturiser and doesn't require any rinsing. Sisley Paris Black Rose Cream Mask and Eminence Linden Calendula Treatment are great and are both invisible."
6. Apply a rich cream or balm before sleeping.
7. Drink herbal tea and still water.
8. Get some sleep.
"Sleep is super important to maintaining a great complexion, so take a good quality block out mask with silk or felt lining , try Slip silk Sleep Mask (not the polyester ones they give you on the plane!) earplugs and -- my secret that I swear by -- personal humidifying breathing mask. It traps and recycles your own moisture in your breath and prevents dehydration and airborne viruses. My husband thinks I look like a pink Darth Vader and pretends that he doesn't know me when I'm wearing this, ha!," Grant said.
9. Decant your product.
"Decant your product into small travel bottles and jars so you don't need to carry as much or have products confiscated by airport security. Don't forget to take disposable wet wipes to clean your hands. There is just nothing worse than touching your face with dirty hands."
10. Adjust your skincare accordingly.
"Adjust your skincare depending on your destination's climate. I always say that Australia has one of the harshest climates in the world. But every time I travel to London or Paris during our summer I'm reminded that the intense, bitter cold of a European winter can be just as harsh on skin as the sun."
"If you're travelling to a cold climate swap your gel cleanser for an oil cleanser and apply a nourishing antioxidant serum. Apply an eye serum to the eye area as well as your nose and lips, then add a broad spectrum SPF moisturiser for day — sunscreen is still essential even in winter," Grant said.
"For a warmer, more humid climate use an AHA or gel cleanser with a light weight antioxidant gel or serum under your SPF moisturiser. I love a water-based spray-on sunscreen in hot weather with a hydrating spritzer to keep the skin fresh and dewy."
11. Layer oil under cream.
"Layer your body oil underneath a rich body cream as soon as you get out of the shower and try not to leave the air-con on in your hotel room while sleeping -- this causes serious dehydration and flaky, devitalised skin. If you can't turn off the air-con place a large bowl of water in the room to humidify the air, and change hotels in the morning (I've done this a few times)!
12. Swap in hydrating formulas.
"For the evening swap your retinol or AHA serum for a hydrating or restorative formula (like SkinCeuticals Resveratrol B E, as active products can cause dryness and irritation to a dehydrated or sensitised skin. Layer your serum underneath a rich occlusive night cream or balm. Don't forget to also use a nourishing eye cream to protect the delicate eye area and keep your lips and nose super moist with a balm -- I often apply Sisley Paris Eye Contour Mask over my entire face, neck and décolleté!"
Click below to subscribe to the Refresh podcast by HuffPost Australia on iTunes.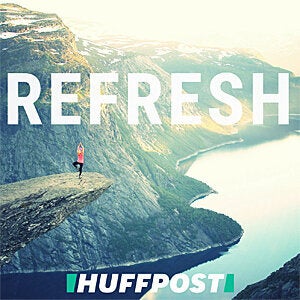 ALSO ON HUFFPOST AUSTRALIA