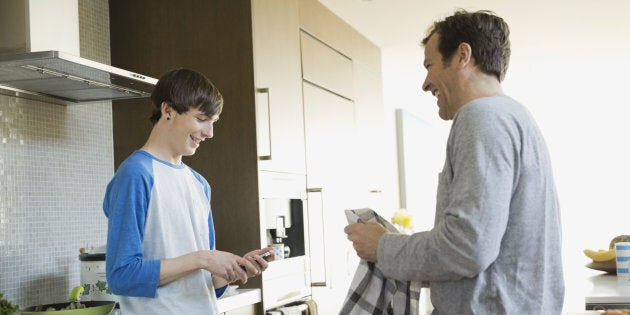 The same-sex marriage debate is buzzing around our young people. They hear about it on television, their news feeds, when they go to their part-time jobs and even at school. What I would like to know is whether you, as parents, are talking to them about it?
During a time where we are nationally discussing the definition of marriage, I'd like to think we are helping our young people intelligently process all they are hearing. After all, we are talking about the world which will be their future.
Acceptance of homosexuality and transgender issues marks a very significant shift in today's society. If you walk into any university this week (or visit their social media pages) you will see young people fervently expressing their opinions, debating their views both for and against same sex marriage.
They are thinking, which is what I like to see. I love to follow the thought process of young people as they make decisions that require them to exercise their social conscience.
Our job is not to tell them what to think, but encourage them to think critically.
Early sex education in schools has certainly led to greater empathy towards others who may be bullied for their sexual differences. It has enabled expression and clarification for those who may be searching for answers. It has also given young people more information to process at younger and younger ages.
When I was young, I would have never considered the options of pansexual, demisexual, monosexual, bisexual, asexual, autosexual or gray-asexual. Young people want (and need) to talk about sexual differences, the options, and how this impacts their lives and others' lives. What better time than now?
Our kids should never have to be the ones who have to bring up tough topics. We are the adults, so we need to take the lead. I meet a lot of parents who are uncomfortable talking about heterosexual relationships, let alone homosexuality and transgender issues. The more comfortable you are the more comfortable your teenager will be.
There is no easy way to start tough conversations. Pick a suitable time and place and then jump in and get things started. Try questions like: "If you were old enough to vote, what would you vote? What has influenced your thoughts the most? What opinions have you listened to that differ from yours?"
Young people will be more likely to talk to parents who are open minded, educated, calm, empathetic and up for a discussion about differences. They are conscious of being excluded or judged for their own differences inside or outside of the family, so be prepared to listen in order to understand, not just respond.
Ask a lot of questions. If your view point differs, it's likely to be less of an issue for them than it is for you.
Parents should be well researched and confident enough to be able to explain their point of view with clarity. Come prepared. Too many times adults lack a clear and certain voice when communicating to their young person. Your opinion matters. Say what you mean and mean what you want. And know why, they will ask you why.
It's also a great time to talk about respect, bullying, the role of the media, legislation and our voting system.
I encourage you to be a mentor in your young person's life during this time. Our job is not to tell them what to think, but encourage them to think critically. All young people process in different ways and at different paces, so who better to walk beside them than their parents.