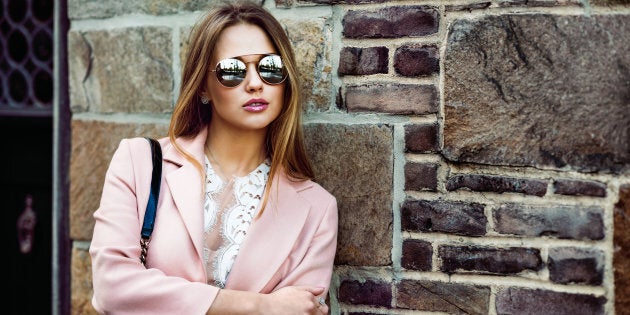 Let me start out by saying that I am very proud of where we are as a society, and of where fashion is as an industry. I probably don't need to remind you of the fact that diversity is more present than ever on the runways, on the pages of magazines and on our favorite websites (but I just did anyway). And because these instances are becoming more and more the norm, they're becoming something we eventually won't even need to highlight.
That is a very, very good thing.
However, I have, over the years (and especially recently) taken issue with the various videos, magazine stories and online articles touted as some variation of explaining "How To Wear Everything You've Been Told Not To."
Two videos, posted about one year apart by the same publication, share that exact name. These stories and videos feature women that I admire ― champions of body positivity and inclusion. They're people I feel lucky enough to feature on this website on a regular basis.
These women are seen in clothing we have been conditioned to think some people "shouldn't wear" ― horizontal stripes, bodycon dresses and all-white outfits ― to name a few.
But instead of, say, simply putting together a chic editorial filled with outfit inspiration for women of all different shapes and sizes, more often than not, these "inclusive" and "progressive" stories and initiatives are used as a way to pat ourselves on the back for appealing to more women and checking off a box.
Do you want to know the secret technique I use to wear things I've been told by society and those same fashion magazines not to?
I go into my closet, pick out said thing, and put it on.
I don't need a video to remind me of the rhetoric previously surrounding me, stating that certain things just don't work for my body type.
This is not to say that I am against outfit tutorials. I am the first to divulge an obsession with blogs and social media for ideas on particularly uninspired mornings. I also know that fashion, in its purest form, is about self expression and wearing things that make you feel good. But when all you have to do these days is scroll through Instagram at the increasing number of diverse bloggers and models, it hardly seems necessary to drill certain ideals into our heads about the clothes we previously have been told to avoid.
Why, if we are supposed to feel empowered to wear whatever we want, whenever we want, do we then need instructions on how to do it? If the idea is to make exclusivity a thing of the past, why are we constantly being reminded that there still somewhere exists the notion that we shouldn't wear those things in the first place?
For now, i'll look toward a less self-congratulatory, inclusive future from the comfort of my horizontally striped T-shirt, thank-you-very-much.