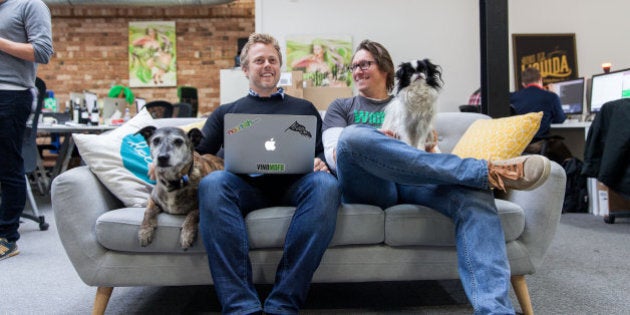 How do you grow a startup from two blokes with a passion for wine, working from a garage, into a booming business with a team of 100 hard-working, loyal employees?
For Vinomofo founders Justin Dry and Andre Eikmeier the answer is multi-faceted, but it has a lot to do with confident communication, choosing people who embrace your vision and rescue dogs.
Dry and Eikmeier had a few very lean years before Vinomofo, an online wine seller and community, took off. They previously ran Qwoff.com, a site designed to bring wine to the average Aussie without all the pretension that goes with being a "connoisseur".
But, when the brothers-in-law from Adelaide realised their business model was unlikely to be a financial success, they took a leap into retail in 2011 with Vinomofo.
Five years later, they have 100 employees, sell 3.5 million bottles of wine and turn over $50 million per annum.
The pair's "no bowtie, no BS" approach has had a lot to do with their meteoric rise -- customers love being part of the cool tribe that eschews the need to talk about notes of pear on the palette and even began the tradition of calling themselves "mofos" and "mofettes" thanks to their unique business name.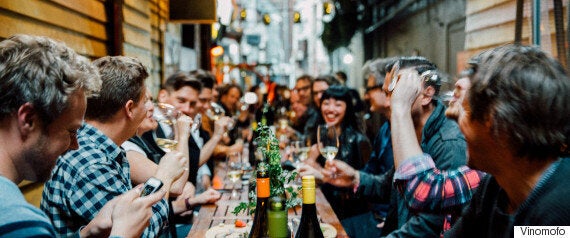 As you'd expect, staff parties are pretty great at Vinomofo.
But their philosophy has also helped build a cohesive and family-like team. Wine wankers need not apply for a job at Vinomofo -- but wine lovers are welcome.
"A big part of our recruitment comes through our social channels," Dry told The Huffington Post Australia. "So we are kind of part of the community.
"Around 90 percent of the people that we actually employ are currently mofos. So they get the culture of the business before they even apply for the job. They know what to expect, they know what we believe in, they know they are going to work hard but it's going to be super fun at the same time."
Although Dry admits there have been bumps along the way, the pair have worked hard to create a culture that celebrates good wine, but is also about using wine for good. While their Friday afternoon drinks and celebratory parties are obviously pretty great, the Vinomofo team has bonded over the company's philanthropic work as well.
"We have this mission that we want everyone to experience good wine," Dry said. "We also want to be proud of what we do and our impact on the world and thirdly, and this is not a throwaway thing -- we want to have fun. So we base our culture around those things."
The pair introduced Mofo Causes, where the team supports various social issues, including depression awareness and animal welfare, financially and through time and energy, to help them reach new audiences and gain supporters.
Vinomofo became the first workplace to foster a rescue dog -- JD, who has since found his furever home -- and every month they "Vinobomb" around 10 people who are nominated by the public for doing incredible work in the community or globally but who rarely receive any kind of recognition.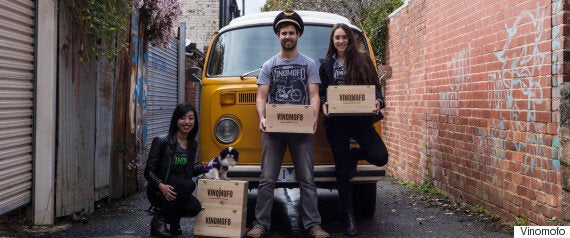 The Vinobomb concept has been a great initiative for staff to bond over.
"We created these great beautiful wooden boxes and we fill them with wine and gifts from partners we have like Uber, Beanhunter and Endota Spa and all these other amazing people who have come on board for this cause and we surprise the recipient," Dry said.
"We will send out the team and surprise these people who are doing amazing things with the gift of the Vinobomb, we video it and then we post it through social media and help these causes to get reach.
"It's one of the more beautiful things I have ever been involved with. We get calls from people balling their eyes out because they haven't had that recognition before. That has brought the team together really closely -- it's a wonderful thing to be a part of."
Keeping your cool as you grow
Starting a business with two people and building it into a large team has been a steep learning curve, says Dry.
Knowing when to employ new people was the first hurdle.
"I think a lot of businesses that don't run lean kind of front-end all their employment," Dry said. "So they feel like in 6 months they need 5 or 10 developers and 20 customer service so they get that first, whereas we were always the other way around.
"We started with two people, Andre and I, and we did absolutely everything and when we were working 100 hours a week and we were completely flat out and we absolutely needed it we got another person."
As Vinomofo took off, they had to manage the evolution of the Vinomofo culture as the team grew larger and the nature of their relationship with staff changed.
"We had this business that was growing so fast and this comes down to how do you maintain a culture because when you start and you are two founders, you are the culture," he said.
"Probably one of the biggest challenges we have had over the journey was the fact that you become so close with people when you're a small team -- you live in each other's pockets and you're on this ride together. And then as that grows out to 50, 60, 100 people it's just impossible to spend the same amount of time.
"One of our credos is to be human so we don't try and detach at all -- we are very real at Vinomofo so we don't step away. Yes, we have less time for every individual but it's all about still being human. The way we have managed that is to bring in people who are leaders. We need to find people who live and breathe our mission and then empower them to look after their team."
Dry said learning how to communicate with a bigger group of people was also a crucial learning curve for the pair.
"In the early days we probably didn't communicate as well as we should have and communication when you're working on a team is so important. In order for someone to be happy in their job, in my opinion, you need to give them quite a bit of freedom. So that was a process of learning as we grew the company too that you've got to share your vision and let them learn and let them make mistakes and empower them to be creative.
"We didn't have a grand plan -- we just got better at it as we progressed. Fundamentally, we really care about people and they become part of the family so we really honestly invest a lot of time and energy into people -- we always have. But the way you do that and how you keep people happy we have learnt along the way."