Storms brewing in the Atlantic Ocean are gaining strength, prompting hurricane watches and warnings across the Caribbean on Sunday.
Tropical Storm Maria strengthened into a hurricane on Sunday afternoon and was expected to continue to gain strength, the National Hurricane Center warned Sunday at 5 pm.
The likelihood of Maria bringing storm surge, high rainfall totals and dangerous wind speeds has prompted a hurricane warning in Dominica and a tropical storm warning in St. Lucia. Hurricane and tropical storm watches, which are issued when storm conditions are possible but not necessarily expected, remain in place across several Caribbean island nations.
The threat comes just days after Hurricane Irma ripped through the Atlantic, causing mass destruction in several Caribbean communities and throughout much of Florida.
The Leeward Islands will likely take the first hit as Maria moves west-northwest with maximum sustained wind speeds near 65 miles per hour, the NHC warned.
"Hurricane conditions are first expected within portions of the Leeward Islands by Monday night, with tropical storm conditions beginning on Monday," the center said.
"A dangerous storm surge accompanied by large and destructive waves will raise water levels by as much as 4 to 6 feet above normal tide levels near where the center of Maria moves across the Leeward Islands."
Over the next several days, the storm may bring isolated instances of 20 inches of rain to the Leeward Islands, Puerto Rico and the U.S. and British Virgin Islands.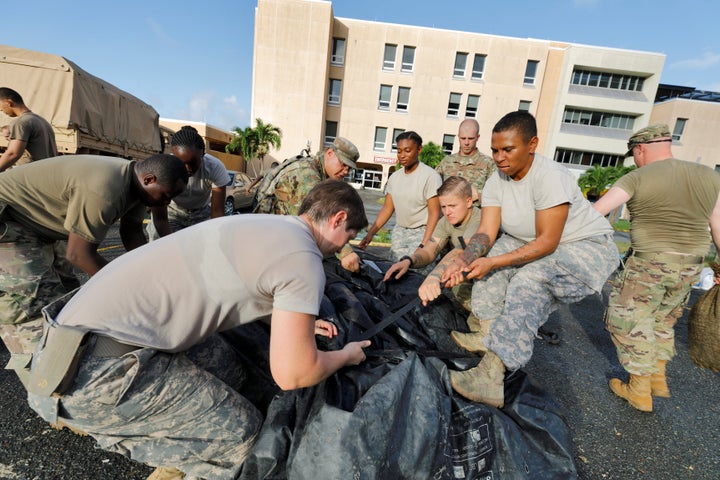 Meanwhile, Hurricane Jose has gained some strength but remains a Category 1 hurricane with no effective watches or warnings associated with it. But that could change in the coming days.
"Interests from North Carolina northward to New England on the east coast of the United States should monitor the progress of this system," the NHC warned Sunday morning. "Tropical storm watches may be needed for portions of this area during the next day or so."
Potentially dangerous swells associated with Jose are already affecting Bermuda, the Bahamas and much of the east coast of the U.S.
In the Pacific, the more sluggish Tropical Storm Otis saw maximum sustained wind speeds increase to 60 miles per hour on Sunday, up from 50 miles per hour earlier that morning. No watches or warnings associated with the storm are in currently effect.
CORRECTION:A previous version of this story stated there were three storms gaining strength in the Atlantic. There are two gaining strength there.