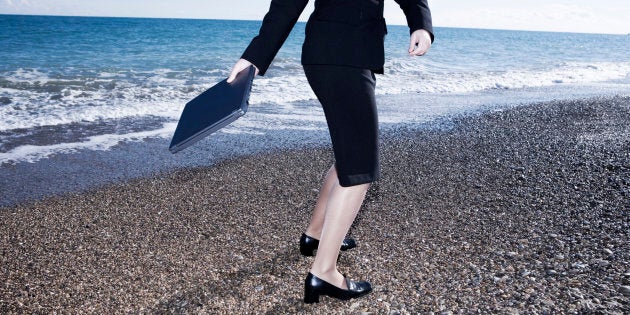 Something that's bothered me for a while about employment contracts in Australia is that, by law, people are entitled to four weeks paid annual leave, yet employment contracts state that a full-time employee works a 38-hour week.
At Inventium (as with many workplaces), this is generally not the case. Working hours tend to be longer than 38 hours which, for us, is what happens when you have an incredibly dedicated team who truly care about what they do and the clients they look after.
It's not unusual for me to get emails from my team at 9 pm on a weeknight, or at lunchtime on a Sunday. I know that they think about the business and our clients well after 5 pm and will email me ideas, thoughts and questions at all hours. I love their dedication, but as a company, one of the biggest issues that keeps our management team up at night is helping hard-working staff maintain some semblance of work-life balance.
This situation -- the inequity between what workplaces in Australia are legally obliged to do and what happens in reality -- really felt wrong. And despite implementing various policies that are designed to improve work-life balance, such as flexi-time, nothing seemed to be having a big enough impact.
So I decided to do something about it.
Like Netflix, Virgin, and others, as of last week, my team now has unlimited, uncapped, paid annual leave.
Before implementing this new policy, I spoke to our employment lawyer and accountant about how to set it up. Both asked whether I'd be setting some rules on how it worked. After considering creating some guidelines, I came to the conclusion that it felt a bit patronising. It goes against the autonomy you are instilling in a team by saying "you are now in charge of when you take leave and how much you take".
Instead of rules, I wrote a letter to my team because I decided that for me, it's about the intent, not the instruction. I read the letter out in last week's all-staff meeting. It explained that you no longer need to save up annual leave days like precious stones and feel like you have to push on despite being exhausted. Instead, I asked the team to prioritise their health, their energy levels, and their families.
Since announcing our new policy to the world a couple of days ago, I've been inundated with comments via social media, email and SMS. A few people called it "courageous", which took me by surprise. For me, it's not brave to give a group of amazing individuals, whom I completely and utterly trust, the option to take as much leave as they would like. It's simply an appropriate and fair thing to do.
I'd love to see other companies in Australia, and around the world, reflect on the equity of the agreements they have with their staff. And if they decide, as I did, that the equation in place is not equitable, to institute a change.
And FYI, we decided to call it Rebalance Leave, as that's really what it's about for us -- the chance to rebalance work with life.