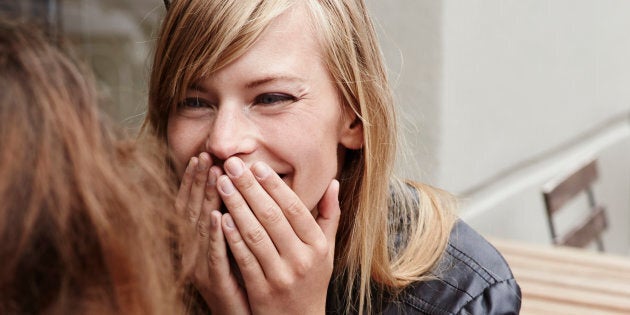 Edging closer to 30, I really thought I'd have my life together by now. I'm not talking about a six-figure paying job, a husband, one and a half kids and a mortgage-free home. I mean just being less socially awkward.
I am no less awkward than I was when I was 11. I may as well still have buck teeth, wear 'Winnie the Pooh' t-shirts and put band-aids on my face.
But, I seem to have swapped my physical awkwardness for just plain awkwardness. There is one guarantee in my life, I will always say the wrong thing, at the wrong time. I know there is something called social eloquence, I just don't have it.
I find myself stumped in the below situations:
A normal person would perhaps respectfully say to the loved ones of the deceased, "I'm so sorry for your loss", and then they would carry on sympathetic conversation.
What I say at funerals is: "How are you?"
When someone is pregnant.
This has happened to me a few times and it goes like this...
Me: "Oh wow, what are you going to do?"
Friend: "Lisa, we're married..."
It's always confusing when someone resigns. Was it my fault? Did I ever mean anything to them? Should I resign too?
A normal person tells them that they will miss them and congratulates them on a job well done. I just say "congratulations", publicly and in front of other staff, every single time.
When someone gets engaged.
Other people say, "congratulations, I'm so happy for you!"
I say one of three things: "Are you pregnant?" "How much did he spend on the ring?" "Can you please not have the hens on x, x or x date?"
Oversharers come in all shapes and forms. My favourites are the ones at the dog park who tell me that their dog was the same age as my dog when it died. To which I always reply, "my dog won't die, she's very well looked after."
When you're at a wedding and someone asks, "When's it your turn?"
This has become a game for my partner and me. He sticks with the: "She's got a few more hoops to jump through yet."
I run with the: "I'm pretty busy... doing... stuff."
When someone has been on a diet and starts putting weight back on.
I've spent hours of my life listening to my friends talk about their extreme diets. And, I have seen the weight fall off. I've also seen the weight pile back on. So, what do I do?
I ask them if they should be eating that.
When someone cooks something bad.
'MasterChef' has ruined the trusty dinner party. Gone are the days of large lasagne serves and Neapolitan ice-cream. Now it's appetisers, entrées, followed by six courses with perfectly-matched wine. Except if you're me.
If your friends are also clueless in the kitchen, instead of gratifying their slavery, I suggest take-away, so there's no dishes of course.
A pregnant colleague this week reminded me that I once said, "I think it's nice that some girls can still look normal when they're pregnant."
My mother likes to remind me of the time I told my father's vasectomy story for show and tell.
If my partner complains about getting a beer belly I tell him not to drink beer, and when people have babies I let them all know that newborns look like aliens.
People who say the wrong things are testing the status quo. They are putting their opponent in a confronting situation and unintentionally challenging them to see if they bounce back from it, or just merely trail off in silence.
"Good morning", "Yeah good thanks" -- is awkward, but it's not a lifestyle. There's a difference between standing out for being different and standing out for being awkward. At least I know where I fit in.