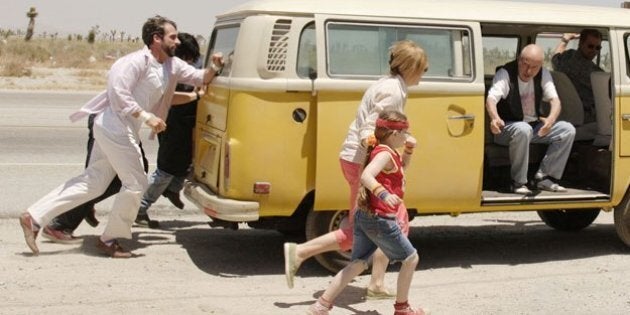 I have a love-hate relationship with convenience.
Convenience is my security blanket of laziness, my go-to when I can't be bothered and want to neglect effort. It's the epitome of much of what is wrong in our society -- the way we choose the easy option rather than put in the extra effort, prefer to be comfortable rather than stretch beyond our own perceived limits, and the way we lack delayed gratification in our desire to have the here and now.
As a writer, farmer's wife and mother of four, I am just as guilty of the desperate grasp for convenience when life is stretched too thin.
But, without fail, my choice of convenience always ends with regret.
This is especially true when it comes to family holidays. Admittedly, in the past I've been lured into the romantic notion of flying. Oh, to jump aboard a plane and only hours later land in a new and exotic location anywhere in the world. But the fact is, there's nothing romantic about flying with a family.
Instead, the reality tends to play out more like this:
Firstly, you book the earliest damn flight possible, because it's the cheapest, and six full adult airfares already cost as much as a small village without paying a couple of thousand dollars extra just to fly at a normal, non-godforsaken, hour of the day.
Secondly, you only just make the plane in time because your children, who proudly claim to be able to hold their bladder for 18 hours on any normal day, now have to go every 18 seconds.
Thirdly, your whole flight is spent child wrangling -- from having to keep them still, to curbing their fascination with the toilet (but where does it go?), to dealing with their vomit, and trying to calm them as they scream the plane down because of the ear infection you didn't know they had.
And lastly, you get off the plane and straight away you're expected to snap into holiday mode even though you've been awake since three in the morning and haven't had one damn cup of coffee all day, but there's no time as you are dragged away to all the much-anticipated holiday fun activities.
This July, as our family decided to head north for the winter school holidays, I was momentarily enticed by the convenience of flying. Momentarily, as in, I had our flights all but booked.
But then I had this moment.
See, once upon a time I wished so hard my children would grow up. Exhausted, I didn't heed the warnings of those who had travelled the journey before me, the ones that told me how time goes so fast. Enjoy them while they are young, they would say, as I fought each day to keep my head above water. I just wanted them to stop being so little, so demanding, so needy of all my time and energy.
I dreamed of when they were older, independent. I wished it away. And now, I'm here. They have grown up too fast. And I want that time back. Or, at the very least, I want time to stand still now so they stay under my wings forever. Time does go too fast.
And this is what I've learned.
It's not the destination that matters. It's the journey.
But when we trade our experiences for convenience, the journey is exactly what we lose. And it's through the journey we learn the most about ourselves. It's through the journey we are most challenged, most changed, most grown. It's where we learn our capabilities, build resilience, lay foundations of strength. The journey, the effort, is what makes us. And, in turn, it is what we use to make our children into the best version of themselves they can be.
Today, as we have travelled our first day of holidays, the car has been mostly silent. It's been a day of unwinding, a day of unpacking our thoughts as we drive along, every kilometre taking us further away from the past busy 10 weeks. From the stress of getting paddocks sown before the rain, stock in good health for lambing, bookwork up to date for the end of financial year, writing submissions completed. It's been time spent driving, time spent dreaming, time spent coming together as a family and being grounded once again in that.
We still have two full days of driving before we reach our Gold Coast destination. It won't all be easy. Travelling with children is never going to be all sunshine and roses. But the effort will always be worth it.
Because today, together as a family, we travelled 14 hours, and drove 1100km through this amazing country. We passed through three states, over both the Murray River and the Murrumbidgee River. We watched the first rays of sun break through the fog as spiderwebs glistened on the fertile flats of inland Victoria. We drove through outback towns alive with quaint coffee shops and the history of our forefathers. We watched storm clouds brew over the Hay Plains as cows grazed in grass, lush and plenty after recent rains. We made our way through rural NSW and marvelled at dirt the colour of pink lipstick, as brightly coloured parrots played on the sides of the roads. And finally, we watched the sky turn orange, flawlessly reflected in billabongs surrounded by gum trees as the still of the night made friends with the fog that once again fell quietly upon grassy flats.
And if that's not romantic, I don't know what is.