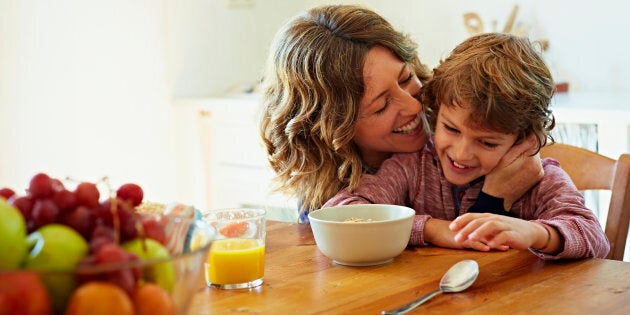 It would be fair to say that not many women aspire to become a single mother. It wasn't part of the carefully laid life plan, you know the one... where you live happily after? For whatever reason (and with the complexity of human relationships there are many) things haven't gone quite as anticipated.
Even if you're the one who instigated your break-up, the transition to single mother is likely to have been stressful, guilt-ridden and upsetting. It's not until the drama of the separation is over and life becomes more settled that you adapt to your newly acquired status of 'single mum'.
Unfortunately, society tends to somewhat pity us. We can find ourselves looked down upon from those who sit comfortably in conventional family settings. And if we were to consider our own actions, we may even find ourselves fueling this fire. I often bring up my single-mother status when I can't afford to pay a bill or am unable to join my friends on a night out.
Yet, being a single mother comes packaged with a multitude of parenting pluses that, once discovered, you simply wouldn't give up for the world.
So, if you're in a cup-half-empty mood, it's time to consider the flip side of being a single mother.
1. My way or the highway
Perhaps a little harsh, but what I mean is that you get to make all the decisions. Of course, depending on the age of your children, they'll need to be involved too. But there's no more arguing with your ex over menial matters. You make the choices, and if you get it wrong, it's your problem. This is hugely empowering, and oh so much easier.
2. It's a woman's world
Once you're on your own you'll naturally learn to be more independent. Jobs that you'd usually delegate to the man in the house are now in your capable hands. Yes, it takes some learning (it once took me 11 hours to assemble my daughter's desk.) But each new task is a lesson learnt. Your children will admire and respect you. Plus, they'll grow-up understanding that capabilities are not gender-specific.
3. Financial freedom
At the helm of a single-parent family, it's hard to be positive when you're the sole provider and eternal bill-payer. However, once your finances are firmly in your own hands, you have total control over them. There's no more forking out for someone else's indulgences. Save for a home, re-train for a new career or buy yourself the odd treat when you feel you deserve it.
4. Off to your dad's
Depending on the arrangement you have with your children's dad, it's possible they'll spend regular periods of time with him. Whether it's a 50/50 set-up, every other weekend or just a day here or there, the result is some well-deserved 'you time'. And make no mistake here... partnered mums will seriously envy you for this. Enjoy every minute of it.
5. A happier home
Okay, so yours may not be a picture-perfect family home. But is it a happy one? The downturn of the relationship with your ex may have resulted in arguments, conflict and/or bitter silences. This would have placed a black cloud over you, your ex and your children. Your living space is now clear of conflict, making it a more peaceful and content home in which your beautiful family can thrive.
6. Master of the bed
Ahhh, the pleasure of having that whole double bed to yourself. Yes, it may have taken a little getting used to. And okay, sometimes little people do somehow materialise in it. Overall though, you are the master of your bed once more. No more snoring or doona hogging. What's more, when you're ready, you can invite a new partner to share it with you.
7. Proud to be you
Once you're on your feet practically, emotionally and financially, you're able to take stock and be proud. You will have independently established a new life for you and your children, and you can take all the credit. And you know the friends and family who supported you? They are the people with whom you can share your new, comfortable world.
____________
If you would like to submit a blog to HuffPost Australia, send a 500-800-word post through to blogteam@huffingtonpost.com.au
ALSO ON HUFFPOST AUSTRALIA