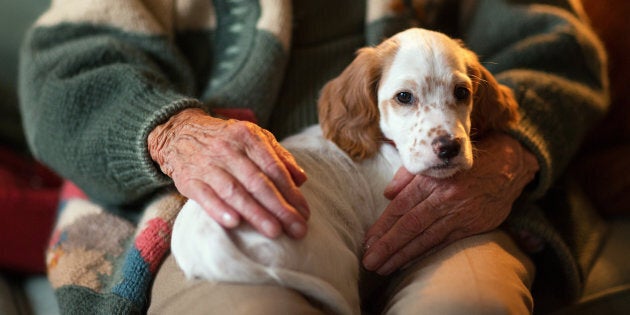 Just on eight years ago, my father died. He had been ill for a long time so, whilst I was desperately sad at the thought of no longer having him with us, my overwhelming emotion was one of relief.
I'm certain that death was also a relief for him. We offered him our love, constant comfort and tears, but no one resiled from what was approaching, least of all him. Thankfully, he died with surprising ease and calm.
If death can be lovely, his was.
The strangest aspect of my father's death is that it involved two dogs. This is interesting only insomuch as Dad was not at all fond of animals. He only ever tolerated our pets. He never really engaged with them, until a slightly overweight King Charles Cavalier Spaniel named Charlie entered his life.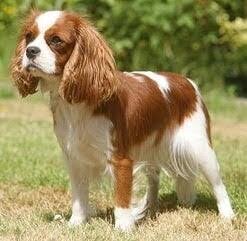 But before I tell you about Charlie, I need to talk about Molly. Molly was my dog. She and I were inseparable until, five days before my father's death, Molly choked on a bone in our back garden and died.
Ultimately, what distressed me most about this, is that my children, for the first time, saw me completely undone. I sat for a long time clutching her, rocking back and forth on my knees, whilst making uncontrollable guttural sounds. I thought my weeping would never end. For someone who prides herself on displaying control at all times, I felt emotionally naked and very uncomfortable. It was so very unexpected and horrid, just horrid.
Although, I've now come to realise that her death helped prepare my children for the death of their grandfather.
So there we were. Two deaths in under a week. One expected, the other not. The family swung together and made 'arrangements'. Molly ended up under a lovely hydrangea in the front garden. That was easy.
Arranging Dad's funeral was also pretty easy; after all, we'd all talked about what form it would take for some time. The tricky part was phoning the priest to ask if an unleashed dog could lead the casket in and out of the church at Dad's funeral. And so we come to Charlie.
Charlie lived up the road from my parents. He used to visit every other day, begging for tidbits from my mother's always overflowing fridge. His owners gave up trying to stop him visiting and he very quickly became a part of our family.
Over the years, as my father became seriously ill, Charlie also gave up asking for what might come out of the fridge and instead hopped up onto Dad's bed and gently laid his head beside my father's. At first, Dad would feign horror and kick him off. But Charlie persisted and slowly, Dad relented.
On the day of his death, Charlie was ensconced by my father's side, which gave them both great comfort. After Dad had gone, Charlie hopped into my father's favourite chair and wouldn't move for several days.
On the day of my father's funeral, Charlie was allowed to lead all of us, ahead of Dad's casket up the aisle of the church. He sat, head cocked and listened to the service. On leaving, he walked slowly, head low, down the aisle and guided Dad away. It was a very special moment.
And then, Charlie disappeared. We all presumed he had fallen ill, walked into the nearby bush and curled up to die. We posted a $500 reward but -- nothing. So, again, we suffered an unexpected, but this time, unexplained death in our family.
Almost two years to the day of Dad's death, Mum phoned to say that Charlie had been found. He had apparently wandered into the garage of a woman in Liverpool and sat there. She gave him something to eat and drink and the next day phoned the local vet. The vet scanned a dirty little King Charles Cavalier, to discover that his true owner was some 30 kilometres away.
Who knows how he ended up there, or how he had survived all that time. Quite frankly, I couldn't give a flying fig on the detail. What I do know is that we all unexpectedly regained a part of our lives back, and that serves daily to remind us of a father we still miss very much. A truly special gift.
ALSO ON HUFFPOST AUSTRALIA