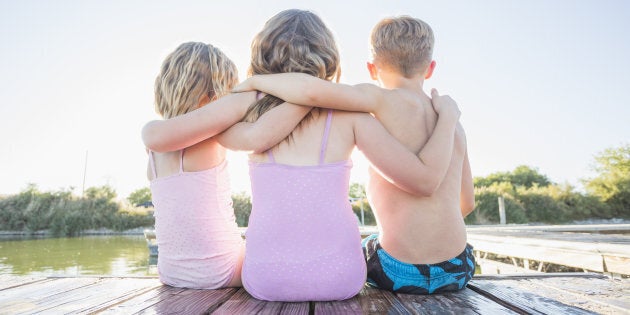 Growing up, I often wished I was an only child. Some of my friends who had no siblings seemed to live this blessed life -- no backseat car fights, sharing the computer or being held down and spat on after a particularly heated disagreement.
As a young child I felt I was bullied by my older brother, responsible for my younger brother, and ganged up on by them both. As a teenager it was worse. It's hard enough to find a date when you're sweet 16 without every eligible bachelor considering you 'off limits' because you're someone's little sister.
My mum always used to tell me that brothers "toughen you up". At the time I wasn't so sure. It wasn't until my parents split up that I learned the true value of being a sibling, how those fiery fights and shared values created a deep, unconditional friendship that made all of us stronger.
Listen to the full podcast here, or download it from the iTunes Store (search for HuffPost Humans).
But what is life like for siblings whose challenges are bigger than dating and divorce? What is it like to have a brother with a serious mental illness, or a sister with Down Syndrome? Is it possible for siblings to work together? How does it feel to have a brother and sister so much older than you that they're borderline parents?
In the latest episode of HuffPost Humans -- Brothers and Sisters -- we delve into these dynamics, asking siblings about these challenges and how they made them better humans.
So the next time your annoying little sister steals your clothes, or you're fighting with your brother in the kitchen at someone's birthday dinner, give 'em a great, big hug and be grateful that you've got them, because, as you'll hear, that's a privilege.
HuffPost Humans is a podcast by The Huffington Post Australia. You can download the latest episodes atiTunes orWhooshka, or your favourite podcast app. If you have a story you'd like us to tell, contact us at: podcasts@huffingtonpost.com.au
ALSO ON HUFFPOST AUSTRALIA