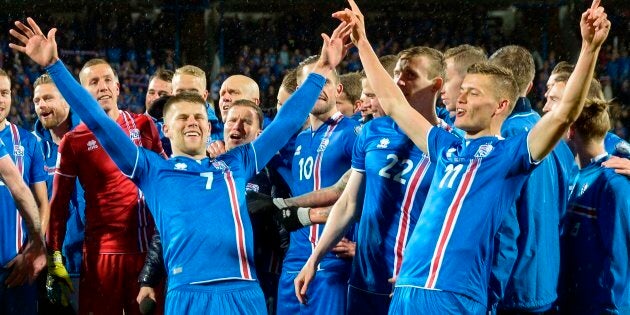 Iceland has qualified for its first-ever FIFA World Cup, but it was a celebratory wave of thunderous viking claps between players, team staff and supporters that really stood out.
With a population of just over 334,000 people, Iceland's 2-0 win over Kosovo in Reykjavik makes them the smallest nation ever to qualify for the tournament -- and if the roaring ovation hasn't sent a message to the world that they'll be at the 2018 Russia World Cup, we're not sure what will.
The stirring celebration is meant to stand as a representation of the country's norse background and was first seen on a football pitch all the way back during Iceland's dream run of form at the 2016 Euro football championships.
To get to this point, Iceland recorded victories against Ukraine, Finland, Turkey, Croatia and Kosovo to top its group with seven wins from 10 matches and seal its spot in next year's competition.
And all along the way, the thunder clap has followed.
The celebration has even become so so popular online that it has reached Australia's shores, with National Rugby League (NRL) club the Canberra Raiders also adopting the chant among its fans.
And while we're sure Iceland's celebrations are still well and truly underway -- anyone heading to Russia next year now has around eight months to prepare for scenes like this.