REYKJAVIK, Iceland ― Iceland's government has collapsed amid uproar over Prime Minister Bjarni Benediktsson's father helping expunge the criminal record of a convicted child rapist.
The centrist Bright Future party dropped out of the three-party, conservative coalition, eliminating its one-seat parliamentary majority. Benediktsson called a snap election on Friday as protesters gathered near the parliament building in this city's posh downtown area.
"We have lost the majority, and I don't see anything that indicates we can regain that," Benediktsson said Friday at a press conference. "I am calling an election."
The party blamed Benediktsson for failing to inform the government that his father wrote a letter recommending a pardon for Hjalti Sigurjón Hauksson. Hauksson was convicted in 2004 of raping his stepdaughter almost daily for 12 years, starting when she was 5 years old. He served nearly six years in prison, but was granted "restored honor" last August ― a legal status encoded in old Icelandic law that allows criminals who receive three letters of recommendation speaking to their good character to have their records wiped clean and go on to serve in public office or work as an attorney.
Hauksson's victim described the pardon as "surreal" and said he continues to harass her in text messages and phone calls, according to The Reykjavík Grapevine, an English-language newspaper in Iceland.
Benediktsson said elections would take place in November. Despite the scandal, he could return to power.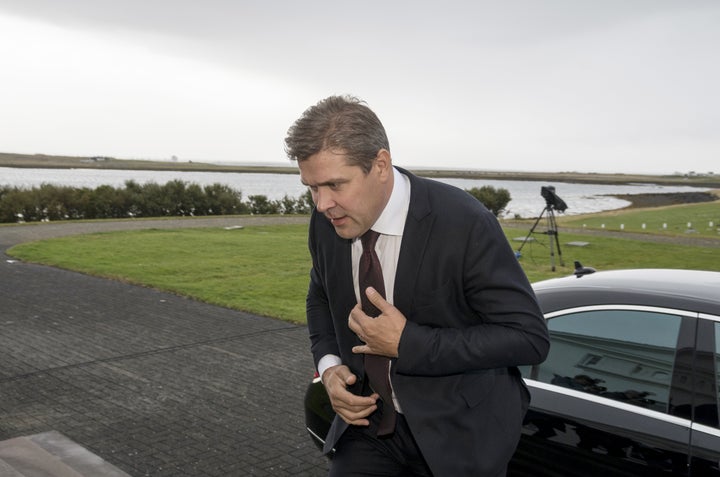 The Independence Party leader refused to step down as the nation's finance minister after his name appeared in the Panama Papers last year, despite 60 percent of Icelanders calling for his departure. The leaked cache of financial documents showed he once owned part of an offshore investment firm in the Seychelles. Then-Prime Minister Sigmundur David Gunnlaugsson resigned two days after reporters began publishing the documents, as an estimated 6.6 percent of Iceland's population took to the streets in protest.
The tree-lined square near the parliament building was quiet on Saturday night, as well-heeled tourists dined at the neighborhood's trendy restaurants and drank in its pubs.
Yet the disintegration of the coalition ― which had been in power for just nine months ― comes at a particularly sensitive time for the island nation of less than 335,000 people.
"Iceland needs to remain a functioning country despite the crisis at election time," Damien Degeorges, a Reykjavik-based international consultant, told HuffPost on Saturday evening. "There's no room for putting things on hold because you're waiting on a new government."
The head of the legislature, called the Alþingi, canceled a budget debate Friday after the government disbanded, and no other sessions were listed on its official website. Birgitta Jónsdóttir, a parliamentarian from the anarchist Pirate Party, told HuffPost on Sunday that she was fighting to convene lawmakers at least one more time before the legislative session officially ended.
"The parliament is supposed to be a safety valve in regard to the executive branch," she said in a phone interview, during which she jokingly derided Benediktsson as the "crime minister."
"We still have pending bills and resolutions that need to be ratified," she added. "It's time-sensitive stuff."
Top party officials are scheduled to meet Monday morning to discuss plans to move forward, she said. Alþingi President Unnur Brá Konráðsdóttir did not immediately respond to a call and email requesting comment on Sunday.
Iceland emerged from a deep financial crisis in 2011 to a tourism-fueled economic boom. The country is set to welcome a record 2.3 million visitors this year, a 30 percent surge from 2016. The economy expanded 7.2 percent last year. In March, the government lifted capital controls put in place nine years ago after three banks failed and sent the country spiraling into its great recession. Cranes dot the skyline, a sign of rapid housing construction.
But Iceland's recovery, hailed by some as a miracle, has made it a critical player in the drama over Britain's exit from the European Union. The United Kingdom was Iceland's second-largest trading partner in 2015, buying $611 million of the country's roughly $5.4 billion in exports. Iceland is not a member of the EU, but it participates in the European Free Trade Association alongside Liechtenstein, Norway and Switzerland.
Icelandic Foreign Minister Guðlaugur Thór Thórðarson extended an olive branch the British during an interview on BBC Radio 4 earlier this month. The British risk being penalized by France and Germany in Brexit negotiations.
"Everyone wants to make a free-trade deal with Britain," he said. "You are the fifth-largest economy in the world. Everyone wants to sell you goods and services. It's as simple as that."
Without a stable government in Iceland, British Prime Minister Theresa May appears even more alone. Her political mandate shattered after the Labour Party's surprise surge in the election.
"Iceland needs to be functioning well for this period," Degeorges said.
Despite its size, Iceland has long played an outsize role in international affairs. It hosted the famed 1986 summit between U.S. President Ronald Reagan and Soviet Union premier Mikhail Gorbachev that marked the beginning of the Cold War's end.
The country also looked to confirm its status as an arbiter between the U.S. and Russia earlier this year, when officials in Washington and the Kremlin considered it as a venue for a meeting between U.S. President Donald Trump and Russian President Vladimir Putin.
The summit never took place, but the talks underscored the strategic importance of a country that has no military and therefore depends on NATO for its defenses. Trump has repeatedly threatened NATO allies for not paying enough for their defenses and made unprecedented suggestions that he would not honor long-standing security pacts.
Iceland has long courted superpowers. In 2013, it became the first European country to sign a free-trade agreement with China. The accord came as China ramps up its ambitions in the Arctic. Last year, Beijing took a nearly 10 percent stake in a Russian natural gas project, amounting to a $1.2 billion investment from its $40 billion Silk Road Fund. China has yet to expand into Nordic countries, but in March, two top Icelandic executives wrote an op-ed in The Diplomat proposing Beijing as a natural partner to build up infrastructure in the region.
Iceland seems keen to hold China at a comfortable distance. Earlier this month, the ruling coalition moved to tighten rules limiting foreign ownership of Icelandic land. The decision appeared to be aimed at blocking an unidentified Chinese investor from buying a nearly 5-square-mile plot of land to build a resort in the island's touristy Golden Circle, according to Bloomberg.
But, at least for now, those have become a distant worry.
"Violence against women is a direct threat to the democratic participation of women, and therefore a direct threat to Icelandic democracy," The Icelandic Women's Rights Association wrote in a statement following the government's collapse. "How can we build an equal and progressive society, when we still can't guarantee the safety of all our citizens?"
This article has been updated with comment from Jónsdóttir.