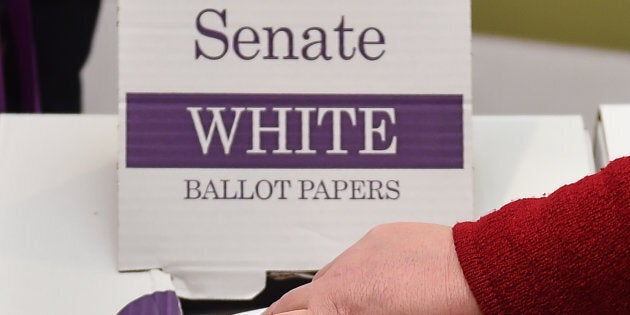 As a policy wonk and self-proclaimed politics tragic, I am used to seeing MPs being scrutinised for their policies and performance in the parliament but never their descent, background and inheritance. Not until the shock resignations of Greens Deputy Leaders Scott Ludlam and Larissa Waters as a result of breaching Section 44 of the Australian Constitution.
Since then, Section 44 has put a cloud over the political careers of four more federal MPs including the second most powerful politician in Australia in the Deputy Prime Minister of Australia Barnaby Joyce.
However, that has not stopped a witch hunt to question MPs that are born overseas, having at least one parent born overseas or even worse, a non-English sounding surname on whether they are a dual citizen or are entitled to citizenship of another country.
Written during Federation in 1901, Section 44 (i) of the Australian Constitution states that an individual is incapable of being elected to the federal Parliament of Australia if they are "a subject or a citizen or entitled to the rights or privileges of a subject or a citizen of a foreign power".
For a country where nearly half of the population were either born overseas or had at least one parent who was born overseas, this century old law is clearly outdated and no longer relevant in a modern multicultural Australia. One can argue this law is discriminatory against potential candidates and therefore an obstruction to our democracy.
Already, cultural diversity representation in the federal parliament is at a low point. The existence of Section 44 in its current form would make cultural diversity representation even lower.
The UK, U.S., Canada and New Zealand, countries that have a similar diversity make up to Australia, allow dual citizens to contest as political candidates and if successfully elected, serve as elected representatives at the national level. Australia should simply recognise the fact that the world is becoming more globalised.
Australians come from all walks of life and from every corner of the world. It is perfectly natural for Australians to have dual citizenship and uphold their loyalty to Australia. If dual citizens can vote in federal elections, they should also be entitled to stand as federal candidates.
The citizenship crisis within the federal parliament has prompted me to think about my own situation. I myself was born in April 1985 in Melbourne. My parents on the other hand were born in Vietnam in 1945 (then still a colony of France). They fled war-torn Vietnam and arrived in Australia in 1977 as refugees. To make it even more complicated, both my paternal and maternal grandparents were born in China and fled China for Vietnam due to war.
If I ever wanted to run for federal parliament, I will need to check whether I am eligible to be a citizen for Vietnam, China and potentially even France due to Vietnam being a French colony at the time of my parents' birth. I am very sure there are many more Australians out there with even more complicated case studies than mine.
Many Australians from multicultural backgrounds feel Section 44 prohibits them from ever seeking public office at the national level. They also feel having a second citizenship does not make them any less Australian. In the process of becoming Australian citizens, they have already pledged their loyalty and commitment to Australia and its people.
For many multicultural Australians, having dual citizenship provides them with a sense of connection and comfort to their native homeland and they should never be put in a position to give that up just to meet the satisfaction of a century old law.
Parliaments are meant to be reflective of the communities they are elected to represent. We should not be discouraging parts of our community from ever running for federal parliament and serving the Australian people.
According to the Australian Human Rights Commission's blueprint for cultural diversity leadership 'Leading for Change', 79 percent of the 226 elected members of the Australian Parliament have an Anglo-Celtic background with 16 percent having a European background. Already, cultural diversity representation in the federal parliament is at a low point. The existence of Section 44 in its current form would make cultural diversity representation even lower.
In addition to referring these cases to the High Court, what we need is a genuine discussion within the community about the relevance, interpretation and implementation of Section 44. If a majority of Australians agree for Section 44 to be amended than let's take it to a referendum.
Let's face it; the Australian Constitution can do with some major changes such as recognising Aboriginal and Torres Strait Islander people and local government to name a few. Another proposed change to amend Section 44 and reflect the modern multicultural makeup of Australia can't be a bad thing.