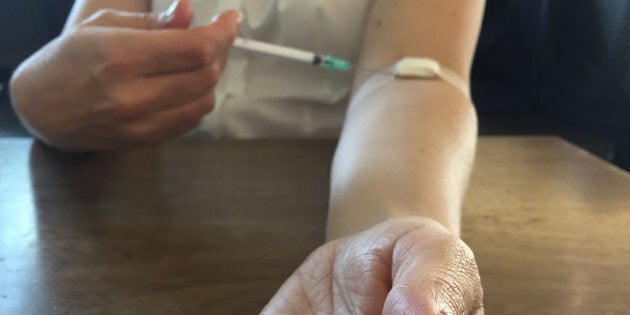 There are times in health policy debates when you can have the scientific evidence, the health experts and even law enforcement in your corner but still face an irrational resistance to change.
This is a treatment program that has shown success in breaking the vicious cycle of poor health, poverty and crime among people with long histories of problems from using heroin.
As all the signatories have emphasised, the success of this treatment in helping people who have not benefited from all our other existing treatment options, can no longer be ignored.
Do we really have a right to deny the evidence and refuse to provide a proven treatment that will help those in need?
It is 20 years ago this month that an Australian trial of heroin assisted treatment was abandoned before it could even start. Since then, supervised heroin assisted treatment with people using street heroin in seven countries has found that this treatment was more effective for people with severe heroin dependence, who had not benefited from multiple attempts with other treatments.
To make it clear from the outset, this is not a call for legalised heroin to be available to anyone who seeks it, nor even should it be a treatment option for all those currently using heroin.
It is a call for a scientifically evaluated and proven treatment option to be made available here; so we can provide the same benefits that overseas programs give the people that are dependent on heroin after all other conventional treatment options have failed them. This means that heroin assisted treatment is only needed for a small minority of the heroin using population.
Just as we know with nearly all other health problems, not all treatments available will work for everyone, and thus at times different treatments are required for some people. The same principle applies to heroin dependence.
While many benefit from residential rehabilitation, counselling or opiate substitution programs, such as buprenorphine and methadone, the reality is that some people are not assisted by any of these treatments.
When we are confronted by those that say such treatment means 'we are going soft on drugs' or 'sending the wrong message about drugs', we often refer to all the economic evidence that shows how the cost to taxpayers from people dependent on heroin is just extraordinary. We add up the costs of drug related crime (police, courts, insurance premiums and prisons) with all the health and social costs and the total cost easily becomes billions of dollars.
But even these numbers fail to show the human cost. The pain, harm and suffering endured by so many people, families and friends is so much greater than any monetary figure we can assign. This is why it is important to think about the lives of severely dependent people who use heroin and how this treatment may change all that.
Imagine your own despair and desperation if someone in your family or someone close to you was severely dependent on heroin. You would worry continually that they may be begging, stealing, or worse just so they can get the money they need to pay for their next hit. Trying to sleep at night becomes difficult as you worry if they will be alive tomorrow. Imagine what it feels like when the phone rings late at night and your stomach churns while desperately hoping that this is not the call you are dreading.
It begs a simple question: Do we really have a right to deny the evidence and refuse to provide a proven treatment that will help those in need?
The answer is no, we don't.