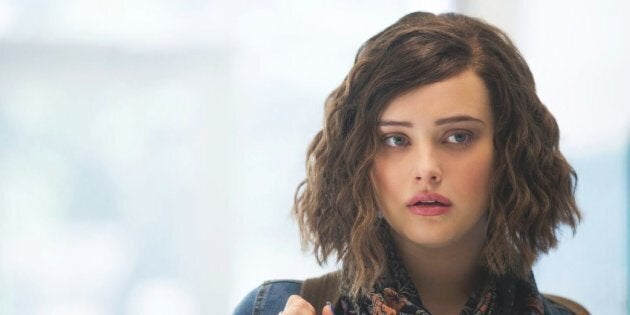 The Netflix series '13 Reasons Why' has received a great deal of criticism in recent weeks, for a whole range of reasons. I'm not going to reinvent the wheel or restate the criticisms, but I am going to say that if your teenager is watching or has watched this series, you should too.
Suicide is a significant problem in Australia for several age groups, but one in particular is adolescents. '13 Reasons Why' is all about suicide and an adolescent girl.
I watched the entire series in one day so I could address the concerns expressed to me by a significant number of parents. There's no doubt it's a gripping series. Once you start watching it's difficult to stop given the narrative; you want to know who will be the person on the next tape. What role did they play in Hannah's death? And I guess that's the problem... a bit like a train wreck, it's hard to stop watching. If your teenager is watching, I doubt very much that they will feel compelled to stop because of the criticisms that have been made. In fact, it may increase their curiosity.
Most families who have Netflix will have one login and several profiles so that each family member can pick and choose the shows they want to watch. I'm not suggesting spying on your kids is necessarily a good idea, but if you're worried your child might be watching this series but you don't want to ask in case that prompts them to start watching it, click their profile and it will tell you. And don't forget that Netflix will suggest shows and tell you what's trending, so if your teenager hasn't heard about it already then it's likely it will be suggested to them. (As a quick aside, Netflix allows you to nominate the maturity of shows available, for example: 'Little Kids', 'Older Kids', 'Teens' and 'Adults'.)
So, what do you do if you find out your teenager is watching this series?
Well, the main thing you need to do is take a big deep breath and not panic. Like it or hate it, this series has been made and has received a great deal of attention and a whole lot of teenagers are going to watch it. This doesn't mean your teenager is going to be at risk of suicide, but if they're watching a series about suicide, you can't pretend it's not happening because it's too scary or too hard to have the conversation.
It's equally important that you are calm and rational in your conversation with them. Now that they've been exposed to the concept of suicide (if they hadn't been already), they need to know that it's okay to talk to their parents about this topic. We see the tragic consequences of not doing this in '13 Reasons Why', when Hannah struggles to articulate to her parents, her teachers, and finally the school counsellor what was going on for her.
But what do you actually talk about? A good place to start is to remind your teenager that this story is fictional and not based on any real-life events. It does not reflect the lives of most teenagers. It's also American, so there are subtle cultural differences. For example, the way the entire school embraces and even idolises the boys on the baseball team and relegates the girls to cheerleaders is very different from Australia.
Another thing to discuss is the fact that once a person dies by suicide, they can't look back and see the story unfold as they retell it, the way Hannah does. Of course, she's not really seeing it, but she narrates every single episode and it can almost feel as though she is seeing it. Using suicide to punish or enact revenge on a person or people (which is a strong element of Hannah's story) is also not something you get to see.
When Hannah reaches out to adults for help, particularly the school counsellor, it seems that no-one can help her. In fact, the counsellor does a really poor job. Reinforce to your teenager that this is not normal at all.
When Hannah reaches out to adults for help, particularly the school counsellor, it seems that no-one can help her. In fact, the counsellor does a really poor job. Reinforce to your teenager that this is not normal at all. There are many school teachers, school counsellors, youth workers and youth group leaders who will listen, who will take you seriously, and who will help you find the help and hope you need that Hannah couldn't seem to find. There is help out there.
And finally, if your teenager has lost a friend to suicide, they need to know it's okay to feel guilty, to feel sad, to feel angry and to feel like maybe there's even someone or several people to blame. However, the truth is it's no-one's fault and no-one is to blame. Hannah's school mates on the tape were responsible for the things they did, but they are not to blame for her suicide.
Here are some resources to help you navigate the conversations that, in my humble opinion, you really, really need to have with your teenager if they are watching '13 Reasons Why'.
After watching the series, I had a look at my teenage son and daughter's Netflix profiles and discovered my son is already watching '13 Reasons Why' and that Netflix has suggested it to my daughter. Wish me luck!
Lifeline is exploring Australia's suicide crisis with business and community leaders at the #StopSuicide Summit on May 1, in partnership with HuffPost Australia and Twitter Australia.
If you need help in a crisis, call Lifeline on 13 11 14. For further information about depression contact beyondblue on 1300224636 or talk to your GP, local health professional or someone you trust.
ALSO ON HUFFPOST AUSTRALIA