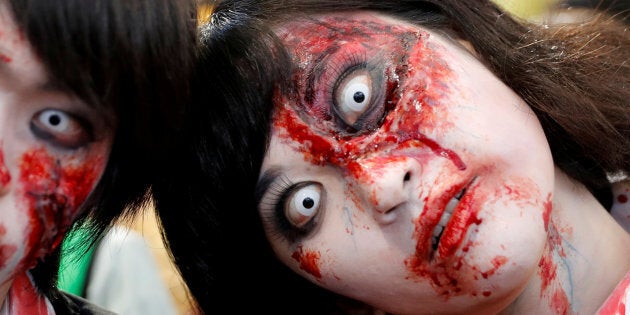 Each week at the Australian Writers' Centre, we dissect and discuss, contort and retort, ask and gasp at the English language and all its rules, regulations and ridiculousness. It's a celebration of language, masquerading as a passive-aggressive whinge about words and weirdness. This week we're treating ourselves to some Halloween tricks...
Q: Hi, would you like to come to my Halloween party this weekend?
Q: Well, I'll only let you attend if you can explain why 'Halloween' is sometimes spelt 'Hallowe'en'...
A: Fair enough. And you're right -- Macquarie Dictionary does reference both. But the modern and preferred spelling is without the apostrophe.
Q: So why even have the apostrophe version at all?
A: Well, it's a big clue to the history of the word. Do you even know what 'Halloween' means?
Q: I suppose I figured it was a cross between 'home invasion', 'marshmallow' and 'weaning kids off sugar throughout November'.
Q: Go on then. Give us a history lesson.
A: It goes way back to the eighth century, when Pope Gregory III decided that November 1 would be the day to honour all the saints -- All Saints, or All Hallows' Day. You see, the word 'hallow' used to mean 'to honour as holy'.
Q: When I first heard about 'Harry Potter and the Deathly Hallows' I assumed it was about someone overdosing on sugar from trick or treating. But this all makes so much more sense.
A: That's right. And so, October 31 was the evening before -- or 'All Hallow's Evening' -- when ghosts would return from the dead as the days were getting darker.
Q: So good old Greg Three was all about honouring saints and the night before was about dead stuff. Seems a million miles from wayward apostrophes and share packs of Freddo frogs.
A: Okay, well the 'trick or treat' tradition largely showed up in 18th century America, borrowed from the English and Irish traditions of dressing up and going door-to-door asking for money or food. It went away before being revived in a family-friendly way in the mid-20th century, eventually being the child-focused practice observed there today.
Q: And here in Australia too.
A: Despite Australia's half-hearted efforts, nothing can match the full 'street party' atmosphere and commercial fever that grips the U.S. from mid-September.
Q: Fair enough. So, I can't believe I'm asking this, but please tell me more about the apostrophe.
A: Certainly. It's simply a case of apostrophes doing what they do best.
Q: Taunting people and destroying Facebook friendships?
A: Um, no -- the other thing. Replacing missing letters or words.
A: So we got to 'All Hallow's Evening' -- which over time became 'All Hallow's Even' and then the 'All' dropped away, the 's' took a hike and finally the 'v' did a runner. We were left with 'Hallowe'en'... simple as that!
Q: So when did the apostrophe go away?
A: Well, as we've pointed out, it never fully has -- and is still often used for old-timey authenticity. But as early as 1786, the non-apostrophe version was being noted. And like we see these days, any time a shorter version enters popular use, good luck getting people to use the longer version.
Q: So, the banner at my party is fine to not have an apostrophe in it?
A: Absolutely. In fact, any time you write 'Halloween' you can leave the apostrophe out. If you see it written as 'Hallowe'en' it's not wrong, but it is a bit like carving a face into a pumpkin: unnecessary.
Q: Okay thanks for that explanation. You can come to my party.
A: What are you dressing up as?
Q: Not sure. I was going to go as a giant black and white bamboo-eating bear, but didn't really want to panda to anybody...
_____________________________________