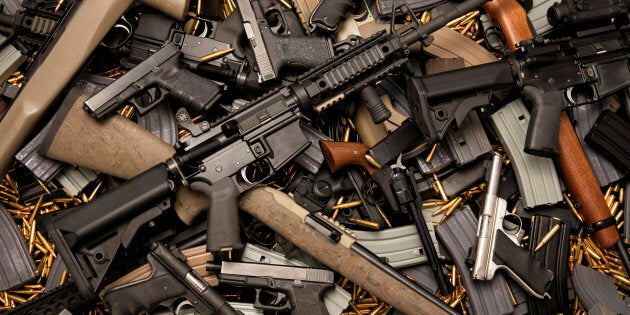 The Adler shotgun ban will remain and Australia will launch a new illegal firearm amnesty from next year, with "thousands" of the estimated 260,000 guns on Australian streets expected to be handed over.
Justice Minister Michael Keenan announced the initiative during a national summit of state police ministers on Friday. The idea for a gun amnesty had been mooted last month, but the plan is officially going ahead after securing support of the relevant state authorities.
"Ministers have agreed to conduct a national firearms amnesty, aimed at reducing the number of unregistered firearms in Australia. This is not a buyback, and it is not targeted at law abiding firearm owners," Keenan said.
"The amnesty will provide an opportunity for people who, for whatever reason, are in possession of an unregistered firearm to hand it in without fear of being prosecuted."
In other news from the meeting, the Adler shotgun ban will remain after ministers failed to come to agreement on classification of the controversial gun.
"We haven't been able to reach agreement amongst all the jurisdictions. There is a majority view amongst all the jurisdictions, but the reality is, on a national agreement, you do need unanimous agreement from all of the jurisdictions to move forward," Keenan said.
"The council has committed to continuing to have that conversation."
"The important point is, in the absence of a unanimous agreement amongst all jurisdictions, the prohibition on the importation of lever-action shotguns that the Commonwealth Government has put in place will remain. The regulation explicitly states that that prohibition will remain until we get a unanimous agreement, and also until that agreement is actually implemented in every jurisdiction."
The Adler has been the root of a fiery week in parliament, with debate raging over whether former Prime Minister Tony Abbott had agreed to allow the importation of the gun in exchange for the vote of key senator David Leyonhjelm. It came to a head on Thursday, with current PM Malcolm Turnbull saying Abbott's office must have known about the discussions, while Abbott defended himself in an extraordinary address to the House of Representatives.
Keenan said the amnesty is "expected to commence in the middle of next year", with each state to run its own system for managing the amnesty.
"The trafficking of illegal firearms is a deadly crime and just one illegal firearm, you can appreciate, can do an enormous amount of damage in the Australian community," he said.
Also released Friday was the Australian Criminal Intelligence Commission's report on illicit firearms in Australia. Keenan said the report "conservatively estimates there are around 260,000 firearms... on our streets."
While the Adler will remain banned in Australia for the foreseeable future, it seems unlikely we have heard the last of the shotgun.
"The import ban is explicit. It will run until we get a unanimous agreement with all jurisdictions in Australia about how to classify lever-action shotguns with a magazine capacity of over five," Keenan said.
"We said we'd discuss it out of session. These meetings of police ministers occur every six months. We can have a conversation in between meetings. That is often how we have dealt with difficult issues, and it's what we've continued to resolve to do this morning, to have a conversation so we can reach a consensus."