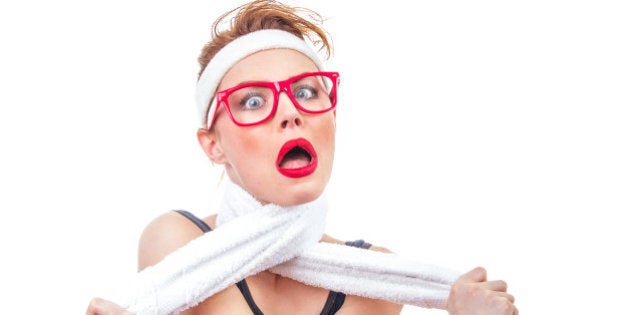 I am not a gym person. Not even a teeny bit. Not even the Imaginary Better Version Of Myself who knows when to say no to the next glass of wine, knits as a hobby and spends holidays volunteering -- even she doesn't like the gym. (Probs does walks for charity though. But no fun runs.)
I don't enjoy squats or lunges or the rowing machine or the lockers or other gym people with their judgy Lulu Lemon-shaped eyes. I never know what I'm doing and, even if I did, I doubt I would like it.
Yet, despite all of this, I have decided to sign up.
The catalyst is my wedding, which is in two months. Now, I'm all about girl power and loving the skin you're in. But, frankly, none of that seems to fly when you have upcoming nuptials. Unless you have the legs of Taylor Swift and the abs of Alessandra Ambrosio, fact of the matter is, people WILL remind you that You Want To Look Your Best On Your Big Day and that "best" means not how you are now.
Soz, peeps. It's true. In my experience, anyway.
I'm in two minds about this. Firstly, the vain part of me totally gets it. Vain Emily would love to be a beautiful waif-like nymph who practically floats down the aisle, looks great in pictures from all angles and sneezes (gluten-free) fairy dust.
If I could get into a cocoon and magically emerge as that person, I wouldn't be writing this column right now. I'd probably be on Instagram tagging my yoga beach photos with #namaste and #blessed before taking a swig of my organic coconut.
The more realistic part of me also knows that -- while I'm certainly not overweight -- there is more than enough room to lose a few kg's and, if you're going to do it at some stage in your life, why not for your wedding?
You're going to be the centre of attention, wearing a beautiful dress. It DOES kind of make sense. And being healthy is good. Exercising is good! This could be my chance to finally figure out what people mean when they say: "I can't think properly if I don't go to the gym at least four times a week."
If that happens to me, that'd be great. I'll write a new column about how this column was all wrong and happily eat low calorie humble pie.
But another part of me is pissed off. I hate that when I changed my Facebook status to 'engaged' my feed was immediately clogged with wedding photography ads (fair enough) and, not so fairly, weight loss gimmicks.
I don't like the attitude that what I am now isn't bride-worthy. That I will look back on the photos of what is meant to be the happiest day of my life with regret. Regret of what? That I met and married my soulmate? Or that the dress was a size 10 rather than an 8?
Am I pissed off enough not to feel the pressure? No. I'm going to the gym, one hundred percent. I'm cutting out sugar and laying off the midweek wines. The plan is to reach the nymphiest level I (healthily) can and then blow out on the honeymoon. People will probably say that's not ideal. It's most likely not. But that's the goal, regardless, and I don't think I'm alone.
So, after I finish writing this, I'm off to meet my personal trainer. I'm imagining Michelle Bridges and I'm a little terrified. Maybe it won't be as bad as I think it will. Then again, treadmills.
They better at least give me a free towel.