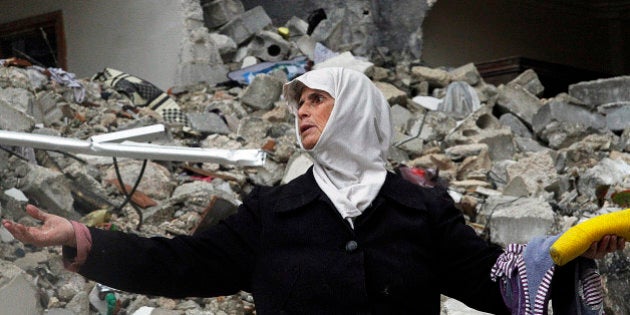 In modern warfare, it is more dangerous to be a woman than a soldier.
Yazidi women abducted by Islamic State know this all too well. Large groups of women and girls from ethnic minorities such as the Yazidi are being systematically attacked by Islamic State militants. As part of their militant theology, the rape and marriage of young girls is encouraged, with girls offered as rewards to new recruits or traded in slave markets, sometimes for as little as a pack of cigarettes.
This is a concept many of us might find hard to comprehend, as the most common depiction of war continues to be that of brave young men marching into battle to serve their country. The role of the ANZAC legend reinforces this concept and defines our national identity.
The truth is that modern warfare would be unrecognisable to the soldiers of the World Wars. Ninety percent of casualties in contemporary conflicts are civilians -- the majority of whom are women and children. The face of conflict is changing. Women and children are no longer "collateral damage" in war but rather are being strategically targeted as a tactic to display power and instill fear.
Deliberate acts such as the kidnapping of schoolgirls in Chibok, Nigeria, by Boko Harem and the trafficking and sexual exploitation of women and girls by Islamic State across the Middle East, demonstrate the malicious and targeted nature of modern conflict.
As we consider the increased violence, mass displacement and humanitarian catastrophes throughout the world, it is hard to ignore that the consequences of conflict are disproportionately felt by women and girls.
October 2015 marks the 15th anniversary of the United Nations Security Council Resolution 1325 (UNSCR1325) on women, peace and security. The landmark resolution, which was unanimously adopted by member states in 2000, emphasises that conflict affects women differently from men and urges consideration of the gendered differences inherent in conflict when developing peace-building processes as well as military interventions.
In the 15 years since the adoption of UNSCR1325, progress has been made. Fifty-two countries have now developed a National Action Plan on Women, Peace and Security, including Australia; since 2013 more than half of all peace agreements signed included references to women, peace and security; and member states adopted subsequent resolutions demonstrating increased awareness and commitment to the women, peace and security agenda globally. '
While these are positive developments, more work needs to be done to increase the participation of women in peace processes. Currently fewer than 4 percent of signatories to peace agreements are women and less than 10 percent of negotiators at peace tables are women.
Women are powerful agents for peace. Let's take, for example, the three women awarded the 2011 Nobel Peace Prize for their non-violent struggle for the safety of women and for women's rights to full participation in peace-building work: Ellen Johnson Sirleaf, Leymah Gbowee and Tawakkul Karman.
Ellen Johnson Sirleaf, Africa's first democratically elected female president, helped secure peace in Liberia, promote economic and social development, and strengthen the position of women.
Leymah Gbowee mobilised and organised women across ethnic and religious dividing lines to bring an end to the long war in Liberia and secure women's participation in elections.
Tawakkul Karman played a leading part in the struggle for women's rights, democracy and peace in Yemen.
We know that including women in peace building solutions and peace negotiations results in more holistic and longer-lasting peace agreements that benefit whole communities, yet women are still excluded from many formal peace processes.
The priorities which women raise in relation to peace and the development of peace agreements extend beyond territorial issues or power struggles. Often it is women who are able to identify the root cause of the conflict, and as such are better able to facilitate meaningful resolution.
Placing a greater emphasis on increasing the participation of women in peace negotiations and conflict resolution will result in a shift in global focus from viewing the women, peace and security agendas not only as a tool for conflict management but also as a method of conflict prevention, opening new pathways to building sustainable peace.
As Australia and other countries around the world consider escalating their involvement in the Middle East through air strikes and the potential redeployment of troops, it has never been more important to ensure that women's voices are heard and that women are included as active participants in all peace processes.
Julie McKay is Executive Director of the Australian National Committee for UN Women.
Marc Purcell is Chief Executive Officer of the peak body for Australia's aid and development organisations, the Australian Council for International Development.