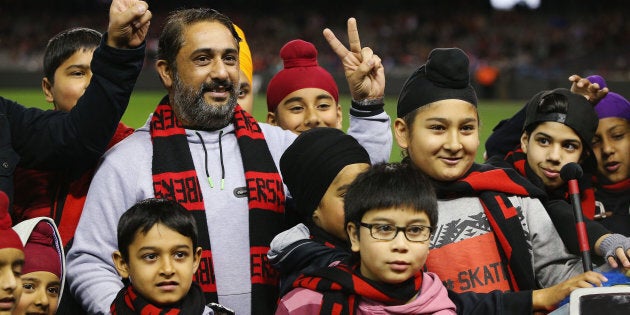 I love Australia Day. It's a time to get together with the family -- I have great memories with my wife Cheryl, the kids and family friends. A barbeque, some drinks and a kick of the footy outdoors makes for a beautiful day to mark our country.
Having been raised in an Italian-Australian household in Melbourne in the 1960s, I've witnessed Australia's multicultural society mature over the years. I have fond memories of fantastic meals, laughing around the dinner table, and knocking about with my cousins and neighbours. While that hasn't changed much, attitudes to people from different backgrounds have.
Looking back, I reckon this is thanks to the hard work of the post World War II migrants. My parent's generation worked hard and helped build the country to where it is today. They saw Australia as a land of opportunity and their resilience and optimism led the path for the multicultural society we now enjoy.
I've seen attitudes change, along with words such as 'wog' from insults to nicknames of affection. Compared to the '60s, Australia has come a long way to embrace people from all backgrounds.
You just need to look across Melbourne's suburbs today. Everyone has a neighbour, a local trader or a colleague from a diverse cultural background. As a city, it's something we've come to love through food. Who doesn't appreciate a trip to Lygon Street for Italian food, Richmond to enjoy Vietnamese or a Lebanese dish in Brunswick? Diversity is part of our city and who we are as Australians.
Melbourne's suburbs are known for their footy clubs and growing up, like most young guys, I found my greatest sense of community in my local footy club. The great part of Aussie rules is that you're never alone. Someone is always there to pick you up. A teammate will always have your back. My footy clubs of East Hawthorn and North Kew growing up gave me a sense of purpose and embedded me in the local community where I made a lot of good mates.
A footy club is great not just for the players, but their families. My parents took great pride in my football career, and it brought them instant welcome when people asked them 'Is your son Dipper?' It didn't matter where any of us were from; we were a part of the same club.
The AFL ought to be credited for their part in creating our multicultural society. I've been a part of the sport since I was 11, and in 47 years have seen it bring people together. Look at the make-up of our teams; about half of players are from diverse cultural backgrounds. Then we have landmark events such as the annual multicultural round, where players are recognised for representing not just their club or sport, but their family and culture of origin.
This Australia Day I'll be down in Warrnambool enjoying a simple sausage and sauce in at a BBQ with about 2,000 of my fellow Australians.
Being Australian gives me an incredible sense of pride. I am extremely lucky, and have always been an out-and-loud Aussie. I feel even luckier to be given the opportunity to be an ambassador for Australia Day. It means I'm able to get out there and talk to Australians about what makes our country great.
I've spent many Australia Days overseas, and let me tell you they have been enormous days! Even when away from the country, it's great to share some Aussie pride abroad. This Australia Day I'll be down in Warrnambool enjoying a simple sausage and sauce in at a BBQ with about 2,000 of my fellow Australians.
Looking to the future of our multicultural nation I see more great food, more opportunities for our health, education and acceptance. As a young country, when compared to the rest of the world, we have much to learn from our fellow Australian and migrants. It is true we live in the lucky country, and together let's keep it that way.