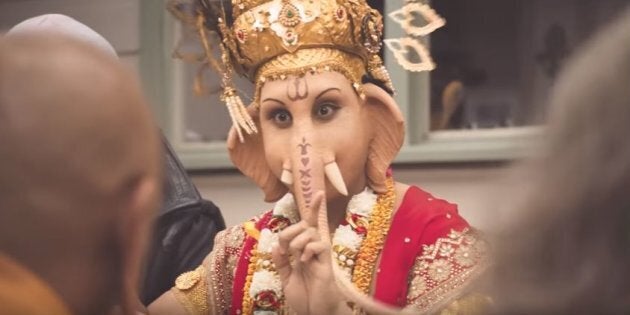 An international furore over a TV advertisement for Australian lamb has reached the highest levels of government, with the Indian High Commission lodging an official diplomatic complaint over the "offensive" ad depicting Hindu god Ganesha.
As HuffPost Australia reported on Friday, the latest ad from Meat & Livestock Australia (MLA) has riled up Hindus across the world. The ad, part of MLA's 'You Never Lamb Alone' campaign, sees a barbecue attended by various religious icons including Jesus Christ, Buddha, Zeus, Aphrodite, Moses, and the Hindu god Ganesha. The god is only referred to in the ad as the butt of a joke, with Buddha joking "should we address the elephant in the room?"
Ganesha is known as vegetarian, and the god's presence in an ad promoting meat has angered many Hindus in Australia and internationally. Rajan Zed, President of the Universal Society of Hinduism, said the ad could see Australian meat sales affected overseas.
Now, the controversy has gone diplomatic, with the Indian High Commission in Australia lodging an official complaint with the Australian Department of Foreign Affairs and Trade.
"The High Commission of India, Canberra, taking note of the protests of Indian community in Australia, have made a demarche to the Department of Foreign Affairs and Trade, Department of Communication and Arts and Department of Agriculture bringing to their notice an offensive advertisement by Meat and Livestock Australia that hurt the religious sentiments of the Indian community," the High Commission said in a statement on its website.
A demarche is an official diplomatic or political action.
"In a video advertisement released by Meat and Livestock Australia recently, Lord Ganesha along with other religious figures is found to be 'toasting lamb', which the Indian community consider to be offensive and hurting their religious sentiments," the High Commission's statement continues.
"The Consulate General of India in Sydney has taken up the matter directly with Meat and Livestock Australia and urged them to withdraw the advertisement."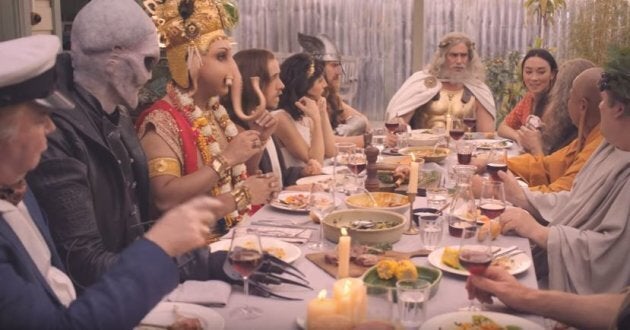 Last week, Zed said it was "highly irresponsible" for MLA to continue airing the ad "despite the clear expression by Hindus that it was very inappropriate and hurt their feelings."
"Lord Ganesha was highly revered in Hinduism and he was meant to be worshipped in temples or home shrines and not to be used in selling lamb meat for mercantile greed. Moreover, linking Lord Ganesha with meat was very disrespectful and highly inappropriate."
"Such trivialisation of a Hindu deity was disturbing to the Hindus world over."
Hindu groups inside Australia also expressed concern about the ad. Indian Society of Western Australia spokesman Nitin Vashisht told the ABC the ad was insensitive, while Hindu Council of Australia spokesperson Balesh Dhankhar told SBS that Hindus were "very hurt and angry" and that the depiction of Ganesha was "very insulting".
The MLA ads are often cheeky and provoke both praise and outrage on social media. In recent years, the ads have come under fire after claims of vilification and condoning of violence against vegans in a 2016 Australia Day ad, and a 2014 lamb advertisement where the child of vegans is given a lamb chop and a giant baby then tramples a picnic where people are eating tofu. Earlier this year, the MLA was again criticised for an ad which Indigenous groups claimed made light of European colonisation of Australia.
MLA spokesman Andrew Howie said the ad came about after "extensive research and consultation" with diverse cultural groups.
"Our intent is never to offend, but rather acknowledge that lamb is a meat consumed by a wide variety of cultures and capture how the world could look if people left their differing views at the door and came to the table with open arms, and minds," he said.