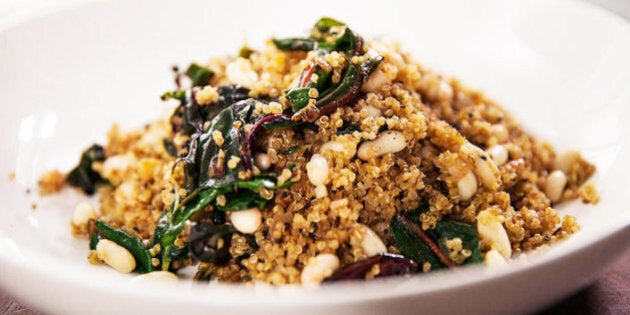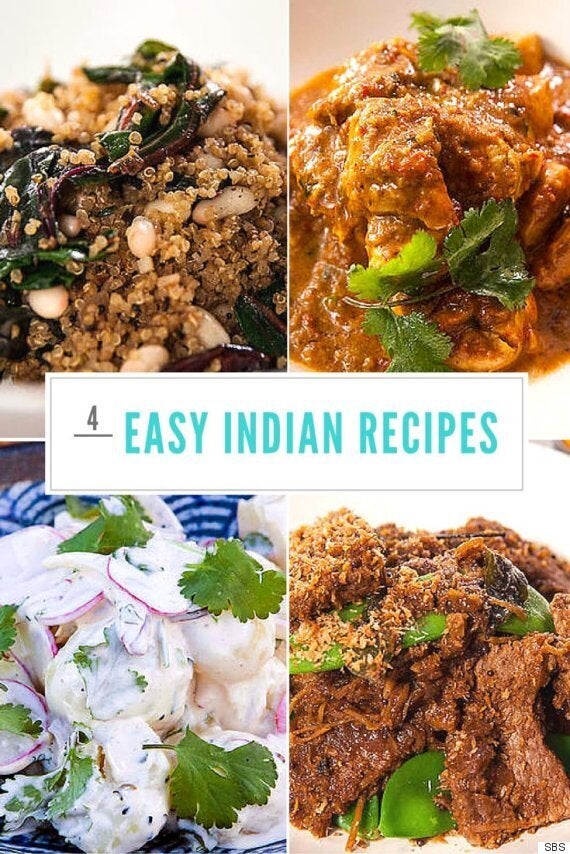 Indian cuisine is the ultimate comfort food. It's warming, hearty and spicy, and perfect for dinner on a cold night when you're cosy in your jim jams.
If you love eating Indian food but are put off at the thought of spending hours making a meal and letting it simmer away, here is the solution your growling stomach has been looking for.
These four Indian-inspired recipes from Anjum Anand's Australian Spice Stories only take 30 minutes to make, and they don't sacrifice on flavour.
1. Cannellini Bean, Ruby Chard and Quinoa Pilaf
"This pilaf is a particularly lovely way to cook and eat quinoa. The flavours add to the simple grain and the greens and beans add texture and flavour," Anand said.
"The cannellini beans add a lovely creaminess to the pilaf, as well as another flavour, but feel free to substitute with any other bean."
150g quinoa
60ml (¼ cup) vegetable oil
¾ teaspoons brown mustard seeds
⅔ teaspoons cumin seeds
1 medium red onion, finely chopped
1 dried red chilli
3 large garlic cloves, coarsely grated
2 handfuls ruby chard (silverbeet) leaves, washed and torn
400g can cannellini beans, drained and rinsed
2-2½ teaspoons lemon juice, or to taste
Salt and freshly ground black pepper, to taste
Place the quinoa in a dry saucepan and stir over medium heat for 2-3 minutes until it smells toasted. Add 475ml water and a little salt, bring to the boil and simmer for 15 minutes or until nearly tender. As the water evaporates, give the pan a stir with a fork. If there is a lot of water in the pan, turn up the heat and cook it off so you have fluffy dry grains.
Meanwhile, heat the oil in a medium non-stick saucepan. Add the mustard and cumin seeds and cook over medium heat for one minute, or until the mustard seeds stop popping and the cumin has lightly coloured. Add the onion and chilli, and cook until the onion is soft and colouring at the edges. Reduce the heat to low, stir in the garlic and cook for one minute. Add the chard, season with salt and stir well. Cover and cook, stirring occasionally over medium heat for 4-6 minutes or until the chard is soft.
Stir in the beans, black pepper and lemon juice and cook until heated through. Add the warm quinoa and fold through with a fork. Taste, adjust seasoning and lemon juice to taste and serve.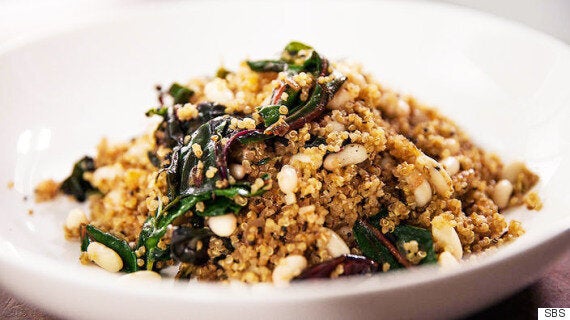 2. Five-Minute Chicken Curry with Tomato Chutney
"With a jar of my garlic, red chilli and tomato chutney on hand, this chicken curry is not only super quick to make, but beautiful and deeply satisfying, too," Anand said.
1 teaspoon vegetable oil
1 medium skinless chicken breast, cut into 2-3 cm pieces
1 small spring onion, white part only, thinly sliced
30g peeled ginger, finely grated
¼-⅓ teaspoon garam masala
½ teaspoon ground cumin
2-3 tablespoons chicken stock
1 tablespoon garlic, red chilli and tomato chutney
1-2 tablespoons cream (pouring or double)
Handful coriander stalks and leaves, coarsely chopped
Heat the oil in a medium non-stick frying pan over medium-high heat. Add the chicken, spring onion and ginger and stir-fry for 1-2 minutes. Reduce the heat to low-medium, stir in the garam masala and cumin, then add the stock and simmer for one minute. Add the chutney and half the coriander, then simmer until the chicken is nearly cooked through.
Stir in the cream, then check the seasoning and adjust with more chutney or cream, if necessary. Serve scattered with the remaining coriander.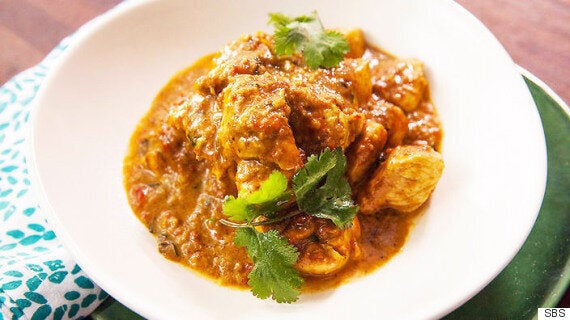 3. Stir-Fried Coconut Beef
"A truly delicious stir-fried beef dish from Kerala. The dish is sweet from the coconut, and spiced and slightly hot from the chillies," Anand said.
"You can also add some vegetables, like green beans or snow peas -- stir fry those separately before adding in to final dish. Serve with Indian breads or a pilaf and yoghurt."
60g desiccated coconut
80ml (⅓ cup) vegetable oil
600g sirloin beef, fat trimmed and thinly sliced across the grain
1½ teaspoons brown mustard seeds
15 fresh curry leaves
2 small onions, finely chopped
30g peeled ginger, cut into julienne
6 large garlic cloves, finely chopped
2 green finger chillies, pierced with the tip of a knife
1 teaspoon freshly ground black pepper, or to taste
2 teaspoons ground fennel seeds
3 teaspoons ground coriander
1½ teaspoons garam masala
1 teaspoon ground cumin
Salt, to taste
60 ml (¼ cup) beef stock gel
60g (¼ cup) tomato paste
Handful snow peas, trimmed
Coconut rice, to serve
Heat a large non-stick frying pan over medium heat. Add the coconut and cook, shaking the pan regularly, for two minutes or until golden. Pour into a bowl and give the pan a wipe.
Add one tablespoon of oil to the pan and place over high heat. When hot, add the beef and cook for 1-2 minutes or until mostly browned. Remove the beef from the pan and set aside, then return the pan to the heat -- there is no need to wipe it clean.
Add the remaining oil and the mustard seeds and shake over medium heat for 10-20 seconds or until they begin to pop. Add the curry leaves, onions, and a good pinch of salt and cook until browned on the edges. Add the ginger, garlic and chillies and cook for one minute, or just until the garlic is cooked through. Stir in the spices, then add a good splash of water, the stock, tomato paste and snow peas and simmer for 4-5 minutes or until thickened and glossy.
Return the beef to the pan, then add the coconut (reserving a little for garnishing) and stir for 1-2 minutes or until the beef is well coated in the sauce. Scatter with the reserved toasted coconut and serve with coconut rice.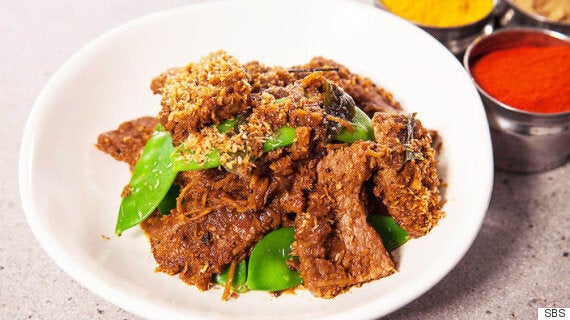 4. Five Seed Potato Salad
"This lovely, potato salad is a fusion of a creamy American potato salad and the potato salad from India known as aloo chaat," Anand said.
"Chaat masala is a spice blend of a combination of spicy and tangy spices and can be found in all Indian grocers, as well as online. You can, however, leave it out if you don't have it -- the salad is still sublime and immensely moreish without overpowering the potatoes.
"The radishes add bite and crunch to this salad and their leaves have a lovely peppery flavour, but you can add any other vegetable you like. Try finely sliced fennel, cucumber, celery stalks or baby green beans."
500g waxy new potatoes, washed well
¼ small red onion, very finely sliced
1-2 green chillies, seeded and finely chopped (optional)
½-¾ teaspoon chaat masala (optional)
3 large radishes with their leaves, well washed
Very large handful chopped coriander leaves and stalks
2 teaspoons lemon juice
1 small-medium garlic clove, made into a fine paste
80ml (⅓ cup) full fat or light mayonnaise
2 heaped tablespoons sour cream
1½ tablespoons extra virgin olive oil
½ teaspoon brown mustard seeds
½ teaspoon cumin seeds
½ teaspoon fennel seeds
Salt and freshly ground black pepper, to taste
Place the potatoes in a large saucepan of lightly salted cold water and bring to the boil. Simmer for 15-20 minutes or until the tip of a knife goes through them easily. Drain well and set aside until cool enough to handle.
Meanwhile, to make the dressing, whisk together the lemon juice, garlic, mayonnaise, sour cream and half the oil, then season to taste. Heat the remaining oil in a small saucepan over low-medium heat, tilting it so the oil collects in one area. When hot, add the mustard and cumin seeds, shake the pan for 2-3 seconds, then add the fennel seeds. Reduce the heat to low and cook for another 10 seconds or until the popping dies down. Remove from the heat and stir into the dressing.
Peel the potatoes, then cut in half if small, or quarters if large, and place in a large bowl. Add the dressing, red onion, chilli and chaat masala and stir gently to combine well. The potatoes will absorb the dressing as they cool. Just before serving, stir in the radishes, their leaves and the fresh coriander. Adjust the seasoning if necessary.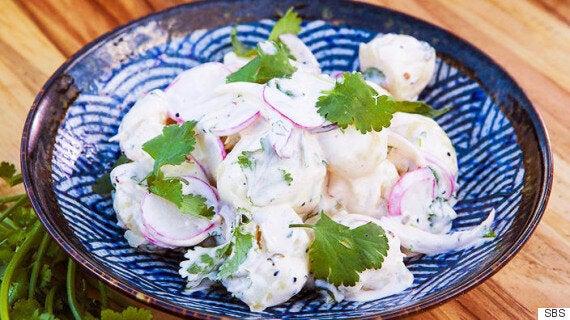 Recipes from Anjum's Australian Spice Stories, which airs on Food Network Australia.