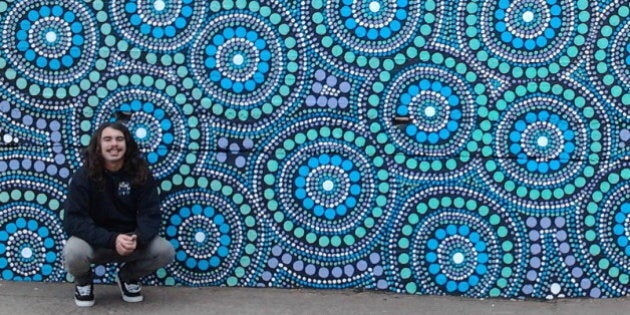 Surfboards, skate boards, footy boots -- nothing is safe from Zachary Bennett-Brook's paintbrush.
The 24-year-old Torres Strait Islander, born and raised in Wollongong, has given indigenous Australian art a modern twist by taking it away from the canvas and into the surfing community.
Finding inspiration in everyday life, Bennett-Brook says the process of painting objects such as recycled surfboards brings together his three main passions -- the ocean, conservation and indigenous art.
"Aboriginal art always been around and something I have been brought up with, but it wasn't until later in high school I decided to pick up some brushes and have a bit of a paint. I got a good response from people so I just kept doing it."
"I am a surfer so I get inspiration from the ocean. I paint on anything -- skateboards, footy boots, surfboards -- but the majority of surfboards are recycled, so no longer suitable for water unfortunately. I'm trying to put them to good use.
"Because I am Indigenous, I want to look after the land, and I work in a surf shop as well so I know what surfboards are made of and they're not very environmentally friendly. So I wanted to make them into artworks."
Bennett-Brook says a surfboard artwork will typically take him about a week to complete (he covers the board in paper mache prior to painting to ensure the paint sticks) and that his love for the water heavily influences his work.
"I like to work in bright bold colours, lots of blues. Being a surfer I'm in the water every day which impacts heavily on the work. I like things that are bright and vibrant."
"Some of my artworks tell stories about conservation and the importance of looking after our world."
Check out some of Bennett-Brook's artworks below and at his website.