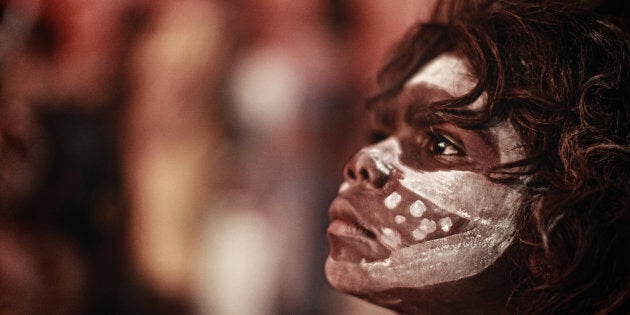 But now a community-led initiative between Indigenous elders from the Warlpiri community in the Northern Territory and mental health research organisation, Black Dog Institute, will look to crowdfund a mobile app aimed at tackling those figures through the use of traditional Indigenous ideologies.
With popular Indigenous actor Jack Charles as its patron, the app will be titled Kurdiji 1.0 after the Warlpiri word for "to shield, protect or ward off". It will use traditional ideas to empower young people through a connection to their Indigenous identities, the land and their community in the hopes of reversing high suicide rates.
Warlpiri elder Steve Patrick told The Huffington Post Australia Kurdiji is a psychological process that teaches young people their self-value by emphasising the story of their identity in connection to the land and how they can be shaped by it.
"Suicides keep happening here and it takes the guts out of the communities. Suicide is a new thing to us and it caught my community off-guard, so we heard about all these suicides and we went back to the traditional way of how you maintain the story to prevent suicide," he said.
"Lost stories mean lost history for the people and for their families. They simply drip away from community, even if they live within the community. Bringing them that story makes them whole and useful to the community. To keep a healthy body is to keep your story alive."
Patrick said the idea for the app came from the Warlpiri people themselves after the community of Lajamanu in north-western NT established a festival in 2005 based on promoting the four pillars of Kurdiji taught in local celebrations of culture to teach an individual about their purpose-- language, skin name, ceremony and law.
Since the establishment of that festival, there has not been a single case of suicide in Lajamanu.
"When you look at Indigenous culture, it's not about people, it's about country and how you look after country and it looks after you and your body," he said.
"You need to teach oneself of keeping that story alive. You are that story but you're also holding up other people. It's so that they can understand themselves a bit more and about the world around them.
"It's to be strong in whatever challenges life throws at you. It's to not be afraid of all these challenges."
Creative director of the Kurdiji 1.0 project, Dr Judith Crispin, said the app is groundbreaking for the Warlpiri community, who typically keep traditional lessons and ideologies restricted to their own people.
"The purpose of Kurdiji ceremonies is to teach young people how to belong to your community, how to understand your relationship with country and how to celebrate your Indigenous pride. You can only access those values if you were in a community and an elder could tell you or if you could attend a ceremony," she said.
"One of the things that is really important is that in order to do this, [Warlpiri elders] had to break their own rules because this information about Kurdiji was restricted to Indigenous people going through initiation.
"Elders came to the conclusion that Indigenous lives are more important than maintaining this law. It's a real turning point in Indigenous Australia which will take those restricted but extremely helpful psycho-social ideas to indigenous people all over the country."
Crispin said the app will be released for free and structured around three stages based on the success of the crowdfunding campaign and any Federal funding that may come afterwards.
The first stage will be a pilot involving local Warlpiri young people who will help design the look of the program while also providing information that is key to distributing the lessons of Kurdiji in the Warlpiri-English language.
The second stage will look to expand the app to other Indigenous communities around Australia so that the information can be accessible in as many different traditional languages as possible. The third stage will look to build the app so that it is more inclusive of the non-Indigenous community in rural areas who is also affected by high suicide rates, such as Australian farmers.
"This information makes a person feel like there's a network around them, it makes them feel connected to their community, to the country itself and to their very long and proud Indigenous history, it gives people dignity," she said.
"They put the centre of their mental health back where it belonged, back in those traditional ideas. If it works there, the chances are it'll work elsewhere."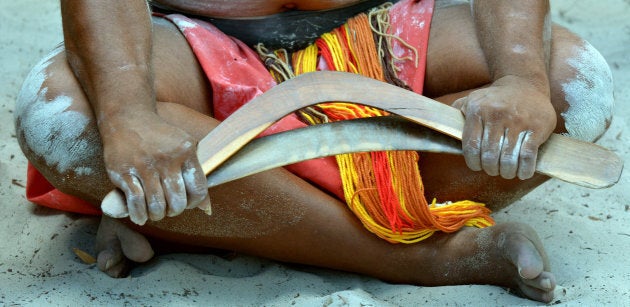 Dr Fiona Shand of the Black Dog Institute told HuffPost Australia the suicide rates of Indigenous Australians have been increasing over the last decade and Kurdiji 1.0 will be a protective measure aimed at reversing the trend while providing access to support services that previously may not have been an option.
"Overall, we've seen an increase in suicide deaths in Australia over the last decade or so, but what's of greater concern is that for Indigenous people, that rate is twice as high as the non-Indigenous community," she said.
"There is a sense that strengthening people's connection to their traditions and their culture and their indigenous identity and heritage is a protective thing to do.
"Apps and technology more generally can reduce substantially the barriers to help-seeking and intervention. Some of those barriers are remoteness, but also stigma and shame for [people] admitting they're not doing so well. Something that's relatively anonymous such as an app can help overcome those barriers.
"If we can strengthen that connection to cultural identity and heritage, then you'll improve young people's self-esteem and resilience and prevent them going down that path [of suicide]."
For Steve Patrick, the main lesson to come from the Kurdiji 1.0 project that young Indigenous people need to know is this: "Don't underestimate the emu. The bird that doesn't fly teaches you how to fly."
In other words -- "If you know your own story, the emu does fly. [The lesson is] to not underestimate yourself, because you're of value to the community."
ALSO ON HUFFPOST AUSTRALIA