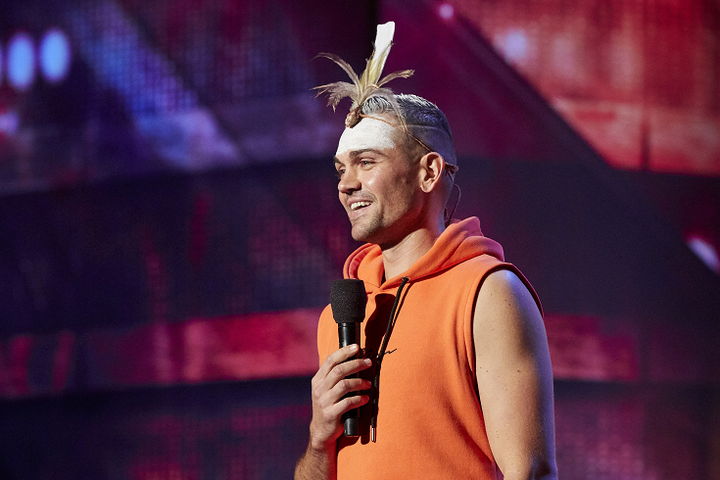 Australia's Got Talent finalist and Indigenous artist Mitch Tambo is one step closer to reaching his Eurovision dream after many fans said they wanted him to compete in the international song contest.
The 29-year-old Gamilaraay and Birri Gubba man has not only topped local music charts since Sunday night's AGT finale, but has made his mark in the American market.
Mitch informed his over 23,000 Instagram followers on Wednesday that his album Guurrama-Li was sitting at number 40 on the iTunes Top 200 Releases Unites States of America World Chart.
"I am overwhelmed and ecstatic that my music has been received globally and to reach the top 40 on the American world charts has been the icing on the cake," he told HuffPost Australia
"I am so grateful to everyone who has supported my music and who have and continue to embrace and celebrate Aboriginal culture and languages."
Mitch released his album Guurrama-Li, which translates to 'love', back in March this year but his music in his traditional language has received another wave of support after he made it to the Australia's Got Talent grand finale over the weekend.
Many fans began campaigning on Twitter for Mitch to represent Australia at the next Eurovison song contest, an opportunity he is certainly open to.
"What an amazing journey it has been. I was pleased with my performance and really grateful for the opportunity to share my language and celebrate my identity on the AGT stage," he said.
"I am blown away by all the love and support that is flooding in. If I am given the opportunity to perform on the Eurovision stage, I would embrace with my own and give it serious go. I'm still riding a high from last night."
Mitch has previously spoken of the importance of sharing his culture with the rest of Australia through his music. His decision to perform a rendition of John Farnham's iconic song, You're The Voice, in his traditional language, was one he's very proud of.
"I chose to perform such an iconic song to celebrate my identity and to continue showcasing my beautiful Gamilaraay language," Mitch wrote on Instagram.
"To hear so many people from all over Australia singing along with me in English and language gives me hope that our culture and language will continue to survive and thrive."
The five musicians who have represented Australia at the Eurovision song contest since 2015 are Guy Sebastian, Dami Im, Kate Miller-Heidke and Indigenous artists Jessica Mauboy and Isaiah Firebrace.
This year was the first time the country's representative for Eurovision was selected by the Australian public at the Eurovision – Australia Decides – Gold Coast 2019 event in February. Kate Miller-Heidke was chosen to compete at the Eurovision song contest in Tel Aviv, Israel, where she finished in ninth place.
Eurovision 2020 will take place in Rotterdam, Netherlands. Another Eurovision - Australia Decides contest hosted by SBS will take place on the Gold Coast in February 2020 where Australia's representative will be decided by the public.