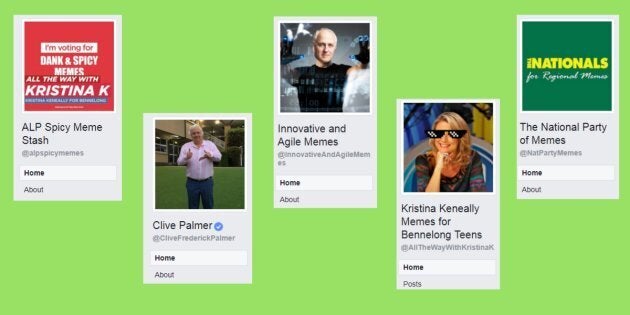 At 2pm on Saturday afternoon Kristina Keneally tweeted out "2500 people doorknocked. 120 volunteers. 15 street stalls. Thousands of conversations. And that's just today", accompanied by a photo that showed off her young doorknockers.
Less than an hour later, on the Facebook page 'Kristina Keneally Memes for Bennelong Teens', that same photo was crafted into a clever meme making fun of the Liberal Party's lack of volunteers on the ground. The Facebook page is only a few days old, but it's amassed almost 2,000 likes, and each post receives hundreds of likes. Some posts joke about the fact that former MP for Bennelong John Alexander does not live in the electorate, and others poke fun at the dual citizenship status that brought him down.
The creation, and sudden popularity, of this Facebook page marks a rise in online political campaigning -- and in particular, the rise of satirical Facebook pages that deliberately aim to motivate a young political fanbase.
In recent months, these online pages have cracked national headlines. When the NSW Young Liberals Facebook page posted a photo in support of Streets, after the company's breakdown of relations with employees over pay issues, the Sydney Morning Herald cited one post from a popular left-leaning joke page:
The post was liked by over 2,500 people, and was seen by 2 million.
Speaking to HuffPost Australia, the founder of 'ALP Spicy Meme Page' said that the rise in political meme culture followed in the United States' footsteps.
"I was inspired by some of the American political memes about Bernie Sanders, and those had massive outreach, so I thought 'surely we could do something similar in Australia?'" the 20-year-old university male student from Sydney said.
A meme is an internet gag -- often just an image with a text caption -- that becomes an in-joke within online communities. For the page 'ALP Spicy Meme Stash', which now has over 60,000 likes, jokes that echo young people's frustrations with the current government have shown to be wildly popular. The founder of the page, who chose to remain anonymous, suggested that the memes only worked in specific political environments.
"Not being in power benefits meme culture -- it's rebellious, it's cool and it's not the status quo. That's why memes with Bernie Sanders worked, but memes to do with Hillary Clinton didn't".
The student, who is now helped by a second editor on the ALP-supporting satirical Facebook page, also started one specifically focussed on Kristina Keneally. And he suggested that the use of such tools within political campaigns is only going to increase in the future.
"More consideration of the Internet in campaigns is just smarter. More and more people are getting their news, thoughts and ideas from the Internet than ever before. It's going to become much more prevalent in deciding people's vote".
Since the original 'ALP Spicy Meme Stash' page was created in April last year, and huge number of other Facebook pages have cropped up. There's 'Innovative and Agile Memes' (which, if you hadn't guessed it from the use of the now infamous slogan, supports the Liberal Party), 'The National Party of Memes', and more recently the bizarre, comedic Facebook presence of Clive Palmer. But the Sydney-based founder of 'ALP Spicy Meme Stash', who is also a volunteer with Kristina Keneally's by-election campaign, recognised the limitations of this form of online vote canvassing.
"Memes are incredibly powerful in activating a base, and getting people excited -- but in terms of changing people's minds, it's difficult to do that. The 'ALP Spicy Meme Stash' effectively just becomes a meme page followed by people who like Labor".
Regardless, in a year where Facebook has had to apologise for the effect that Russia-backed online content might have had on the US election, online campaigning is a new political vessel that's here to stay.
And with new polls released today showing Keneally locked into an extremely tight race with former MP and former dual citizen Alexander, galvanising the youth vote through online, wide-reaching internet jokes might serve invaluable.