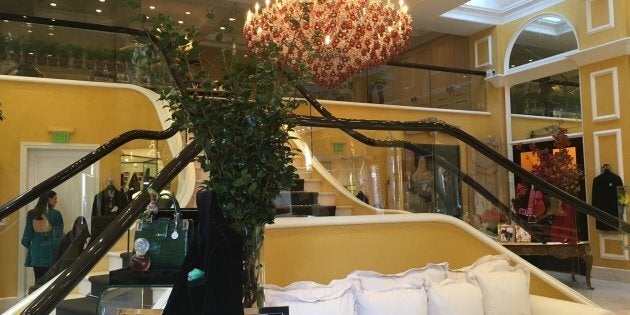 Among the sophisticated mirrored metal and matte black and gold high-end boutiques of Beverly Hills, there's a store standing bold in eye-popping canary yellow where you can't even get through the front door without an appointment. A store with a $2 million Bugatti Veyron parked outside as a street advertisement and a multi-million dollar museum piece Fernando Botero painting hanging on the wall inside. A store that has dressed every American president since Ronald Reagan.
Welcome to Bijan, "the world's most expensive store".
Most people don't even get through the front door, stuck marvelling at the stunning store from the Rodeo Drive sidewalk, peering through the gleaming windows. Neighbours on the exclusive shopping strip include Giorgio Armani, Ralph Lauren, Chanel, Vera Wang and Bulgari, but held up against the unabashed flair of Bijan, they pale in comparison. For one, Bijan's yellow walls, blue awnings and bright plants are about the only splashes of colour on the street of faux stone storefronts and industrial black signage.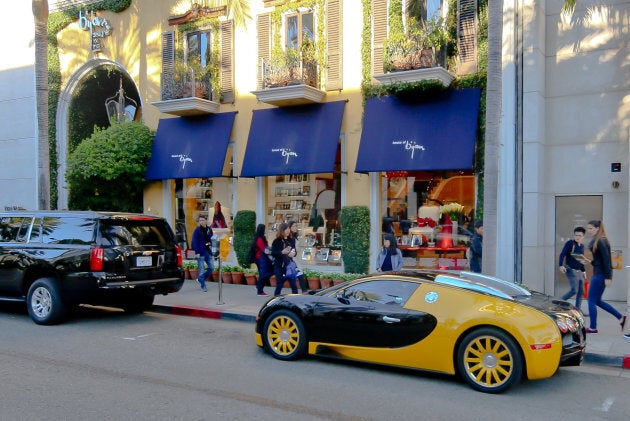 Bijan Pakzad named the store after himself, after migrating to Los Angeles in the 1970s from Iran. Since opening in 1976, the 'House of Bijan' has produced some of the finest and most expensive clothing, shoes, fragrances and accessories in the world, counting Barack Obama, George and George W. Bush, Bill Clinton, Prince Charles, Pierce Brosnan, Arnold Schwarzenegger, Hugh Hefner and Monaco's Prince Rainier among its star-studded client list.
Manijeh Messa, the store's manager, tells us Donald Trump is the only president since the 1980s that Bijan hasn't made suits for. He has some Bijan ties, but Messa says he prefers his own brand of suits.
"But maybe someday soon," she says with a grin and a wink.
She gives us the grand tour, normally reserved for royalty or rockstars or the (very) rich. We walk past the framed photos of "Mr Bijan", as Messa calls him, and his family pictured alongside Obama and the presidents Bush, past the Botero painting (appropriately titled 'The Rich') which Messa claims is worth in excess of $7 million, up to one of the famous Bijan closets. They deal in amazing fabrics here -- cashmere, alligator and kangaroo leather are the standard materials here -- and one of their signature touches is to design an entire wardrobe for a client, from jackets to shirts to shoes and ties, and have it waiting for them when they walk in. On show today is a light purple-themed wardrobe for Schwarzenegger, and others in green and red.
"We make a closet for them. We see what their clothing looks like, and we add some pieces to it," Messa says humbly.
"It's our private collection area. Some of our clients we've had for over 40 years, the gentlemen are very close to us. They are good clients and good friends. Their children grow up with us."
We ask which client is the best client. Messa smiles and shrugs off the question, showing us to a dressing room -- an 18th century antique armoire that opens into a deep, hidden cavern inside the shop.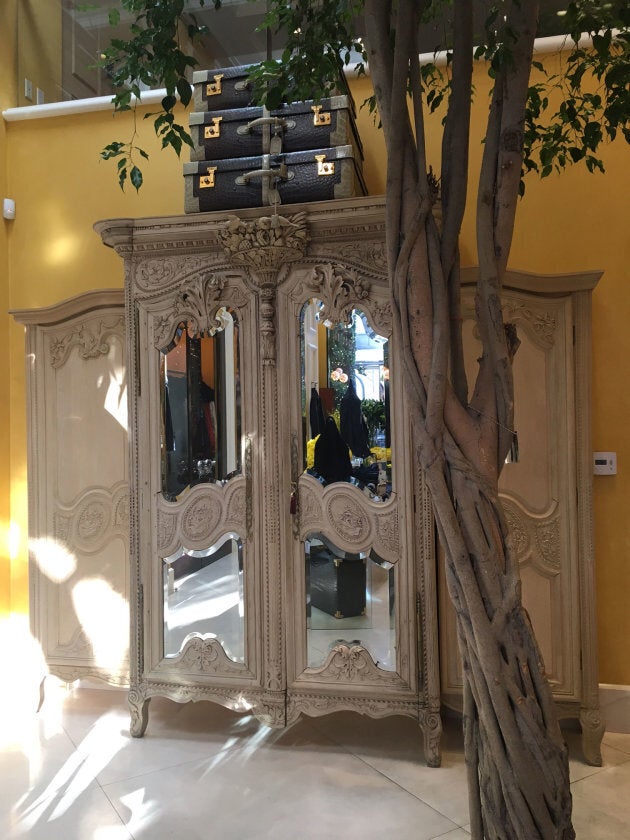 "You can imagine who would have got changed in here," Messa says, and for a moment you can imagine Obama, Brosnan or Hefner in their jocks in this very space, working to button up a new shirt or fasten their cufflinks.
Every surface is gleaming, chrome or yellow or some other hue of the rainbow. The wide stairs sweeping up to the private closets, the immense chandelier of more than 1000 perfume bottles, the silver plaque fastened to the Benjamina tree planted in the corner of the boutique (yes, there's a tree planted in the corner of the boutique). Each valued client has their own little labelled mailbox in the store, in which messages are sealed and sent out across the world if Bijan wants to tell them something.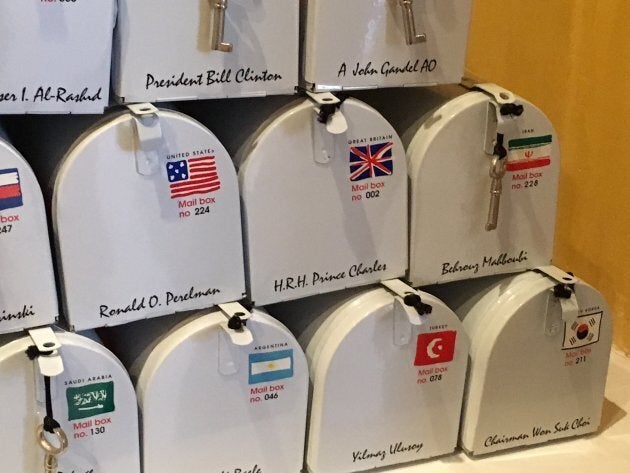 The name of the game here is exclusivity. They don't do big runs of certain items, just a handful at the most.
"Our ties are numbered, with a matching handkerchief. The maximum I have is two from one design," Messa says.
Sometimes they make a few, like when they made 10 special alligator bags for the wives of lucrative clients. The Bijan signature is a single decorative button at the bottom of a shirt or sleeve, different to the rest, a standout.
"We don't go for cheap quality fabrics," Messa says, completely unnecessarily.
Josh Butler travelled to Los Angeles as a guest of Beverly Hills Conference and Visitors Bureau and United Airlines. United Airlines flies daily to L.A from Melbourne and Sydney. For more details visit www.united.com
ALSO ON HUFFPOST AUSTRALIA
this store has dresssed every president for 50 years'