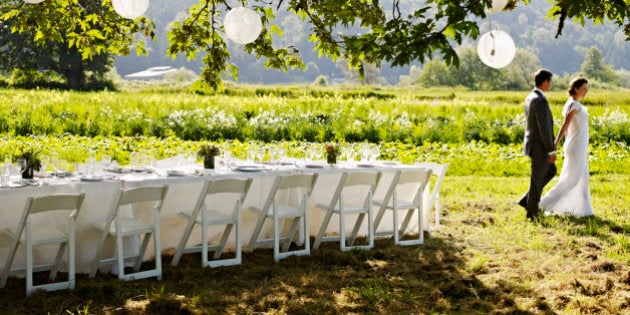 It's true -- weddings are a big (expensive) deal. But they're also wonderful, joyous and unforgettably fun. What other time do you get to celebrate the "official" start of married life to your best friend, surrounded by loved ones with flowing booze, good food and a dance floor open to even the most daggy of moves.
As any bride would know though, the months of planning, budgeting and managing a plethora of personalities that come with any wedding is sometimes enough to put a dampener on the whole thing.
The good news is there are specific measures you can put in place to ensure your special day isn't hijacked by frustration, money worry or plain resentment.
An obvious but crucial starting point -- the budget.
While it is an additional cost, hiring a planner will take away the stress of organising your big day.
"Not only will they assist with styling and managing the day, they can also recommend and hire vendors for every little aspect. A good wedding planner will also prepare a detailed run sheet to ensure it runs to plan," Hunt said.
Once the budget is in place Hunt advises asking yourself whether your wedding day has to be on a Saturday.
"Saturdays are the most popular and therefore the most expensive day of the week to have a wedding -- you will need at least eight to 12 months planning time for the Saturday of your choice," Hunt said.
Locking in a venue for your ceremony and reception as early as possible means you can confirm your wedding date.
One of the biggest mistakes the bride and groom make is not assigning someone to coordinate the running sheet. Of course, if you've hired a planner or if your venue provides one this will be looked after.
"If you're having a wedding at home though, make sure you have a 'wedding coordinator' in place. Whether that's a dedicated friend or family member, or someone you hire, it's essential that you have someone who is watching the time, giving cues to the caterers and band and keeping everything running smoothly," Teasdale said.
"You definitely don't want this to fall on the bride to handle on the day," Teasdale said.
The notion of "bride guilt" is bound to plague you at some point. But keeping everyone happy is impossible -- so don't even think about trying. Whether it's a bridesmaid not liking her dress or an old friend you can't fit on the guest list -- learn to accept your decisions and move on.
At the end of the day people aren't going to remember the napkins.
"Don't second guess every decision you make either -- it's the quickest way to stress yourself out," Teasdale said.
And let go of the things you can't control -- like the weather.
"Instead, when you find a place, dress, flower you love -- lock it in! Then happily put it out of your mind and move onto the next thing on your list," Teasdale said.
It's also a good idea to have somebody assigned to help pack up the reception venue at the end of the night -- often, this becomes a task for the newlyweds' parents which isn't ideal (and means they miss out on the after party -- not OK).
Everybody to the dance floor.
Music is another element worth putting time into -- there's nothing worse than an empty dance floor and while live entertainment adds a special touch, after a few hours on the bubbly, demand for the golden oldies is bound to arise.
And if you plan on playing music from your iPhone on the day start devising a playlist early.
"Download Shazam and start saving your favourite songs as you hear them. In months or a years time, you'll have a playlist positively bursting with awesome tunes," Teasdale said.