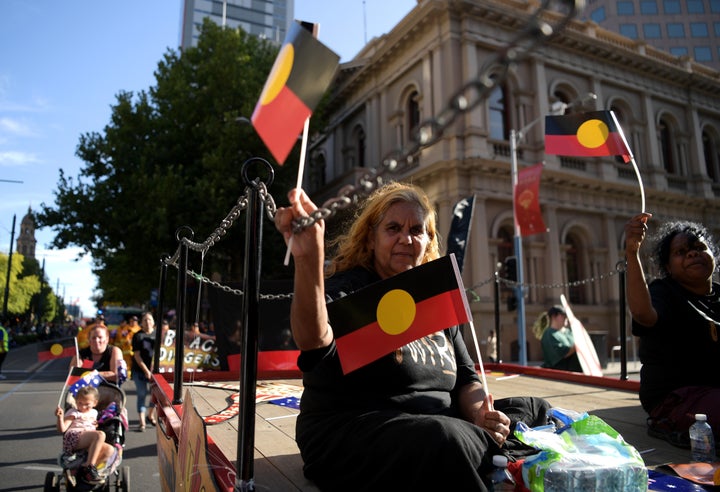 Pandemic or not, Invasion Day can be a nerve-racking and emotional time for many First Nations Australians. And with much more work to be done to address and dismantle systemic racism in Australia, protesting is part of that.
The day represents the first of many murders and the birth of hundreds of years of dispossession, racism and intergenerational trauma. It's a day Australians celebrate the colony while Indigenous Australians are made to remember a history that brutalised their culture.
"A nation that has evolved from its colonial and convict past would mark the day as a day of mourning," Mayor said. "And also, it would be a day to celebrate First Nations survival. Invasion and genocide is nothing to be proud of."
While Australia's chief medical officer Paul Kelly called the country's COVID-19 situation an "envious position" compared to most of the world (the country is reporting 22,000 cases and 909 deaths so far), some states will enforce a COVID-19 public health order that limits the number of attendees at public gatherings.
According to Facebook events, thousands are expected to march across Australia with rally organisers stressing that the protests are peaceful and that all have strict coronavirus-safe plans in place.
Where And What Time Protests Will Happen:

Adelaide/Kaurna Country

Time: 11:30 am

Meeting place: Victoria Square

Alice Springs/Mparntwe Country

Time: 10 am

Meeting place: Court Lawn

Brisbane/Meanjin

Time: 10 am

Meeting place: Queen's Garden's, Elizabeth Street

Canberra/Ngunnawal Country

Time: 10 am

Meeting place: Garema Place

Darwin/Larrakia Country

Time: 10 am

Meeting place: Civic Park

Time: Midday

Meeting place: Hobart Parliament House

Newcastle/Awabakal Country

Time: 10 am

Meeting place: Civic Park

Melbourne/Naarm

Time: 10:30 am

Meeting place: Parliament House

NOTE: Victoria Government has ruled people can only gather in groups of 100. Event organisers request that people gather in groups of 100 and stay 10 meters away from other groups.

Perth/Whajuk Country

Time: 1 pm

Meeting place: Forrest Place

Rockhampton/Dharumbal Country

Time: 9 am

Meeting place: Central Park

Sydney/Gadigal Country

Time: 9 am

Meeting place: The Domain

NOTE: Social distancing must be practiced at all times. NSW Government has capped protests at 500 people amid the pandemic.
What Is The Legal Risk Of Marching?
Top criminal lawyer Nick Hanna of Hanna Legal said that in NSW, if a protest is an authorised public assembly, people who attend it are effectively immune from being prosecuted for criminal offences relating to their taking part in the protest, such as obstructing traffic.
Health Minister Brad Hazzard has capped outdoor gatherings in Sydney at 500 people however event organisers have submitted a request to the Minister for the protest to be exempted from the public health order. If approved, this means the 500 person limit won't apply.
Event organisers must submit written notice of the intention to hold the protest to the police commissioner.
As of Monday January 25, NSW Premier Gladys Berejiklian said the public health order would remain in place "for a reason" and told people to "express their views without these gatherings".
"If the Invasion Day protest is not an authorised public assembly, people who take part in it may be guilty of various offences such as not complying with the direction of a Minister or obstructing traffic," Hanna told HuffPost Australia.
Hanna stressed that police are only allowed to arrest people as a measure of last resort.
"If anyone is being arrested, my advice is to cooperate and not resist or fight back, as that will likely lead to further charges being laid," he said.
"If there are people nearby, ask them to video record the arrest on their phones. The recording may be valuable evidence in the future."
"If the arrest is unlawful, the protestor will be able to challenge it and possibly also seek compensation at a later point in time."
How To Protect Yourself If You're Going Out To Protest

Wear a face mask

Experts recommend that you wear face masks or face coverings as a way to help lower the potential for spread. NSW and Victoria require people to wear a mask indoors.

Dean of Health Sciences at Swinburne University of Technology, Professor Bruce Thompson, said masks are vital.

"Wear a face mask, wear it properly - not around your neck - you don't wear your undies around your knees," he told HuffPost Australia.

"If you carry the virus, it's unlikely you may give it someone else if you have proper face protection.

"And then if someone coughs and sneezes in your vicinity, you're unlikely to inhale that."

Maintaining at least 1.5 metres between you and anyone not in your household is imperative for preventing the spread of coronavirus.

Carry hand sanitiser

"Take hand sanitiser and use it," Thompson said.

To use it properly, rub the liquid all over the palms and backs of your hands and take care to get in between your fingers. It will start killing germs when it's dry.

Avoid touching your face

Your mouth, nose and eyes are all areas where the virus can enter your system.

Be careful about eating

Eating something at the protest means you'll have to take off your face mask and likely put your hands near your mouth and face.

Obviously sharing drinks is not advisable.

"Even though we're sitting in zero cases, which is fantastic, it only requires one person, in close contact to others, to give it to a number of people," Thompson added.

Stay home if you feel sick

Rally organisers have asked anyone feeling even slightly unwell to please stay at home.

Overall health risk?

Thompson advised we are certainly not out of the woods - not even close - even though thousands were allowed to attend the test cricket in Sydney.

"With the Sydney Test, our top medical chief Paul Kelly said it wasn't a smart thing to do," Thompson said. "He said he's cricket-mad but he would not go."

He added: "If you've got the opportunity to spread out, that's a good thing."