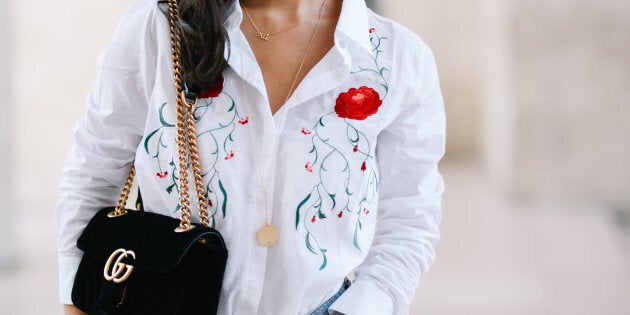 If you've started to see a whole bunch of roses weave through your Pinterest feeds, we're with you. Something is happening here, and we have some questions.
It is hard to pinpoint where it began. In lieu of going right back to the origins of the embroidery stitch, we'll start with Dolce & Gabbana's Fall Winter 2016/17 menswear collection. In an apparent nod to the cowboys of the 'Wild West', the range of three-piece suits featured patches embroidered with beads, crystals or metal thread.
Here's Fall-Winter 2017/18:
Soon enough, the likes of Gucci and Alexander McQueen were onboard -- and the trickle down followed. Now, it seems the fast fashion retailers can't get enough.
Embroidered patterns and weaves are appearing on everything from denim jeans and 'shackets' (a shirt and jacket combination), to chokers, boots and those fail safe white sneakers.
While we may be on board, our next question is how... the jean? The boot? The shirt?
The decision is yours. Here are few to weave through this Winter.
ALSO ON HUFFPOST AUSTRALIA